Modi 'busy with fitness', not farmers
Congress points to the Prime Minister's duplicity on the question of problems of agriculture sector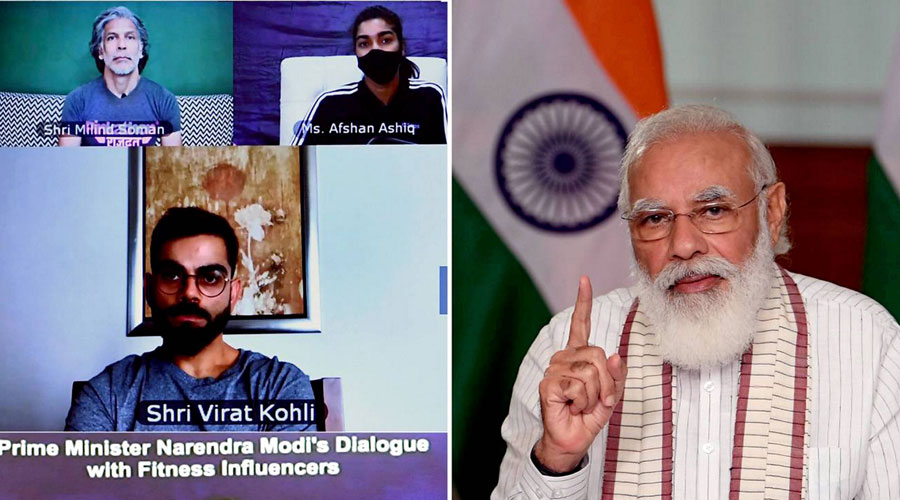 ---
---
The Congress on Thursday lent its voice to the agitating farmers by accusing the government of giving licence to the corporates for profiteering in agriculture trade and also exposed the inconsistencies of Prime Minister Narendra Modi who was busy discussing fitness regimes of celebrities.
As farmers started a rail roko agitation in Punjab, a precursor to Friday's nationwide strike, the Congress held media conferences in Delhi, Nagpur, Ahmedabad, Thiruvananthpuram, Patna, Jammu and Shimla to explain the ill effects of farm reforms, while Rahul Gandhi took a dig at Modi for spending time on celebrities instead of solving the country's pressing problems.
Senior Congress leaders will on Friday move to other big cities to talk about farm bills.
Rahul, who returned to Delhi on Wednesday along with Congress president Sonia Gandhi from the US where she went for medical check-up, tweeted: "Priorities of Modi Government: Instead of talking to farmers and labourers to find a solution to their problems, they are busy in public relations."
Rahul attached a report with the tweet which explained how Modi told cricketer Virat Kohli that Delhi's famous "chhole-bhature" got ignored because of his strict fitness
regime.
The Prime Minister was talking to celebrities as part of Fit India dialogue. While Rahul clearly hinted that Modi's priorities were wrong, party spokesperson Abhishek Singhvi also lamented tactics of "diversion and distraction" as issues ranging from economy to Chinese intrusion and Covid-19 were crying for attention.
Apart from creating a noise about the injustice meted out to the farmers across the country, the Congress also pointed to the Prime Minister's duplicity on the question of problems of agriculture sector.
Former Union minister Jairam Ramesh recalled how Modi as Gujarat chief minister wanted statutory guarantee for MSP (minimum support price) and refused to concede the same as Prime Minister.
"U-Turn Modi. 1. Opposed GST as Chief Minister. Introduced it as Prime Minister (and made a mess of it) 2. Wanted MSP for private trade in law as Chief Minister. Against it as Prime Minister," Ramesh tweeted.
Modi as Gujarat chief minister had chaired a working group on consumer affairs in 2011 and submitted a report to then Prime Minister Manmohan Singh. The report said, "Since intermediaries play a vital role in the functioning of the market and at times they have advance contract with farmers, in respect of all essential commodities we should protect farmers' interest by mandating through statutory provisions that no farmer-trader transaction should be below MSP wherever prescribed."
This is what the Opposition and the agitating farmers are demanding now. In the report, Modi had also suggested strengthening of the public distribution system (PDS), improvement in effectiveness of the Essential Commodities Act and other statutes and stepping up vigilance against hoarding to ensure reasonable prices of essential commodities.
Ironically, the Modi government has now removed stock limit by diluting the Essential Commodities Act.
Abhishek Singhvi said at a news conference: "This government is introducing new forms of feudalism. By removing the stock limit, they are giving licence to hoarding and profiteering. Modi is lying that now there will be no restrictions on selling the produce anywhere in the country.
"There was never any restriction on the farmers. He calls the reform historic and says the moves are good for farmers. With friends like these, farmers don't need an enemy."
He added: "Why didn't any other Prime Minister think of contract farming? Is Modi the wisest? Over 86 per cent farmers have less than five acres of land, mostly two acres. Will a farmer having two acres of land have the bargaining power against big corporate players?
"This is new feudalism. Also, the changes are unconstitutional and will be struck down by the Supreme Court as agriculture as well as trade and commerce are exclusive domains of the state. Markets and fairs also fall in the state's jurisdiction."
Singhvi demolished the attempts to paint a rosy picture by recalling the Bihar example where the Agriculture Produce Marketing Committee (APMC) Act was abolished in 2006.
He cited from several studies which suggest that promises of private investment proved fallacious and the public procurement system got completely ruined.
Procurement of grains by government agencies in Bihar have been less than 1 per cent over the last many years and the number of procurement centres got reduced from 9,000 in 2015-16 to merely 1,600 in 2019-20.