Missile destroys low-orbit satellite
PM Modi asserted that India's anti-satellite capability is not directed against anyone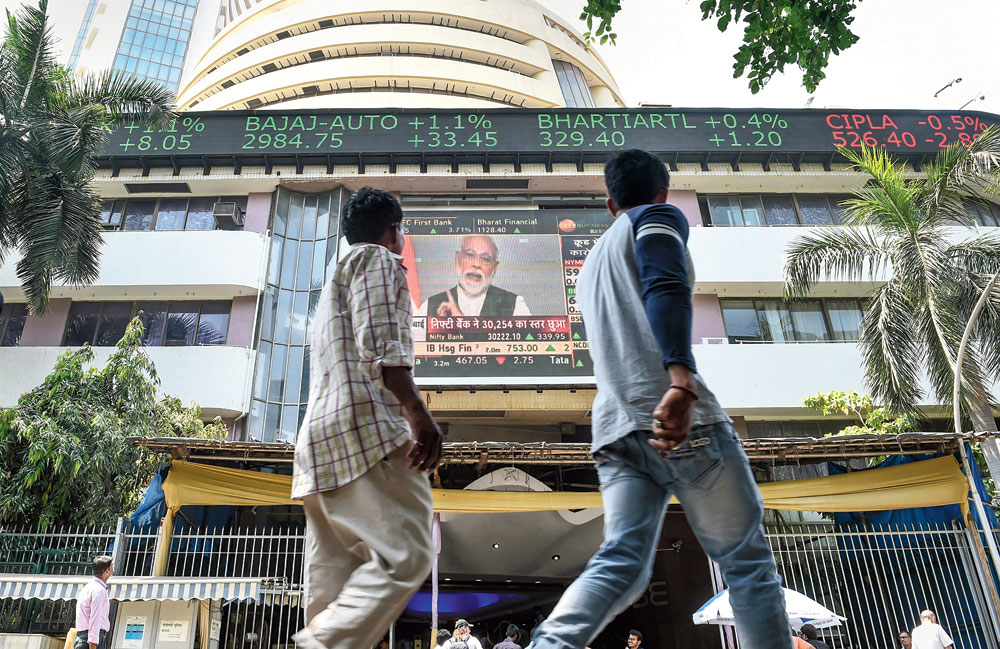 Telecast of PM Modi's speech on Wednesday. At 11.21am Modi tweeted that he would address the nation, the Sensex started descending from 38437.93 to reach 38321.29 by 11.56am. The volatility continued till 12.24 pm when Modi began his speech, then the index rose to 38446.39 and kept climbing.
(PTI)
---
New Delhi
|
Published 27.03.19, 09:12 PM
|
---
India on Wednesday used a homegrown missile to destroy a satellite 300km above the Earth, demonstrating a technology intended to bolster defence through deterrence and hitherto available only with China, Russia and the US.
An interceptor missile, launched from a Defence Research and Development Organisation (DRDO) complex on an island off the Odisha coast, climbed into space for three minutes to strike its intended target — an Indian satellite in low-Earth orbit.
Prime Minister Narendra Modi announced via television the success of the anti-satellite missile test named "Mission Shakti" which, the government said in a statement, was done to verify that India had the capability to safeguard its space assets.
"India's scientists have successfully hit a target in space with an anti-satellite missile," Modi said. "The target was a live satellite flying in a low-Earth orbit. The missile travelled a distance of almost 300km and hit the target within three minutes of its launch. Mission Shakti was a highly complex operation which required great precision and extremely high technical competence."
The government asserted that India's anti-satellite capability is not directed against anyone and the country remains opposed to the weaponisation of space and any arms race in space.
"India has no intention to threaten anyone," the Prime Minister said. "This is an effort to secure a fast-growing India. India has always been opposed to the weaponisation of space and an arms race in outer space and this test does not in any way change that position."
The external affairs ministry said the anti-satellite missile capability provided "credible deterrence" against threats to India's own growing space-based assets from long-range missiles and from the proliferation in the numbers and types of missiles.
A space and missile technology expert who requested not to be named said the target satellite was likely to be a small satellite in low-Earth orbit launched by the Indian Space Research Organisation earlier this year.
India has sought to allay concerns about space debris resulting from the collision by pointing out that the test was done relatively low enough so that the debris generated would decay and burn up in the atmosphere during its fall within weeks.
Strategic technology experts view anti-satellite missile capability as a signal of deterrence to potential adversaries that India possesses the capability to destroy their satellites that play critical roles in commercial and defence telecommunications, among other services.
Sections of India's strategic sector have long wanted India to quickly develop and demonstrate its anti-satellite missile capability to avoid being discriminated as a "late arrival" after other countries had acquired the technology.
Some experts have expressed concern that some countries might prevent others from entering the anti-missile technology club along the lines of the Nuclear Non-Proliferation Treaty that discriminated against all but the five early nuclear weapons countries.
"We have been technologically capable of doing this for several years now," V. Siddhartha, former emeritus scientist with the DRDO, told The Telegraph. "Given our experience with the NPT, it was prudent for us to conduct the test to pre-empt any discriminatory NPT-type regime for arms limitation in space. A discriminatory regime may be negotiated between space-faring nations for a ban on testing and proliferation of such weapons."
Only China, Russia and the US had until now demonstrated anti-satellite weaponry through tests that have caused concern among sections of space law experts about the possibility of an arms race in outer space.
"New competitive efforts at developing anti-satellite weaponry are highly destabilising because developed societies have come to depend so heavily on satellite services to support the entire civilian economy and the modern military apparatus," D.A. Koplow, a specialist at the Georgetown University Law Centre, had written last year in a review paper on an arms race in space.
Some space law experts believe anti-satellite tests are violations of Article 9 of the Outer Space Treaty, 1967, that says activities in outer space should take "due regard to the corresponding interests of all other states parties to the Treaty".
"There is some debate on how Article 9 should be interpreted, but I would say it is intended to protect the space environment," said Upasana Dasgupta, a research scholar pursuing a PhD in space law at McGill University in Canada.
The destruction of the satellite would add debris in outer space, which, Dasgupta said, could be interpreted as breaching Article 9 as additional debris could pose a threat to the satellites of other countries. "As it is, the International Space Station faces the threat of at least one near-collision event almost every year — additional debris could incrementally increase the risk of collisions," Dasgupta said.