Misa waves family unity and Lalu's picture
Lalu's daughter files nomination, accompanied by mother and brother Tej Pratap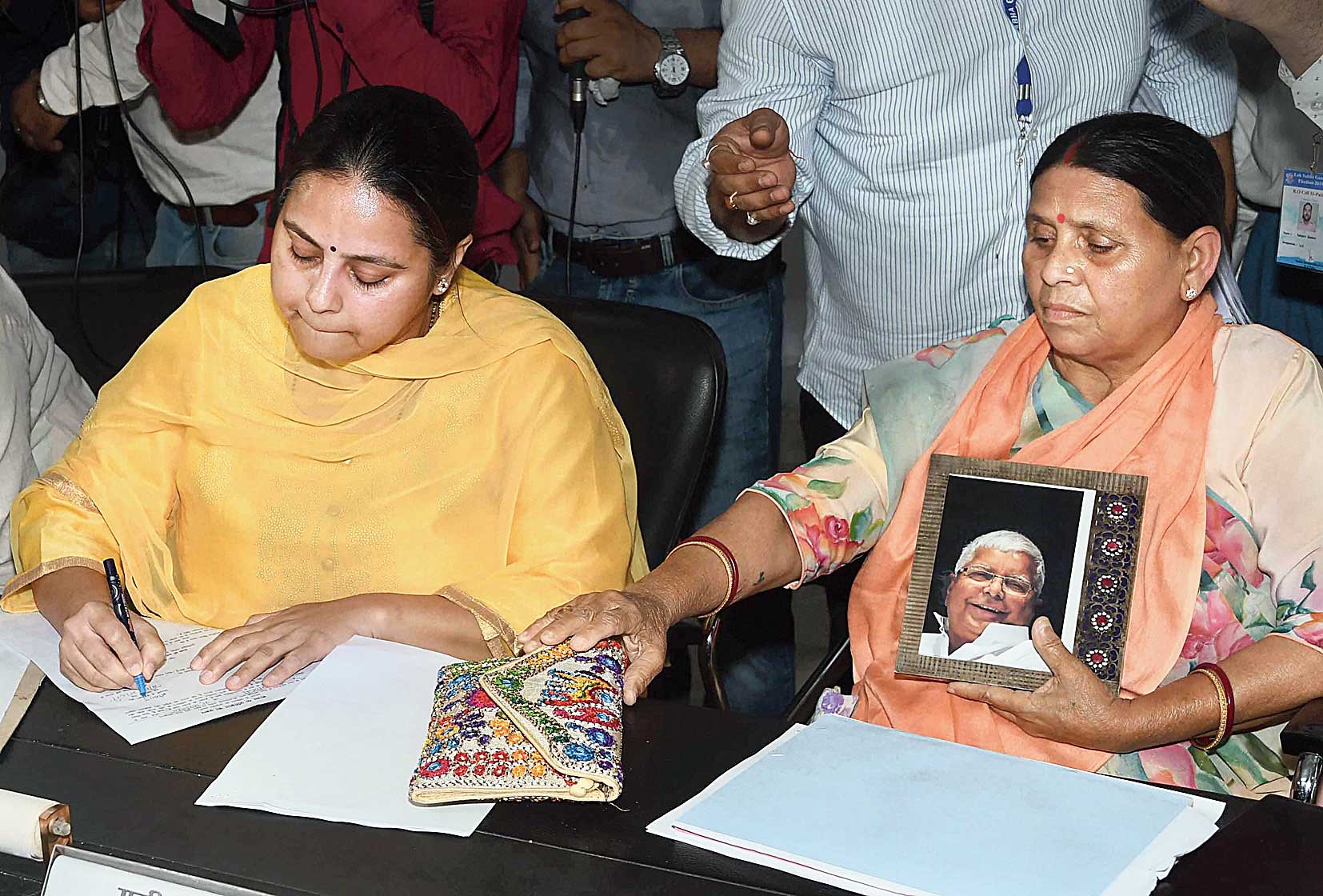 RJD candidate from Patliputra constituency Misa Bharti files her nomination in Patna on Thursday in the presence of her mother and senior party leader Rabri Devi.
(PTI)
---
Patna
|
Published 26.04.19, 02:44 AM
|
---
Rashtriya Janata Dal chief Lalu Prasad's eldest daughter Misa Bharti on Thursday filed her nomination papers for the Patliputra constituency, carrying a picture of her jailed father with her to compensate for his absence.
Mother Rabri Devi, brother Tej Pratap Yadav and Bihar legislative council member Bhola Yadav accompanied Misa, projecting a picture of unity as she arrived at the Patna collectorate.
Misa had contested the seat in 2014 too but lost.
"This is the first time that my father is not present with me while I am filing nomination papers. I am missing him. So I am carrying his picture with me and feel his presence. He has been implicated by people who are out to destroy the country and the Constitution," Misa said.
Misa, named so by Lalu Prasad as a protest against the Maintenance of Internal Security Act (MISA) the then Indira Gandhi government at the Centre had passed in 1971, said people were "aware about the injustice against her father and were discussing it day and night".
"They will take revenge for it in this Lok Sabha election," she added.
Lalu Prasad has been jailed after being convicted in fodder scam cases and is now lodged in a Ranchi hospital in Jharkhand because of health issues.
The RJD chief's eldest daughter also spoke about her family's unity, though younger brother Tejashwi Prasad Yadav was away campaigning in Munger, Begusarai, Rohtas and Ara.
The family has seen a virtual rebellion in recent times, with Tej Pratap voicing his resentment over not being accorded importance in party affairs and being forced to play second-fiddle to Tejashwi.
"My mother is unwell, yet she came for my nomination. My brother Tej Pratap is campaigning for my victory in the absence of my father. They have shown that our family is united. There are people who wish the disintegration of our family, because we have been raising the voice of the downtrodden. The people of Bihar are going to give them a befitting reply," Misa said.
Tej Pratap echoed his sister. "Those who want to shout slogans against my family are free to do so, but we will defeat them. Misadidi is a lioness and she will certainly win from Patliputra," he said.
Misa addressed a public meeting at Shivala Chowk in the Khagaul area of Patliputra after filing her papers. Brother Tejashwi too reached the venue to make up for his absence when Misa filed her nomination. Misa had contested from Patliputra in 2014 but lost by around 40,000 votes to Ram Kripal Yadav, now a Union minister.
Ram Kripal, a former RJD leader, was a close confidant of Lalu Prasad but left the party and joined the BJP after being denied a ticket.
Ram Kripal too filed his nomination papers for Patliputra on Thursday after a road show. "I have worked impartially for the people of Patliputra for the last five years. On the other hand, the RJD is a family's party. The people understand this. They defeated the family party in the previous polls and will do so this time too," he said.
Upendra Kushwaha, Rashtriya Lok Samta Party leader and a former Union minister, filed his papers at the Rohtas collectorate as a candidate from the Karakat Lok Sabha seat. He later addressed a public rally in the area at which Tejashwi and former Lok Sabha Speaker Meira Kumar were present.