Merit makes a mark in NEET results
Nearly 80 per cent of SC, ST and OBC students who cracked NEET cleared the cut-off meant for general-category students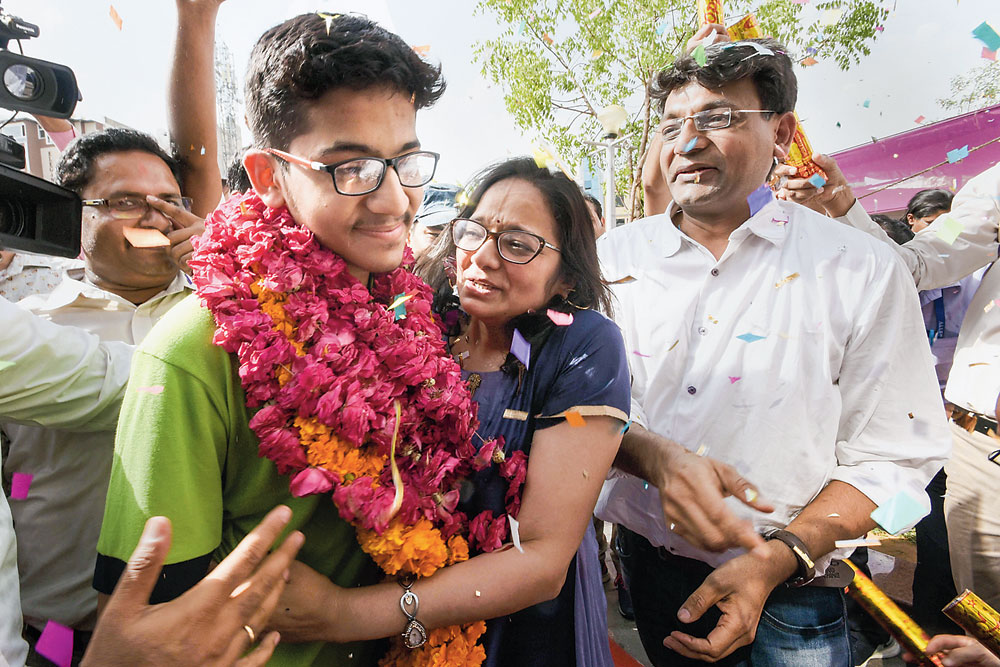 NEET topper Nalin Khandelwal celebrates with his parents after the results
(PTI)
---
New Delhi
|
Published 06.06.19, 01:10 AM
|
---
The results of the National Eligibility-cum-Entrance Test, declared on Wednesday, have shown that aspiring doctors from underprivileged social backgrounds are no less than general-category students when it comes to merit.
Nearly 80 per cent of students from among the Scheduled Castes, Scheduled Tribes and Other Backward Classes who cracked the NEET 2019 for admission to undergraduate medical and dental courses cleared the cut-off meant for general-category students.
The National Testing Agency (NTA) declared the results. The 7.97 lakh candidates who have been declared qualified are eligible to seek admission in MBBS and BDS courses in medical colleges across the country.
Dalit, tribal and OBC students have often faced taunts and caste-based discrimination from their upper-caste peers and upper-caste teachers in higher education institutions.
Such taunts are alleged to have even driven a tribal doctor to kill herself last month. Dr Payal Tadvi, who was from the tribal Bhil community and came from Jalgaon in Maharashtra, had twice complained to authorities of a Mumbai hospital where she worked that three senior students were harassing her with caste taunts, her family members had said.
The common thread in such cases is that quota students deprive candidates from the general category. But Wednesday's NEET results showed students from socially disadvantaged backgrounds were equal to their peers from the so-called forward castes.
The results suggest that nearly 80 per cent of SC/ST and OBC students who cleared the test didn't need any relaxation in the qualifying marks.
The qualifying criterion for the general merit list was 50th percentile. Of the 797,042 students who cleared the test, 704,335 qualified under the general merit category.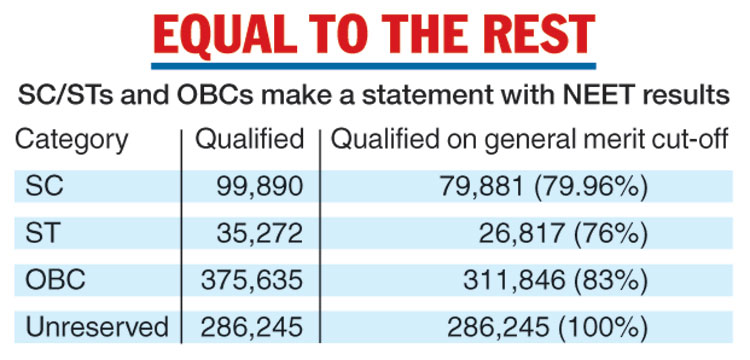 In the general merit category, 311,846 OBCs, 79,881 SCs and 26,817 STs have qualified.
The NTA had given 10 per cent relaxation to SC/STs and OBCs. Under the relaxed cut-off, an additional 63,789 OBCs, 20,009 SCs and 8,455 STs have qualified.
"The positive point is that SCs, STs and OBCs are qualifying and getting success under general merit cut-off. But it does not mean they would not face discrimination on campuses. The institutional environment and work environment have discriminatory practices. That must end," said Professor Kesav Kumar, an Ambedkarite scholar who teaches philosophy in Delhi University.
Kumar also said that the SC/ST and OBC students who have qualified under the general merit cut-off are most likely to have studied in English-medium schools in urban areas.
"The students from deprived sections in the rural areas still need support to qualify," Kumar said.
Nalin Khandelwal from Rajasthan has topped the exam. Seven girls are among the top 50.
Fifteen per cent of seats in government medical colleges in states except Andhra Pradesh, Telangana and Jammu and Kashmir are reserved for NEET-qualified candidates under the all-India quota.
Admissions for the remaining seats would be conducted according to the policy of the state government concerned.