Merciless and monstrous: Amphan batters Bengal, Odisha
10-12 killed, two districts devastated, says Mamata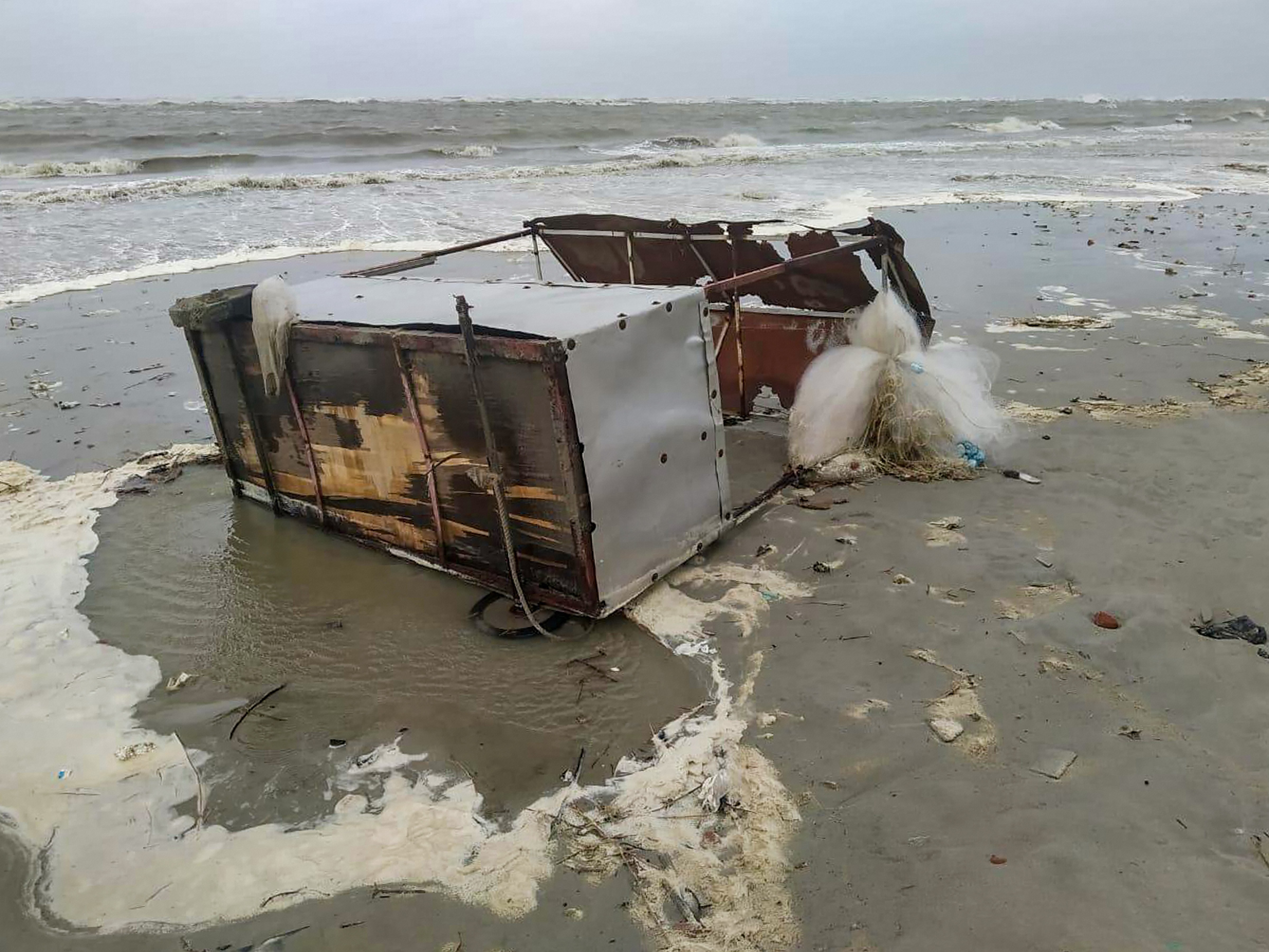 ---
|
Calcutta
|
Published 20.05.20, 10:18 PM
---
Cyclone Amphan blew in at 165kmph after its 2.35pm landfall over Sagar Island on Wednesday, claiming 10 to 12 lives and wreaking what chief minister Mamata Banerjee suggested was tenfold the devastation of Aila across swathes of south Bengal.
The natural calamity, coming at a time a cash-strapped state administration is desperately fighting the Covid-19 threat, has posed an enormous challenge for the Bengal administration.
'Ten to 12 deaths have been reported so far though the complete report is yet to come,' Mamata said at Nabanna around 9pm.
'Area after area has been devastated. Communications are disrupted. Never saw such a cyclone. If Aila (2009) was 10, this is 110. I have heard such a cyclone had hit in 1737 and thousands lost their lives.'
Mamata had through the day been at the disaster management control room on the second floor of the state secretariat, and planned to spend the night there too.
'I'm sitting in the war room. My office in Nabanna is shaking. I'm tackling a difficult situation on a war footing,' the chief minister said.
The cyclone had not spared Nabanna, ransacking rooms 109 and 909 after shattering their windowpanes.
'We never thought the intensity would be this high.... Had we not taken the warning seriously and evacuated more than 5 lakh people, more lives could have been lost,' Mamata said.
Officials said it was impossible to provide an immediate assessment of the damage, with the cyclone yet to leave the state and many areas left inaccessible.
They said Amphan had mauled telecommunication systems, uprooted trees and electric poles, destroyed thousands of dwellings, and ravaged roads, bridges and embankments and jetties across North and South 24-Parganas and parts of East Midnapore.
Mamata said she would chair a review meeting at 3pm on Thursday at Nabanna, where officials would present a preliminary estimate of the destruction.
'I found out that every district the cyclone passed through is badly affected, especially in the matter of electricity, which will cause problems with water supply. Restoration of electricity and drinking water supply will be prioritised,' Mamata said.
Political outreach
Late in the night, Mamata tried to reach out to political opponents, saying: 'Forget politics and come together to help people at this juncture.'
She added: 'I request the Centre to consider the devastation with a human face, not politically. Everything has been destroyed. We should come together to help those affected.'
Multiple sources in the Bengal administration said the scale of devastation was such that the state would need a generous financial assistance from the Centre.
'The fight against the coronavirus has played havoc with the state's finances. Now comes this. We cannot launch relief and restoration efforts without the Centre's help,' a source said.
He said restoration efforts in the worst-hit areas cannot start in another three or four days as accessing these areas was practically impossible now.
Officials said the damage last year from Cyclone Bulbul, which was far less severe than Amphan, had been estimated at Rs 23,000 crore.
They, however, said that compared with Bulbul, agricultural losses would be less this time since the fields did not have any major crops now apart from some vegetables.
Destruction trail
Before reaching Calcutta, Amphan mangled Sagar Island, Kakdwip, Namkhana, Patharpratima, Gosaba and Kultali in South 24-Parganas, Basirhat, Hasnabad, Minakha, Sandeshkhali and Hingalganj in North 24-Parganas, and Nandigram and Haldia in East Midnapore.
'Nandigram, Ramnagar have witnessed huge losses. South and North 24-Parganas are almost completely destroyed. Many people have died after trees fell on them,' Mamata said.
Noor Jahan Bewa, 55, died in Dakshinbarga, Minakha, North 24-Parganas, when a coconut tree fell on her while she was looking for shelter, residents said.
Mohanta Das, 20, of Mominpur village in North 24-Parganas was crushed to death when his thatched house with a tiled-roof shed collapsed after a coconut tree fell on it.
A teenaged girl died in Shalimar, Howrah, when a corrugated iron sheet fell on her, injuring her in the head.
Unofficial sources claimed at least two more deaths, in East Burdwan and East Midnapore.
Officials said the loss of lives would have been greater but for the state government's 'very efficient' mass evacuation operation, carried out over the past few days.
'Five lakh were evacuated, compared with 1.8 lakh ahead of Bulbul,' an official said.
But the damage to property, especially in the two 24-Parganas, has been 'immense', early estimates suggest.
'Tens of thousands of kachchha houses, trees and electric poles have collapsed. At least 15 embankments were breached. Telephone connectivity is badly affected,' an official said.
'In Minakha alone, 5,200 houses have collapsed. Dozens of places are as badly affected or worse.'
The official said National Highway 117 had become virtually inaccessible because of fallen trees between Calcutta and Diamond Harbour.
Mamata has told chief secretary Rajiva Sinha and home secretary Alapan Bandyopadhyay to draw up detailed estimates of the damage by Thursday afternoon.