Mehbooba shut out of Jammu office
Kashmir observed a complete shutdown on Sunday against the 'harassment' of Kashmiris across the country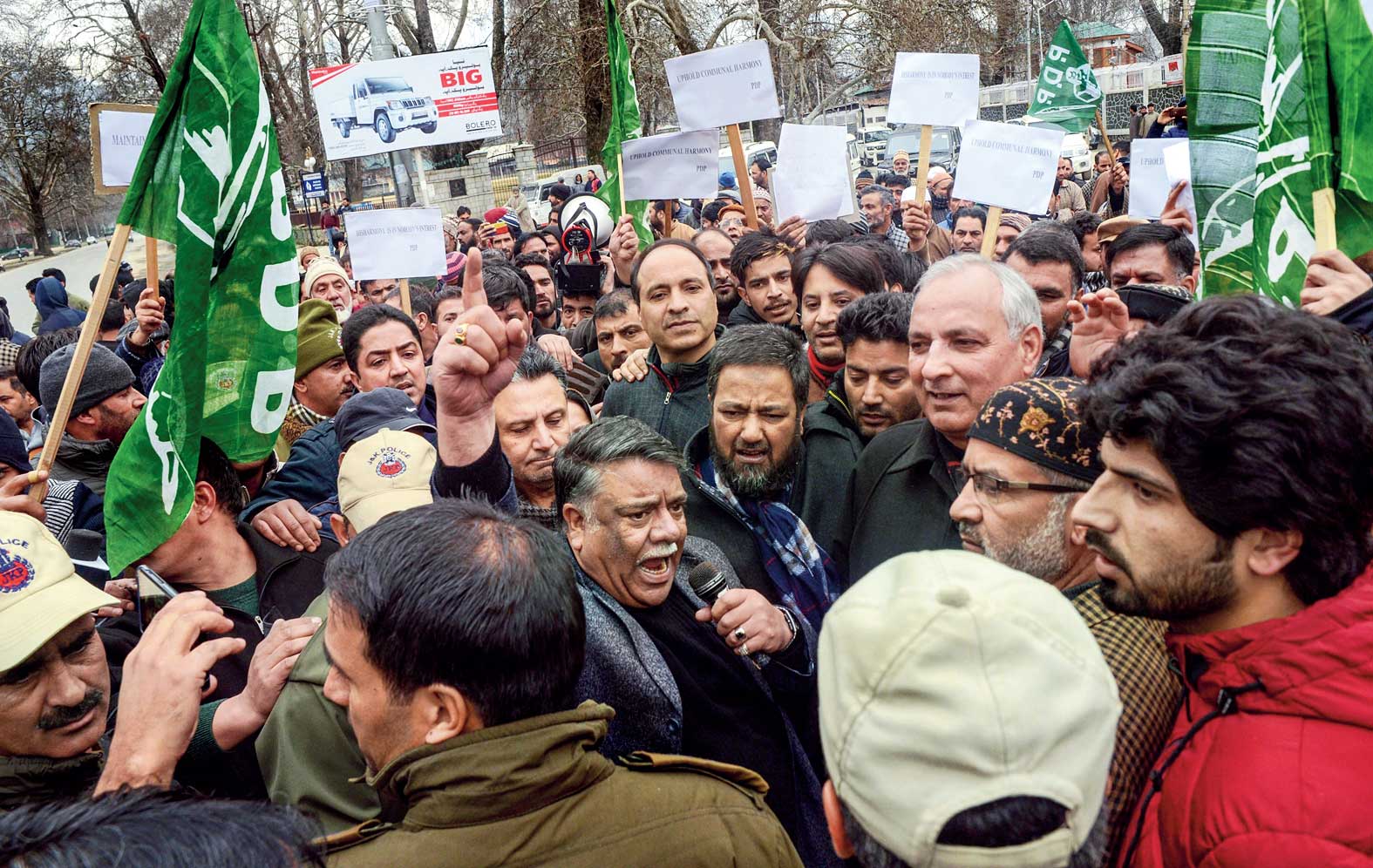 PDP members in Srinagar on Sunday protest against the harassment of Kashmiris.
(PTI)
---
Srinagar
|
Published 17.02.19, 10:01 PM
|
---
The Jammu and Kashmir administration on Sunday briefly sealed the office of the pro-India People's Democratic Party in Jammu ahead of its president Mehbooba Mufti's visit, the development unfolding as the region remained under curfew for the third consecutive day.
Jammu had witnessed widespread violence on Friday during which Kashmiris and their properties were allegedly attacked. The violence took place during protests against the terror attack in Pulwama on Thursday. Kashmir observed a complete shutdown on Sunday against the "harassment" of Kashmiris in Jammu and elsewhere in the country.
Government officials said the PDP office in Jammu's Gandhi Nagar locality was briefly sealed by police ahead of Mehbooba's visit, apparently over law and order concerns.
Mehbooba's media adviser Suhail Bukhari said the office was forced shut for around an hour, after which the PDP president left for her home. Mehbooba arrived in Jammu on Sunday to take stock of the situation following the attacks on Kashmiris.
The former chief minister has in recent weeks ruffled many feathers by visiting the families of some militants in south Kashmir, the reason many in Jammu have been calling for action against her.
Officials said the curfew remained in force across Jammu and the situation was under control. The army is assisting the police in restoring calm in the city.
The suicide bomb attack in Pulwama and the subsequent attacks on Kashmiris have deepened the communal fissures in the state. Jammu's Muslim-majority Banihal on Sunday observed a shutdown against the attacks. A religious outfit in Muslim-majority Chenab Valley gave a call for a shutdown on Monday.
Mobs have attacked Kashmiri government employees working in the civil secretariat. The employees on Sunday urged the administration to facilitate their return journey to the Valley. Jammu is the winter capital of the state and hundreds of Kashmiri employees shift to the region for six months because of this.
In a statement, the chairman of the Employees' Coordination Committee Civil Secretariat, Jammu and Kashmir, Ghulam Rasool Mir, requested governor Satya Pal Malik to provide transport and security to employees and their families for their return to Kashmir as "everyone of them feels insecure in Jammu". The state is now under governor's rule.
Mir said the families of many employees were facing shortage of essential commodities in Jammu city.
Kashmiri employees have decided to boycott work to protest the attacks.
The state administration on Sunday reviewed the security of Kashmiri students in various universities across the country after receiving reports that many of them were facing harassment.
An official said Kashmir's divisional commissioner, Baseer Khan, was in constant touch with the authorities of different states, which have promised to provide security to Kashmiri students.