The army was called in and an indefinite curfew was clamped in parts of Jammu after mobs attacked members of a community and torched vehicles to protest the Pulwama terror attack.
Officials said more than a dozen people were injured and several vehicles set ablaze at multiple places in Jammu amid a shutdown against the militant attack.
The army carried out a flag march to force stone-throwing protesters off the streets.
Kashmiris living in Jammu, the state's winter capital, said they were targeted at several places and some of their vehicles were torched, sparking panic. In some places, people of a particular community from other parts of Jammu were attacked
Many Kashmiris spend some time in Jammu every winter to escape the biting cold in the Valley. Many government employees from Kashmir move to Jammu with their families because of the biannual shift of the administration. Many Kashmiris have built houses in Jammu.
Videos surfaced showing vehicles being overturned and set on fire by protesters. The protesters claimed that some people had hurled stones at an anti-Pakistan rally in the Gandhi Nagar locality, which sparked violence.
Internet was shutdown in Jammu as a precautionary measure, officials said.
Anti-Pakistan rallies were taken out at several places, including Jewel Chowk, Gandhi Nagar, Talab Tillo, Bakshi Nagar and Satwari. Protesters set Pakistani flags on fire and burnt effigies of the neighbouring country's leaders.
Union home minister Rajnath Singh, who spoke to the media in Srinagar, said he had directed the administration to deal sternly with people trying to disturb communal harmony. Rajnath said the situation in Jammu was under control.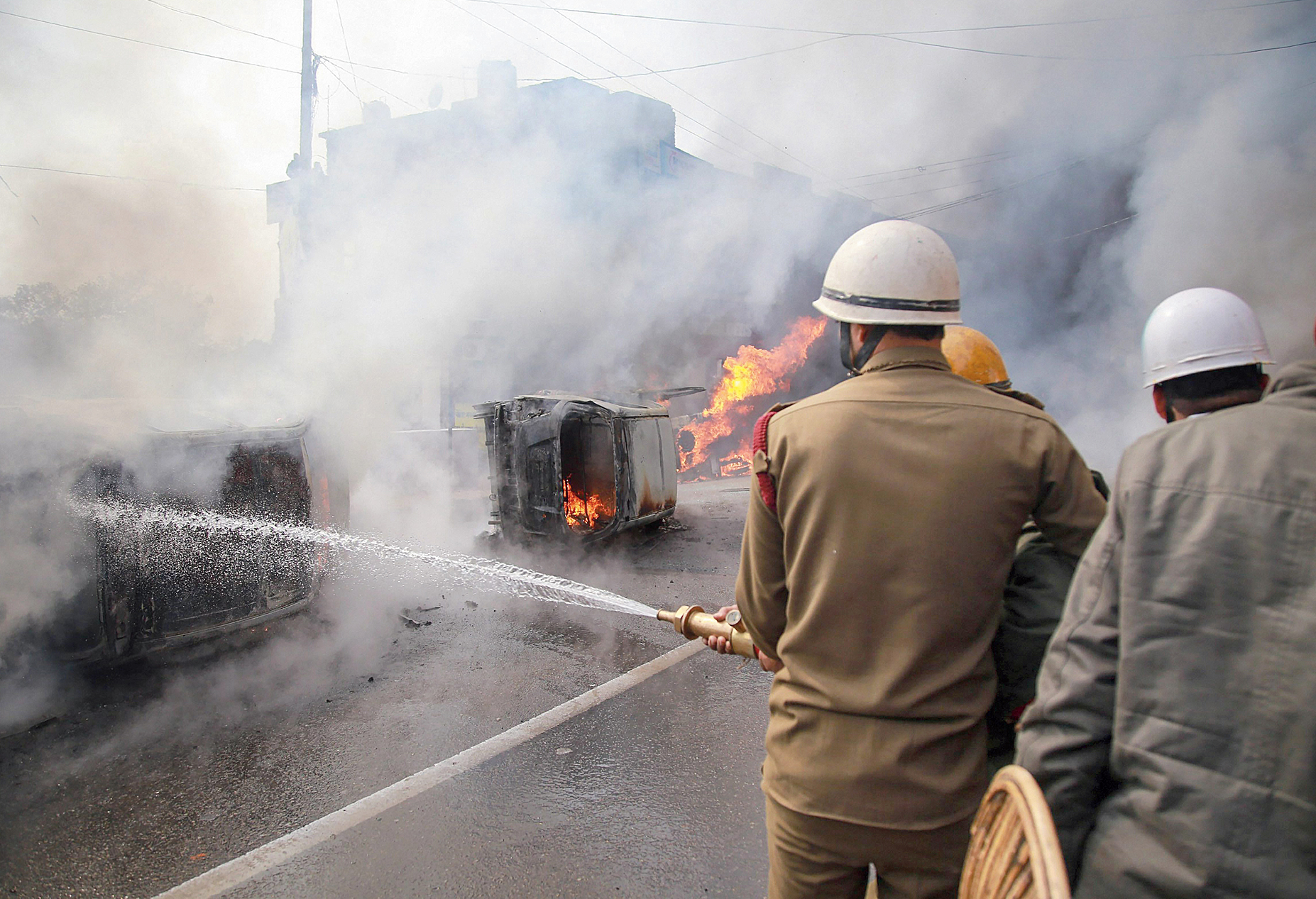 Firemen spray water to douse the flames on the vehicles that were set ablaze during a protest in Jammu on Friday. (PTI)
The Jammu district magistrate said a curfew had been imposed in the city to maintain "law and order, public tranquility and to protect life and property of the general public".
Divisional commissioner Sanjay Verma told PTI that additional forces had been deployed in sensitive areas.
The Jammu Chamber of Commerce and Industry had called the shutdown in the city. It was supported by several organisations, including the Jammu and Kashmir High Court Bar Association.
Many of the protests, during which roads were also barricaded, were led by the Bajrang Dal, Shiv Sena and the Dogra Front. Candlelight marches were taken out in Jammu city.
Jammu police chief M.K. Sinha took to social media to urge people to maintain calm. "Don't play into the hands of anti-national elements. They want to disturb our societal harmony. Defeat their designs. Don't get provoked," he tweeted.
Kashmir's pro-India leaders reacted angrily to the incidents of arson in Jammu. Former chief minister Omar Abdullah said the reports of violence and arson were "deeply worrying".
"Giving vent to anger by attacking innocent people because of their ethnicity or religion is no way to honour the sacrifices yesterday," the National Conference leader said. "I hope political leaders and the civil society are able to ensure cooler heads prevail."
PDP chief and former chief minister Mehbooba Mufti said the governor Satya Pal Malik administration could have prevented violence by beefing up security in minority-dominated areas.