Maya rebels: We're loyal to BSP, against BJP
Five among them had earlier claimed their signatures on party Rajya Sabha candidate Ramji Gautam's nomination papers had been forged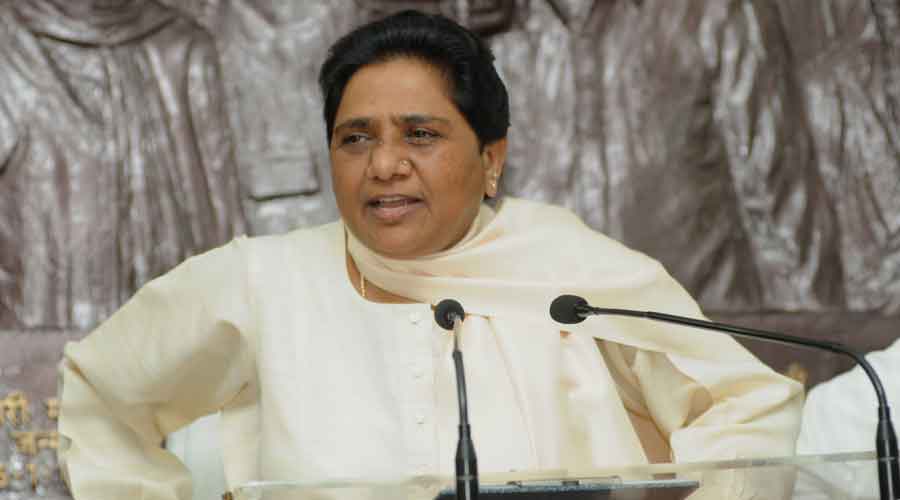 ---
|
Lucknow
|
Published 31.10.20, 12:21 AM
---
The rebel Bahujan Samaj Party members whose suspension Mayawati announced on Thursday affirmed their loyalty to the party on Friday and insisted they were exempt from the anti-defection law since they had violated no whip.
Lalji Verma, BSP legislative party leader, has said the party would soon initiate the process to have the seven rebels disqualified from the Assembly.
However, Handia (Allahabad) MLA Hakim Lal Bind told The Telegraph the dissidents had not defied any party order and had only tried to prevent Mayawati from seeking BJP support to get her candidate elected to the Rajya Sabha.
Sushma Patel, MLA from Mungrabadshahpur, Jaunpur, raised a procedural point: "No party can suspend someone without serving a notice. This process was not followed in my suspension. I didn't commit any crime and nobody can remove me from the BSP."
Five among the seven rebels had on Wednesday claimed their signatures on party Rajya Sabha candidate Ramji Gautam's nomination papers had been forged.
Their move had allegedly come at the behest of Samajwadi Party president Akhilesh Yadav. However, the returning officer cleared Gautam's candidature.
On Thursday, Mayawati announced their suspension from the party's primary membership at a news conference.
"I bear Mayawatiji no ill-will. I'm against our party's Rajya Sabha candidate because I don't want him to seek the BJP's votes. I'm also against some of the BSP president's rogue advisers," Bind said.
"I have not defected and never met Akhilesh. Behenji is my leader."
Aslam Ali, MLA from Dhaulana in Hapur, denied any inducement from Akhilesh and said: "I'm the only party MLA from western Uttar Pradesh, and Mayawatiji will always prefer me in place of any other candidate. We are against any understanding between the BSP and the BJP."
Under the anti-defection law, lawmakers can lose their membership of a House if they leave their party, defect to another, or violate a party directive to vote or abstain from voting on any issue.
While any defection by two-thirds or more among the party's elected members is exempt from automatic disqualification, the rebels make up less than half of the BSP's 18 MLAs.
Precedent, however, suggests that the seven may hope to escape disqualification.
In July, Assembly Speaker Hriday Narayan Dixit had quashed a Congress appeal to disqualify two of its MLAs, Aditi Singh and Rakesh Singh, for allegedly violating a party whip and supporting the BJP government over the amendment of Article 370. The Congress had suspended both after serving them with notices.
Dixit had ruled that no voting had been held in the House on the matter and the MLAs had not defied the party whip.