Maya, Mulayam share stage
After 24-year battle, show of bonhomie between ex-UP chief ministers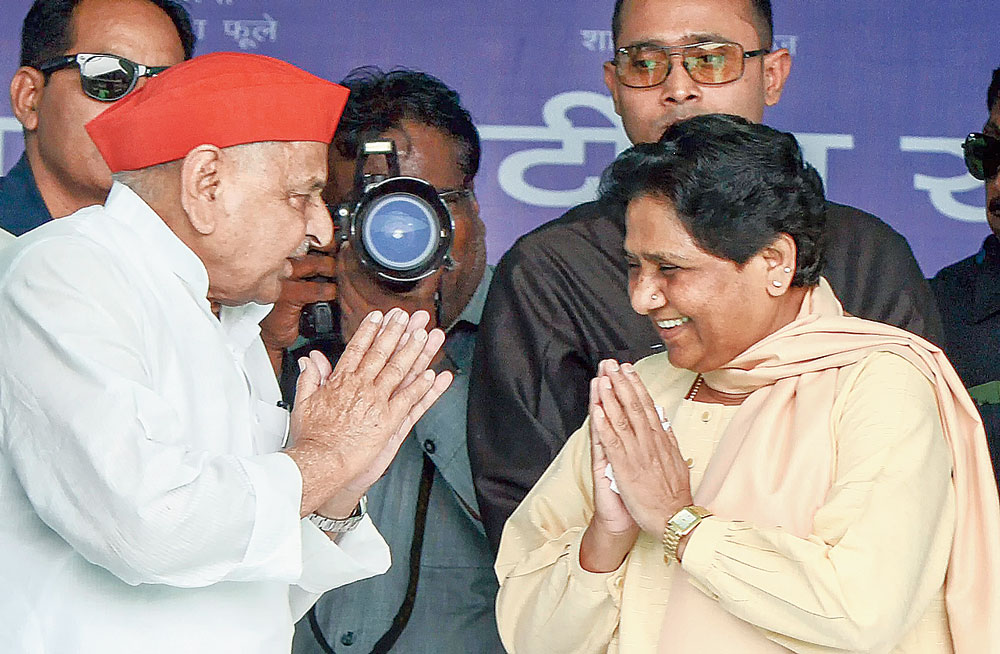 Mulayam Singh greets Mayawati at the rally in Mainpuri, Uttar Pradesh, on Friday
Picture by PTI
---
Lucknow
|
Published 20.04.19, 02:58 AM
|
---
When Mulayam Singh Yadav and Mayawati shared a stage the last time, P.V. Narasimha Rao was Prime Minister.
On Friday, the bonhomie was overflowing as the two former chief ministers, who spent most of the last 24 years regarding each other as mortal enemies, met as allies at the Christian Ground in Mainpuri.
In his 10-minute speech, Mulayam thanked the Bahujan Samaj Party chief at least 10 times for seeking votes for him in Mainpuri, which goes to the polls on April 23.
"I welcome Mayawatiji," the 79-year-old Samajwadi Party patriarch, who has in the past used every possible invective against the BSP leader, repeated after almost every other sentence.
"I shall never forget this favour. I am obliged. She has supported me when I needed it," he added, asking every party worker to "respect Mayawatiji all your life".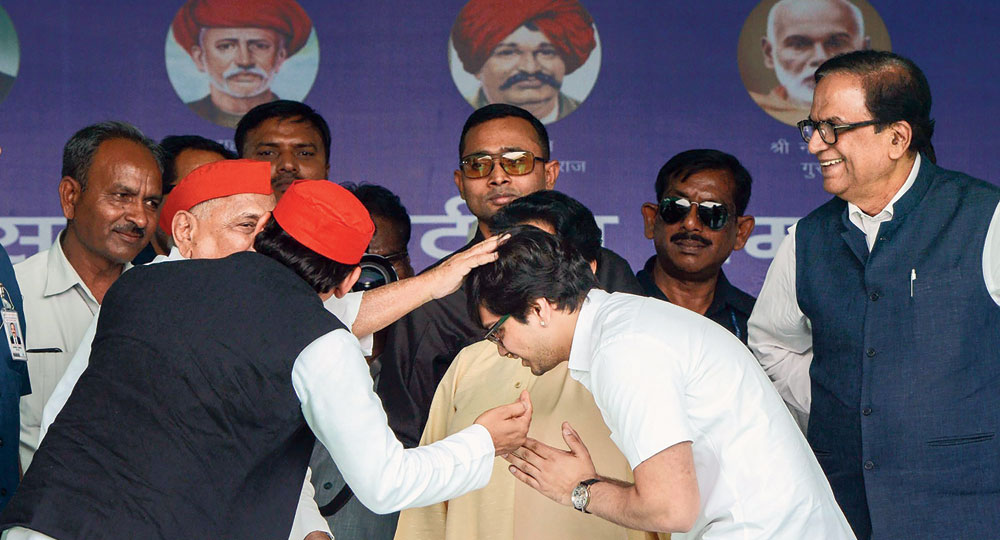 At one point he demanded water, then asked the man who had brought a glass of water for him: "Did you offer water also to Mayawatiji?"
Mayawati kept smiling throughout. She stood up in a show of respect when Mulayam returned to his chair, placed right beside hers.
Her nephew Akash Anand touched Mulayam's feet while the Samajwadi patriarch's nephew and Badaun MP Dharmendra Yadav touched Maya's.
In her 20-minute speech, Mayawati said: "There are times we have to take big decisions. You mustn't forget the Samajwadi symbol, the bicycle, and press the button to ensure a historic victory for Sri Mulayam Singh Yadavji."
Days after the duo's previous public meeting together, in Lucknow in May 1995, Samajwadi workers had allegedly attacked Mayawati at the Lucknow state guesthouse, triggering almost a quarter century of bitter enmity.
It was Mulayam's son and Samajwadi president Akhilesh Yadav who eventually decided to bury the hatchet. An informal "understanding" was achieved for a series of by-elections last year before the two parties formally tied up in January this year.
Mayawati had earlier reacted angrily when Mulayam told reporters on August 13, 2014, that he was not averse to an alliance with the BSP. Mulayam was Samajwadi president at the time.
"Agar Lalu Mayawati ka hath pakar kar milwa dein to koi etraj nahin hai (I have no problem if Lalu Prasad negotiates an alliance between us and Mayawati)," he had said.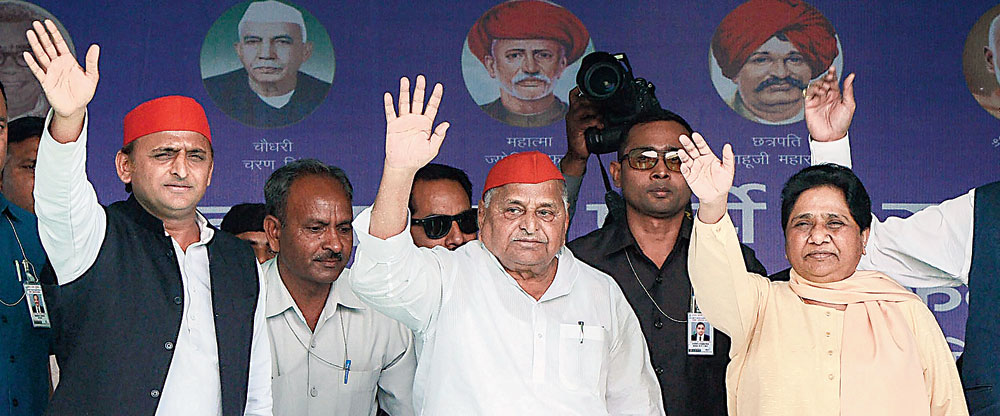 A dismissive Mayawati had then said: "Self-respect is more important than anything else for me. I haven't forgotten how the Samajwadi goons attacked me…. There's no question of any business with him. Lalu Prasad wouldn't have made any such suggestion if his wife or daughter were roughed up by the Samajwadi goons."
Their parties had not always been enemies. BSP founder Kanshi Ram had won the Lok Sabha election from Etawah in 1991 with Samajwadi help. The two parties tied up for the 1993 Assembly elections, and Mulayam became chief minister.
But Kanshi Ram withdrew support in 1995 and forged an alliance with the BJP so that Mayawati could become chief minister. He alleged that Mulayam was doing the "politics of Yadavisation" and that atrocities against Dalits were on the rise under his rule.
It was during this time that Samajwadi leaders had locked Mayawati in a room in the state guesthouse and attacked her.
In January, while announcing her alliance with the Samajwadis at a joint news conference with Akhilesh, Mayawati had said: "I am ready to forget the past in the larger interest of the country."
Mulayam won from Mainpuri in 1996, 2004, 2009 and 2014. He had, however, resigned in 2004 to retain his posts as chief minister and state legislator, and in 2014 to retain Azamgarh, where too he had won.