Manoj Jha's apology to the Covid dead fills a national vacuum
The politician held all governments since Independence collectively responsible for the tragedy that unfolded during the pandemic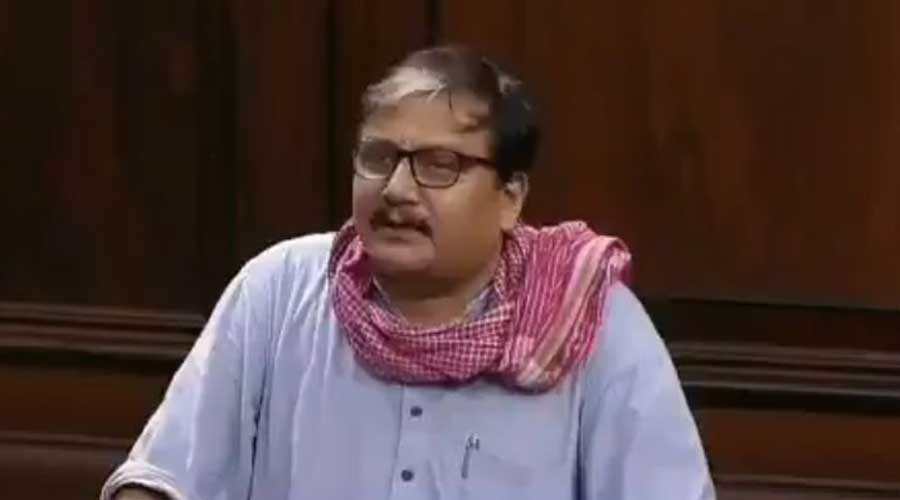 ---
New Delhi
|
Published 22.07.21, 02:38 AM
|
---
An apology rang out in the Rajya Sabha on Tuesday, addressed "to all those citizens whose deaths we didn't even acknowledge", "to the bodies floating in the Ganga that we sought to dismiss" and "to those who in their passing have left behind a living document of our failures".
The moment of introspection came not from the Narendra Modi government, which on the very same day was splitting hairs to deny knowledge of any oxygen-related deaths during the Covid second wave.
The "maafinama (apology)" was delivered by Manoj Jha, a Rajya Sabha member of the Rashtriya Janata Dal and a professor at Delhi University.
In his eight-minute address, which he insisted more than once was not a speech but an apology, Jha held all governments since Independence collectively responsible for the tragedy that unfolded during the pandemic.
Excerpts from Jha's apology in the Upper House, where he sought to become the "voice" of lakhs of people and drew the approval of lawmakers who thumped their desks:
⚫ I'm not speaking here as a member of any political party. Consider me an ordinary citizen of a bereaved republic or a public representative.
⚫ I am speaking here on behalf of lakhs of people who want to speak here.
⚫ This is not a speech. This is an apology to all those citizens whose deaths we didn't even acknowledge.
⚫ Our faith in this House should make us send a collective apology to all those whose bodies were floating in the Ganga and which we sought to dismiss.
⚫ This is a personal pain. I am not citing any figures. Look for (death) figures in your personal pain.
⚫ There is not one person in this country, in this House, outside this House and in the other House who can say they haven't lost someone they knew (to Covid).
⚫ I don't need any figures. Those who have passed on have left behind a living document of our failure.
⚫ I'm not talking about you (those in power). You'll say nothing has happened in 70 years. I don't want to go into it.
⚫ This is a collective failure of all the governments since 1947.
⚫ When I step out of this House, I see big advertisements saying: 'free vaccines, free rations, free treatment'.
⚫ This is a welfare state, isn't it? When a poor man buys a bar of soap, he is as much a taxpayer as are Adani and Ambani. And you're telling him 'free vaccine, free treatment, free ration'.
⚫ No Sir, nothing is free. He has a stake. This welfare state has a commitment. Don't denigrate, demonise and dwarf him. This is my appeal.
⚫ A lot of big talk is going on about new legislations. Why aren't you (the government) talking about the right to health? No ifs and buts. A constitutionally guaranteed (right to health) that is linked to right to life is the need of the hour. Then, no hospital can dare to play with the right to life.
⚫ Talk about right to work. A lot is being said about population. Leave demography to the demographers.
⚫ Bring a legislation on right to life and right to work.
⚫ What happened during the one-and-a-half months (during the second wave of the pandemic) feels like a nightmare. The anguished cries for hospitals, ICU beds, medicines.…
⚫ Look for the personal pain in this tragedy. Then alone will you be able to find a solution. Blaming each other won't achieve anything. This has been going on for long.
⚫ It was said, the governments didn't fail, the system failed. What's this system?
⚫ Since childhood, I have been told that behind the system there are people. If the system has failed, whether in Delhi or in village alleys, then the governments there have failed. Don't blame it on the system because people make the system.
⚫ I'm hurt, I want to wake up myself and you all as well. Floating bodies in the Ganga.… We have witnessed undignified deaths.
⚫ If we are not able correct this (state of affairs), the coming centuries will not pardon us. It doesn't matter if you put up big thanksgiving advertisements. History should be able to say thank you.