Maneka veiled threat to Muslim voters
'I'm going to win with the support and love of the people but won't enjoy it fully if I win without the support of Muslims,' says minister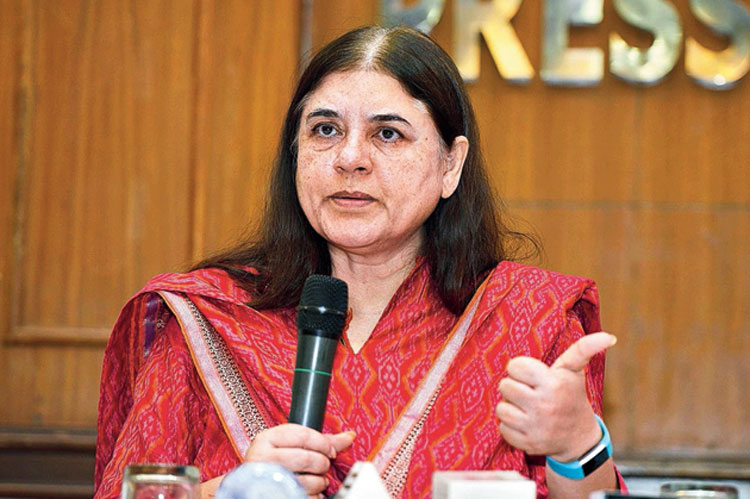 ---
|
Lucknow
|
Published 13.04.19, 01:05 AM
---
Union minister Maneka Gandhi appeared to issue a veiled threat to Muslims on Friday, suggesting she didn't feel like granting their requests if they didn't vote for her.
"I'm going to win with the support and love of the people but won't enjoy it fully if I win without the support of Muslims," Maneka, who is facing a tough contest as BJP nominee from Sultanpur, told a rally. Usually under such circumstances, polarisation of votes on religious lines makes a difference.
"Kyonki itna main bata deti hun ki phir dil khatta ho jata hai. Phir jab Musalman ata hai kam ke liye to phir main sochti hun ki 'Nahin, rehne hi do. Kya fark padta hai?' Akhir naukri saudebazi bhi to hoti hai (Let me tell you that the heart becomes sour. Then, when a Muslim comes to me requesting a job, I tend to think, 'Leave it; what difference does it make?' After all, giving someone a job is also a sort of quid pro quo."
Maneka then asked a man in a skullcap, who stood a few paces from her: "Am I right or not? Ye nahin ki ham sab Mahatma Gandhi ki chhatthi aulad hain (We are not the children of Mahatma Gandhi)."
The women and child development minister continued: "It can't be that we that we keep giving and keep giving, and keep getting beaten in elections."
She said: "This win will happen, with you (Muslims) or without you. You will have to spread this word everywhere."
Maneka added that she would accept requests from Muslims if they voted for her.
PTI said Maneka had been served a showcause notice by the district poll authorities and that the Election Commission in New Delhi was examining the speech.
After controversy broke out, she posted a tweet in the evening, saying: "In the past five years, our government has worked for the advancement and development of all sections and communities. All the people have equally benefited from government schemes. Our government has worked under the policy of 'sabka sath, sabka vikas (support and development for all)'."
Maneka is contesting from the seat of her son Varun Gandhi, who has shifted to her Pilibhit constituency. Her rivals are Congress nominee Sanjay Sinh and BSP candidate Chandrabhan Singh. Sultanpur votes on May 12.
Another BJP Lok Sabha member, the saffron-robed Sakshi Maharaj, on Friday warned voters he had spiritual powers and would transfer his sins to them if they didn't support him. "I will take away all your virtues and transfer my sins to you if you don't vote for me," Sakshi, known for his controversial statements, told a rally in his constituency Unnao.
Unnao votes on April 29.
State Congress spokesperson Dwijendra Tripathi said the statements betrayed their desperation. "Clearly both are indicating that they are going to lose the election," he said. "It's happening because of (Prime Minister Narendra) Modi's failures on every front. BJP candidates will suffer because of Modi's mistakes."