Main bhi chowkidar
Here's a genuine one, not one wearing a social media prefix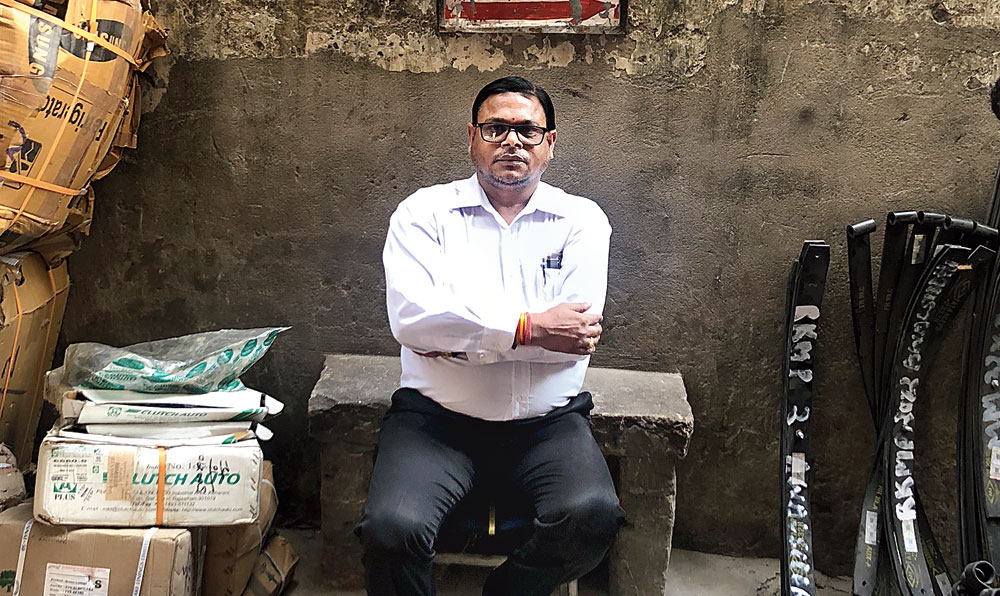 ---
Published 06.04.19, 06:47 PM
|
---
Yahan pe guard kaun hai… Who is the guard here," I ask no one in particular. There are three or four people crowding the narrow entrance to the four-storey building in central Calcutta's Princep Street. A man looks up from his phone. Another man, a labourer in a checked lungi and an olden vest, points to the man with the phone. I repeat my question. "I am looking for the chowkidar here. Down there, at the tea shop, the chaiwala said the chowkidar here is from UP." Now, everyone is agog, staring at me. The man in the lungi nods, "Yes. Yes. He is the one."
Prime Minister Narendra Modi chastised the nation only recently, "Those who have limited thinking, they feel that a chowkidar is about uniform, cap and whistle." But we are all prisoners of images. I am no exception. And the image of a chowkidar demands a uniform, a laathi maybe, a definite identifier. The man in front of me is dressed in detergent white shirt, black trousers, and shiny black shoes with socks to match. He is portly, but his girth adds to his imperious air. A black pen with a golden tip peeps out of his breast pocket alongside a giant mobile phone with a golden border — a J7, he later tells me matter-of-factly. There is a hint of a tika burning on his forehead, his right wrist is wrapped tight with orange and red threads and on his right wrist is a chunky golden watch. After a moment's hesitation, he comes forward himself, and says, "Shubh naam hai Amar Singh. Hum hain yahan ke chowkidar." Much later in the conversation, he tells me he had decided at the outset, no matter what the job, he would never agree to wear a uniform.
Chowkidar is the Hindi word for village watchman. The term is loosely used today to mean gatekeeper or anyone keeping vigil outside a house, a residential complex, an office or any institution. Chowkidar, durban, security guard — the descriptor hinges on the nature of the station, who is watching over whom or what, and other variables, but all of these mean one and the same thing. The building where Singh is posted houses offices of more than two dozen companies — shipping agencies, dealers of automotive parts, etc.
Since last month, when Modi ramped up the Main Bhi Chowkidar chant and took on the "chowkidar" prefix as the pre-poll credo, watchmen across India have been in the spotlight. In Maharashtra, Modi said he was proud to be a chowkidar of toilets. In Odisha, he boasted that his government had taken measures to set up a chowkidar in space.
And addressing crowds in Bengal last Wednesday, he said, "Didi, Congress and Communists are all the same. But this time their fight is against the Chowkidar." The Congress, unable to step away from the discourse, unwittingly added fuel to poll rhetoric — Priyanka Gandhi said Modi is a chowkidar to the rich and on social media the Ek Hi Chowkidar Chor Hai and Main Bhi Berozgar hashtags were unleashed by the party. AIMIM chief Asaduddin Owaisi demanded that Modi appeal against Swami Aseemanand's acquittal in the Samjhauta blast case if he was indeed "chowkidar" of the country.
But back to the scene of our story on Princep Street. One of the occupants of the building, an elderly man, sidles up to me and dropping his voice by a decibel, says, "Khandani hai." Singh belongs to a line of chowkidars. In 2014, Modi told the nation about his humble origins as a chaiwala and a chaiwala's son. Later, there was some talk about turning the tea stall in question, the one in Gujarat's Vadnagar, into a tourist spot. News reports said it was to be a $15 million project.
I tell Singh I would like to interview him about the nature of his work, the exact responsibilities. His face does not betray any eagerness, but he proceeds to take his spot against a sooty beige wall with a vertical signage painted over in red. Then, he sucks in his stomach just a little, folds his arms in front of him and strikes the familiar Chicago pose.
He is about to start talking when the elderly man, the same who remarked about Singh's lineage, interjects. Why are you asking him all this, he wants to know. I tell him I am curious about the chowkidar's role after the PM's exhortations. And I want to understand from one who has been doing this for years. Finally, Singh starts to talk in confident tones in UP Hindi: "Security is security. It is tough thing and an important thing, if one is serious about it…"
And for how long has he been in charge of this particular station? Suddenly emotional, Singh starts to tell a long-winded tale about how he worked here and then went away for a bit and then they sought him out again. It seems his grandfather held the same job, at the same place. In fact, there was a time when his employers suggested he replace Dadaji. Singh flinches at the memory even. He says, "My grandfather, the late Ram Avtar Singh, was a better chowkidar than me. He was the best chowkidar. How could I possibly replace him?" Singh joined two years after Ram Avtar retired from service.
Singh cannot talk about his responsibilities on the job without bringing up his daily routine. He would have us believe that a chowkidar is programmed in a certain way and the programming cannot be turned off when he is not on duty. From the time he wakes up at 5am till he goes to bed at 11.30pm, he is all attention at every fragile moment. "I try never to leave my station, and when I must, I ensure someone I trust is filling in for me." He continues, "A lot of people say, 'Arre, he is just a chowkidar. That is correct, but do those people understand what it means to be a chowkidar? If the lift stops working, if the water supply stutters, if there is an electricity issue, immediately the chorus goes up — Where is the chowkidar?"
Where is the chowkidar? In February, 42 CRPF personnel died in Pulwama when a Jaish-e-Mohammad suicide attacker rammed a car full of explosives into a bus that was part of a CRPF convoy of over 2,500 personnel travelling on the Srinagar-Jammu highway. Who is the chowkidar? In Assam, Modi blamed the Congress for the state's infiltration problems. What is the chowkidar all about?
At my insistence, Singh tries his best to describe in detail the chowkidar's responsibilities. Lal Masjid is round the corner, the sound of the azan permeates the air. Singh says, "Mushkilen anek hai… The troubles, there are many. Sometimes the lift will stop working just when I am in the middle of my bhojan (meal). Then I have to leave everything and attend to the person who is stuck in the lift. It can be traumatic. Sab ek dil ke nahi hote, koi dil ke kamzor bhi hote hai… Everyone is not the same, some people are faint-hearted." A quick draw of breath, and he is off pause mode. He adds, "I keep a strict watch on who's coming in, who's going out. There can be certain unfortunate incidents. If I see a stranger entering the building, I stop him and question him about where he is headed and his antecedents. I have to be this way. If I am not satisfied with his replies, I either show him the door or I accompany him to whichever floor he says he has business on."
It suddenly occurs to me that I haven't asked him where in Uttar Pradesh he hails from. Turns out he is from Amethi, the Congress stronghold for long years and the original Lok Sabha constituency of Congress chief Rahul Gandhi. He has a plus one in Wayanad now. In 2014, BJP's Smriti Irani contested from Amethi and lost. Talking of the Congress, the party released its manifesto only just. Among other things it promised to decriminalise laws like those on sedition and defamation. Attacking the "naamdars", the Chowkidar said: "On one hand, this chowkidar is standing here trying to protect the country and on the other hand, this power-hungry Congress has stooped so low. Is the Congress's hand with the citizens or with anti-nationals."
Gandhi is whipping up the counter offensive — Chowkidar chor hai. He has said: "How many watchmen would you find outside Anil Ambani's house, etc. etc." And yet during the UPA chowkidari, there was the 2G scam in 2008, Satyam scam in 2009, CWG scam in 2010, cash-for-vote scam in 2011, Chopper scam in 2012, Tatra truck scam in 2012, Adarsh scam… Says Singh virtuously, "Mere hisaab se, ek guard ghar ke buzurg jaise hote hai, mata pita jaise." Meaning, in his opinion, a watchman plays the role of the elders of the house.
Does Singh cast his vote? He nods. For? A quick glance all around and he mumbles, "(Inaudible) ko vote dete the pehle… I used to vote for them. But one should vote for those who can lead the country in the right direction. That is why I support him (not specified)." And then as if embarrassed by his own flailing confidence, he says, "I don't fear anyone except Bhagwan. I am a man with an open mind and a big heart."
Singh is aware of the chowkidar campaign. He buys a Hindi newspaper every day, reads it cover to cover. And does he have an opinion about this role-playing by the Prime Minister? His continuing claim that he is a chowkidar? Singh is silent, perhaps waiting for me to say some more. It is difficult to gauge from his expression if this line of questioning is making him angry or uncomfortable. I continue — last time the Prime Minister had appealed to the chaiwalas. What is it that he is trying to do here? Singh says, "Woh himmat dene ki koshish kar rahe hain… He is trying to instil courage in us."
Last week, addressing a gaggle of partyworkers and chowkidars across 500 locations over video conferencing, Modi said he was happy to note that the spirit behind the Main Bhi Chowkidar movement was expanding.
I would have liked to ask Singh a bit more about his political views, but every time I bring up something, he does this thing with his eyes. Eventually, I figure out that he is unwilling to speak about things political in front of everyone else, who, incidentally, have not stirred from his side. I hurriedly take my leave, and walk down a mile or more when I realise I have his pen. I turn back thinking I will get to ask him some of the questions I had missed out.
But what's this? There is no one at the mouth of the gate. Amar Singh is sitting on a stool, deeper into the entrance, outside the main door. And next to him is a younger man. Both are looking down at their phones, totally engrossed, oblivious to a third presence. I can see their phone screens without the peering even — both are playing a game of Candy Crush.
Addressing a rally in Bulandshahr recently, Union home minister Rajnath Singh said, "During the Congress rule, economic defaulters did not flee as they were sheltered. Now Nirav Modi, Mehul Choksi, Vijay Mallya have fled because there is a chokkana chowkidar ruling the country..."
But it was that chowkidar that let them slip out in the first place. Think about it. Think about chowkidari.