Mahua Moitra mentions 'troll armies', BJP MPs up in arms
Meenakshi Lekhi confronts her with House rules, TMC MP stands her ground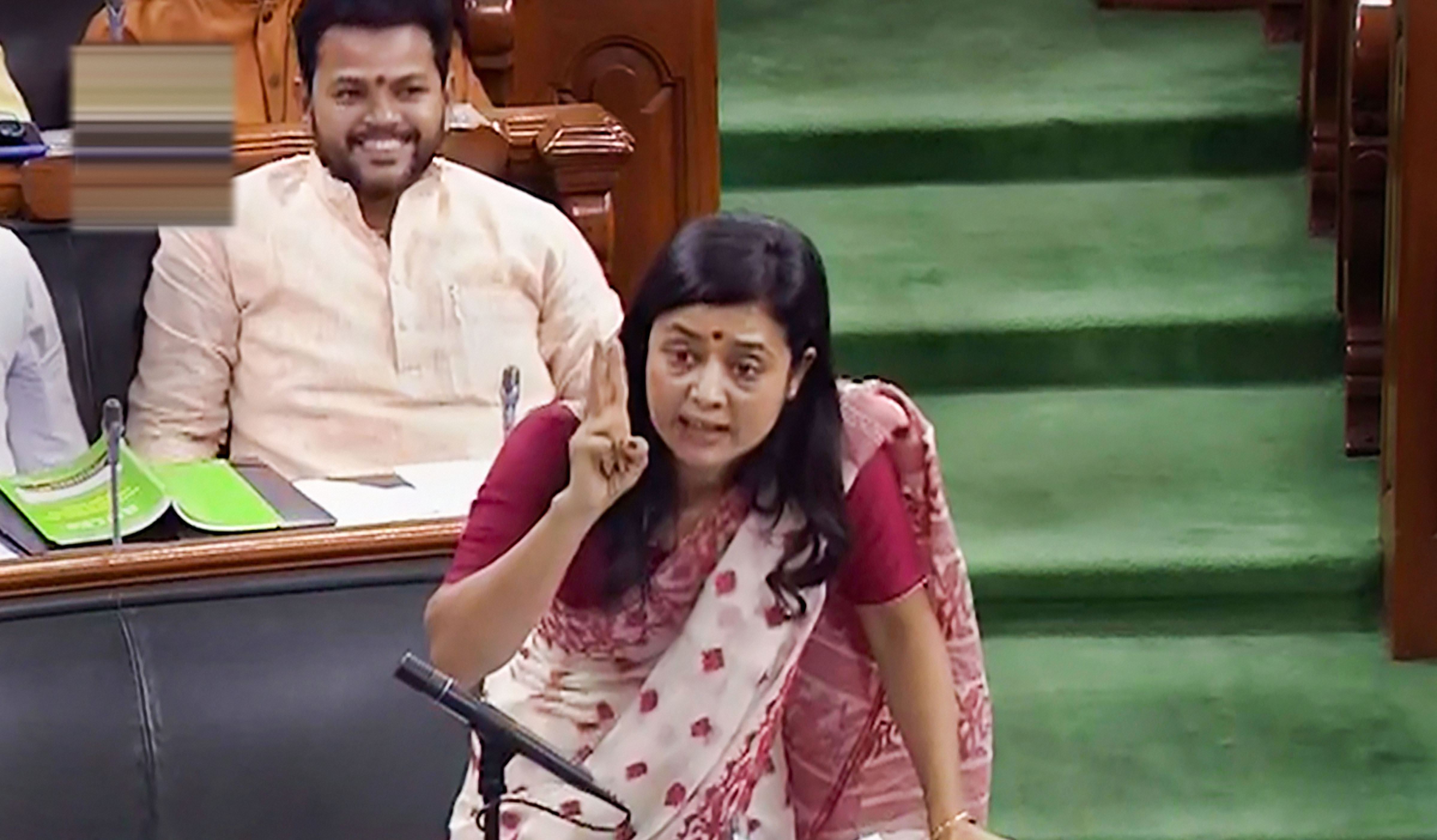 ---
---
Trinamul MP Mahua Moitra, while speaking during the debate on amendments to the Unlawful Activities (Prevention) Act today, said that the government used its 'troll armies' and 'propaganda machinery' to target Opposition members who were labelled 'terrorist sympathisers', 'sickulars' and 'aniti-national'.
The comment caused uproar in the treasury benches, and Durgapur MP S.S. Ahluwalia asked the first-time Trinamul MP if she would be able to prove such a charge against any MP in the House.
Ahluwalia's statement prompted Deputy Speaker Meenaksi Lekhi, who was conducting the HOuse proceedings then, to reach out for the rule book.
Moitra, who has earlier made fiesty speeches in this session, refused to back down. Earlier in her speech, she had attacked home minister Amit Shah, saying that he occupied the ministry that was once held by Sardar Patel. '"It is not enough to build the world's tallest statue in Sardar Patel's honour. We must, all of us, try at least to stand as tall as him," she said.
"Agar inke saath ho toh bhagwan, nahi toh shaitaan. Yeh toh nainsaafi hai (we are gods, if we are with them, else the devil)," Moitra said about the government.
She said how she had experienced first hand that every time the Opposition went agianst the government on a bill or amendment, they ran the risk of being labelled anti-national. Moitra said her friends and family warned her "to be careful". "Why are we in the Opposition at the risk of being called an anti-national every time we disagree with this government on issues of national security, on issues of law and order, on issues of policing. Every time we disagree with this government, its troll armies, propaganda machinery work overtime, call us terrorist sympathisers, call us sickulars, call us anti-nationals," she said.
At this point, Ahluwalia rose to ask the Deputy Speaker: 'When you are making an allegation against the government or any member, can you substantiate it? You can't make such allegation. Where is the government troll machineryor army?"
Lekhi immediately took out the rule book and read out that: 'No allegation of a defamatory or incriminatory nature shall be made by a member against any person unless the member has given adequate advance notice to the speaker and also to the minister concerned.'
Minister of state for parliamentary affiars Arjun Ram Meghwal said Moitra should take back what she had said about 'troll armies' and the government's 'propaganda machine'.

Moitra: "I've not said anything against any single member."
Lekhi (smiling): "So, collectively you're saying against the government?"
Moitra: "Just because they're 353 they'll shout us down. I stand my ground. I've said propaganda machinery and troll armies. It is unfortunate that you need three ministers to stand up and fight me."

The Trinmul MP further said she was sure "Mr Shah will have the grace" to hear her out. Shah was seen smiling.
Moitra continued, paraphrasing the Mahatma and George Orwell: "A truth is a truth, even if I'm a minority of one. Telling the truth is a revolutionary act."
As more interruption and chaos started, Speaker Om Birla took the chair and asked Moitra to sit down.
"Mananiye sadasya, yeh sadan hai, ahiste se bolo, sab sun raha hoon mein (respected member, this is the House, speak softly. I'm listening to you)," he said. He looked at the BJP side and said: "Mananiye sadasya pehli baar chun ke aayi hain, aap sab mananiya sadasya shanti se unki baat sune (the respected member has been elected for the first time. Respected members should listen to her quietly).'
Moitra said the chaos was a ploy to interrupt her speech and asked Birla to keep the House in order.
Interruptions and shouting continued as she proceeded to say that there are people who still have not degenerated in to the mindless world of black and white, when "either you can be pro-government or can be anti-country".