'Mahatma' BJP pinches Pragya
The BJP never supports such statements and we do not support this ideology: BJP working president J.P. Nadda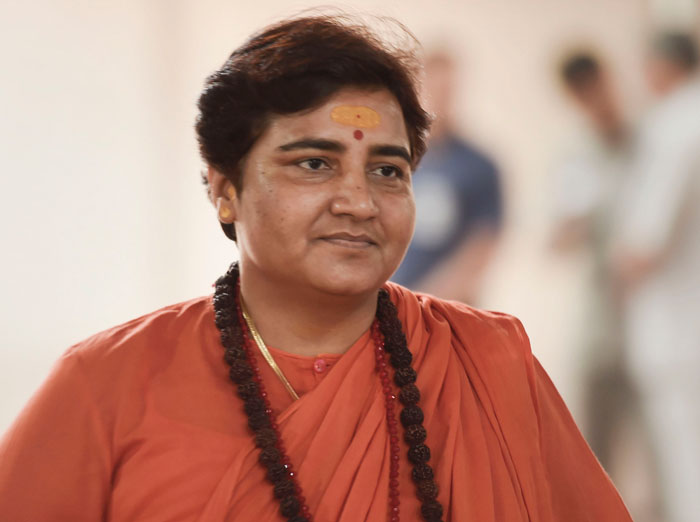 ---
---
The BJP has dropped Pragya Singh Thakur from a parliamentary panel and temporarily barred her from its MPs' meetings, indirectly acknowledging she had called Nathuram Godse a patriot in the Lok Sabha on Wednesday.
The Congress and several other Opposition parties, however, deemed the action too little and walked out of the Lok Sabha on Thursday when Speaker Om Birla refused a discussion on the comment by Pragya, Bhopal MP and terror accused.
The Congress has announced it would move a censure motion in the House seeking condemnation of Pragya's remarks and an apology from her.
"You cannot cite the example of a patriot," Pragya had said on Wednesday when, during a House discussion on the dilution of the SPG Act, DMK member A. Raja referred to the threat Godse had posed to Mahatma Gandhi.
Parliamentary affairs minister Pralhad Joshi had then claimed that Pragya had referred not to Godse but to freedom fighter Udham Singh. Raja had dismissed the claim as a "gross lie".
On Thursday morning, BJP working president J.P. Nadda announced that Pragya had been removed from the parliamentary consultative committee on defence and barred from legislature party meetings for the duration of the current parliamentary session.
"The statement made by MP Pragya Thakur is condemnable. The BJP never supports such statements and we do not support this ideology," Nadda said.
Pragya, who skipped the House on Thursday, insisted she had referred to Udham.
"The storm of lies becomes so big at times that even the day appears to be night; yet the sun does not lose its light. People should not be swayed by this storm. The truth is that I did not tolerate the insult to Udham Singh yesterday," she tweeted in Hindi.
Before referring to Godse, Raja had argued that a terror threat might endure for years and, as an example, cited how Udham had shot Michael O'Dwyer, former lieutenant governor of Punjab, on British soil 21 years after the Jallianwala Bagh massacre. Pragya had not said anything at the time.
In mid-May, during the fag end of the general election, Pragya had insisted that Godse "was, is and will remain a patriot". No action was taken against her although Prime Minister Narendra Modi said he would never be able to forgive her the comment.
In the Lok Sabha on Thursday, the Speaker rejected the Opposition's demands on Pragya, saying: "There can be no discussion on something which is not part of the official record."
All India Majlis-e-Ittehadul Muslimeen member Asaduddin Owaisi highlighted how Samajwadi Party MP Azam Khan had had to apologise for certain sexist remarks against a BJP parliamentarian in the previous House despite his comments not being on record.
Defence minister Rajnath Singh sought to placate the members, saying: "It's not just about calling Godse a patriot; we condemn even thinking such thoughts. Mahatma Gandhi is an idol for us. He was our guiding light and will remain so."
The Opposition demanded action, not just words. The Congress, DMK, Trinamul and Left members walked out. Members of the Bahujan Samaj Party, Telugu Desam, Biju Janata Dal, YSR Congress and the AIADMK did not join them.
"Terrorist Pragya calls terrorist Godse a patriot. A sad day in the history of India's Parliament," Rahul Gandhi tweeted.
He told reporters: "What she is saying is the heart of the RSS and the BJP. No matter how much the BJP worships Gandhi, there soul is that (Godse)."
Congress MP Shashi Tharoor said: "They (the BJP) gave her a ticket and brought her to Parliament. What will happen by not allowing her at parliamentary party meetings? She should not be allowed to sit in Parliament till she apologises."