Radio remedy
How ham radio operators are doing their bit during lockdown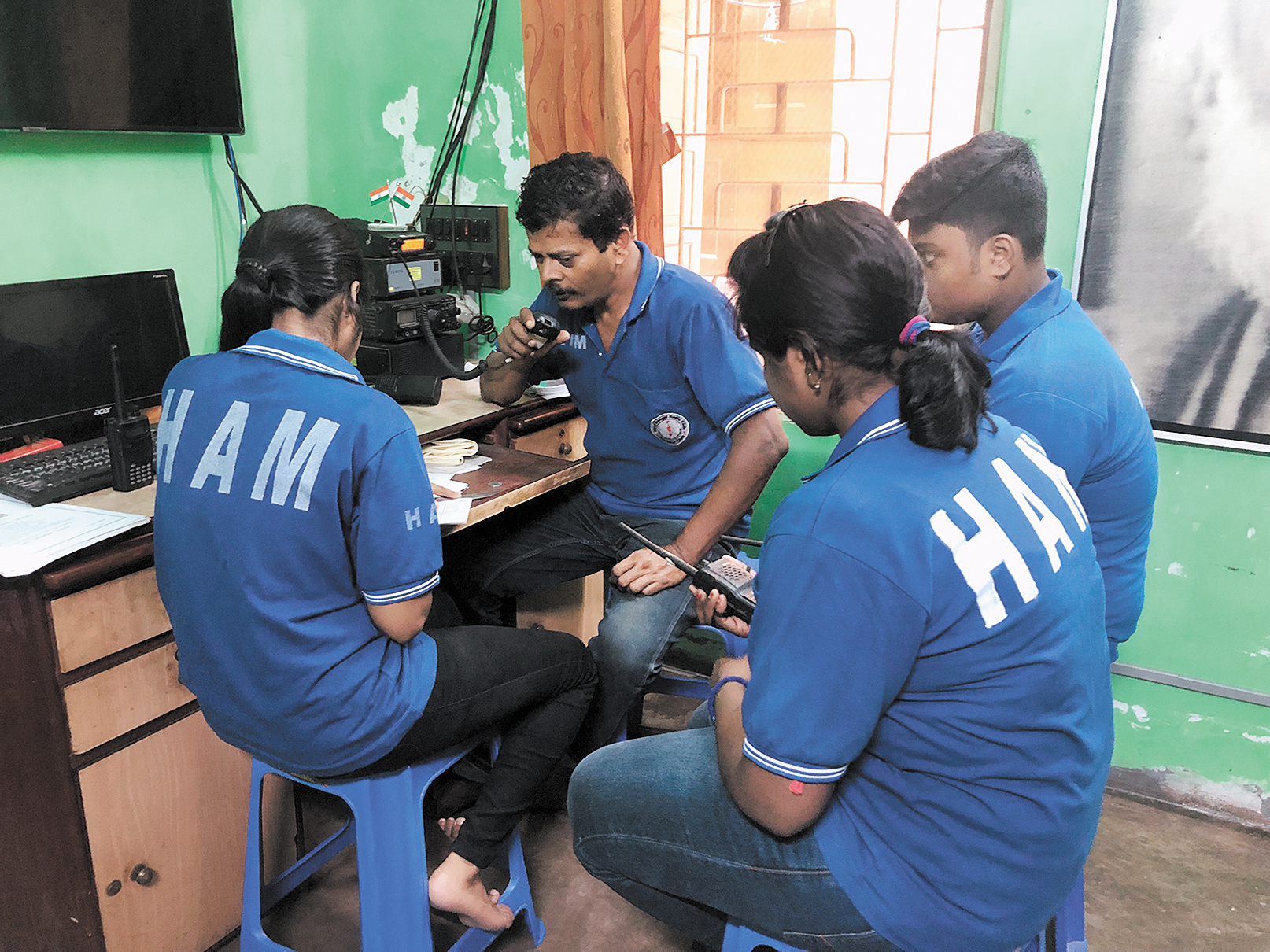 ---
---
At a bus stop in Howrah a fortnight ago, a 29-year-old was wolfing down the contents of a food packet. Swaraj Ghosh, a ham radio operator, was distributing food to people on the streets when he came across Sandhya Devi. Upon enquiry, he learnt that she was a resident of Bihar's Purnea district. Ghosh alerted Ambarish Nag Biswas, the secretary of the West Bengal Radio Club (WBRC), who in turn got in touch with ham radio operators in Bihar and traced the girl's address. Turned out her father, a sweeper with the Indian Railways, had been frantically looking for her since she went missing on Holi day.
A ham radio is about the size of a small transistor, with a dashboard, knobs and lights. There are two kinds — very high frequency radio, which can be used to communicate across 100-120 kilometres, and high frequency radio, used to communicate worldwide. They are powered by electricity and when there is none, they run on battery.
To qualify as a ham radio operator one has to clear an exam and get a licence from the central government. During this nationwide lockdown, these operators have been helping track the lost and the stranded, connecting them with organisations that can find them shelter and provide them with food.
Biswas and 87 other ham radio operators of Bengal are trained to work during disasters. "When there was news all around that the coronavirus was going to affect India, we knew things would get difficult," says Biswas who has worked with his team through the Gangasagar Mela, cyclones such as Aila and Hudhud, the 2001 Gujarat and 2015 Nepal earthquakes, and also the 2013 Uttarakhand floods.
Every geography has a distinctive ham radio code and every operator has a unique "call sign". Operators use this to transmit as well as access radio signals and that is how they connect with other operators. Once someone in need contacts an operator with a specific request — over phone, email or any other way — the operator activates others in the concerned geography.
A show on Biswas and his club of ham radio operators was aired on All India Radio in early April. Thereafter, his phone hasn't stopped buzzing. Requests from migrant labourers of South 24-Parganas stuck in Kerala, a group of young men stuck in Chennai, calls from Serampore, from Hooghly, Midnapore, Burdwan.
Says Biswas, "Whenever we are contacted, we ask people to send us their GPS location. After all, most people have smartphones. We forward the location to the ham radio operator of that area, who then proceeds to connect them with specific help at hand."
When an elderly couple needed batteries for their hearing aids, their son who lives in the US contacted the club. On April 20, Bijoy Maur contacted WBRC about his relation, Purnima Maur. Purnima, who is suffering from Hepatitis-B, was in urgent need of a particular medicine. After an extensive search and continuous communication with his network of operators, Biswas learnt that the medicine was available at the Sonarpur Liver Foundation in South 24-Parganas. Says Biswas, "I called our WBRC member Souparna Sen. The next day, Sen, who lives in Belur, drove 50 kilometres to procure the medicine. Thereafter, he drove another 150km to Mangrul village in West Midnapore to Purnima's house."
Likewise, Lili Pradhan of Ballygunge contacted Biswas when her mother needed a particular drug for her cardiac condition.The medicine was not available in the city. So, after scouring shops from Baranagar to Barrackpore, ham operator Kaustuv Roy found a place that had stock and facilitated delivery.
There are many cancer patients from Bengal who went to Chennai for treatment and could not return. Biswas's team arranged for 35 ambulances to bring them back.
Since testing has become part of the rescue protocol — between rescuing an individual and handing him or her over to the concerned local agency — there has to be a test for the coronavirus.
And it is not just humans who are benefiting from the service of ham radio operators. Turns out, a lot of people have abandoned their pets because either they cannot take care of them or they believe the virus spreads from animals. A woman in Behala has been taking care of 40 stray dogs and eight abandoned cats. When she ran out of supply to feed herself and the animals, she reached out to Biswas's team who helped her with essential food items.
Says Biswas, "We will do our bit to help every living being in whatever way we can."