Finance minister Nirmala Sitharaman on Sunday allocated an additional Rs 40,000 crore for the Mahatma Gandhi National Rural Employment Guarantee Scheme, the UPA-era rural job act the government has of late found to be relevant.
The fresh infusion means that the scheme — allotted Rs 61,500 crore in Sitharaman's budget speech for the year 2020-21 — has now got its highest-ever allocation since it started in 2006.
The yearly allocations for the scheme so far had never exceeded Rs 70,000 crore.
"The government will now allocate an additional Rs 40,000 crore under MGNREGS. It will help generate nearly 300 crore person days in total addressing need for more work including returning migrant workers in Monsoon season as well. Creation of larger number of durable and livelihood assets including water conservation assets will boost the rural economy through higher production," a media release from the Press Information Bureau said about Sitharaman's announcement.
The scheme provides for up to 100 days of employment to every rural household in a year. A job-card holder is entitled to get work within 15 days of placing a demand for work to the gram panchayat concerned. Workers are entitled to be paid their wages within 15 days of completion of a project.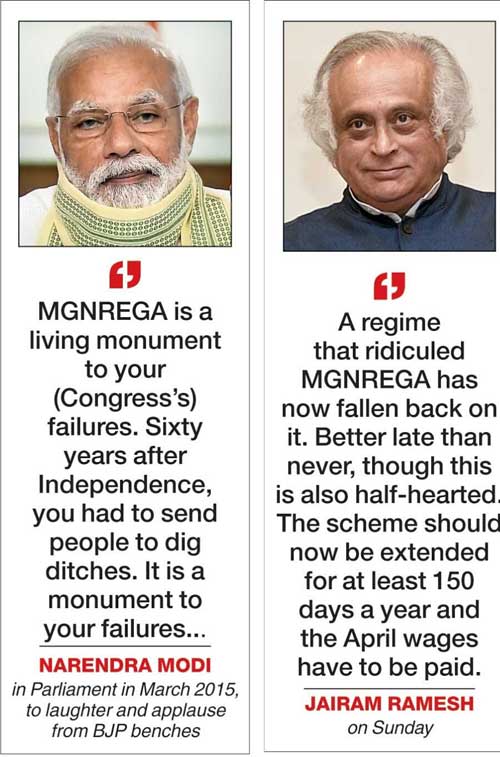 Earlier, on Thursday, the finance minister had said that migrant workers returning to their villages would get the opportunity to work under the scheme and that states and Union Territories had been asked to take the steps necessary to provide jobs.
According to labour economists, migrant workers in the country number between 12 crore and 14 crore at any point of time, including six crore to eight crore short-term migrants, most of whom are now headed back to their villages as their work sites in urban areas have closed because of the lockdown.
Nearly 27 crore people have job cards under the scheme, including around 13 crore active workers.
Prof. Abhijit Sen, economist and former member of the now-defunct Planning Commission, said many others might enrol themselves since employment prospects were likely to remain stressed in urban areas for several months, and added that the 100-day ceiling should have been raised to 150.
"There will be increased demand for work under the MGNREGA act. The process for issuance of job cards should be smooth. Secondly, since economic activities will take time to pick up, many workers will seek work beyond 100 days. The ceiling should have been increased to 150 days."
Batakrushna Swain, a villager from Bila Kankuda in Puri, Odisha, said payment of wages has always been delayed under the scheme, which discourages many from enrolling.
"Workers have to wait several months after their work for wages. That is why many don't take interest in the scheme. Also, the wage rate under the MGNREGA is less than the prevailing market wage rate," Swain said.
Sen suggested adequate deployment of block officials in charge of measuring and validating a project so that workers can be paid on time.
The NDA government had initially been critical about the job guarantee scheme and, in 2015, Prime Minister Narendra Modi had described the MGNREGA as a monument to the failure of previous governments. The government, however, gradually realised the relevance of the scheme in supporting rural people in distress.
Prof. Reetika Khera, who teaches economics at IIM Ahmedabad, said the government should give a commitment that it would make available more funds if required. She pointed out that while Rs 61,500 crore was announced in the budget, Rs 11,000 crore was for payment of pending arrears.
Khera said the announcement regarding keeping work open during the monsoon was very important. "The monsoon is the 'hungry season', when people's food stocks run out. But all this 'must' be combined with simplification of the NREGA to ensure that people get work easily and are paid on time. This includes keeping one large work site open in each village, removing the requirement to demand work and even cash payment of wages."
Activists Nikhil Dey and Aruna Roy have moved the Supreme Court seeking a directive to the Centre to pay MGNREGA workers full wages during the lockdown period even if they don't show up for work.
The matter is pending before the court.