Leh cajoles Centre with China jab
Politicians have increasingly been playing the anti-China card since Delhi agreed to discuss the grant of Sixth Schedule status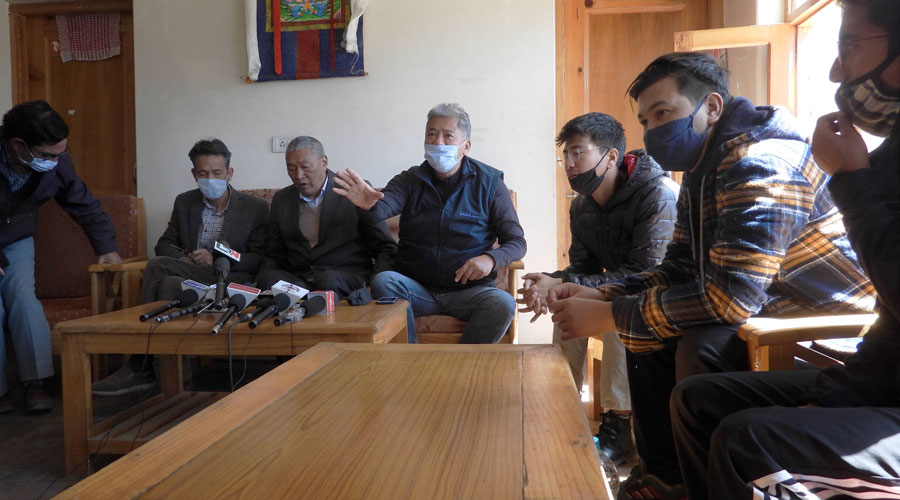 The apex body of Ladakh People's Movement condemned the recent statement of China on the Union Territory status of Ladakh in Leh on Friday.
PTI
---
Srinagar
|
Published 03.10.20, 04:54 AM
|
---
Ladakh's Buddhist politicians on Friday censured China's jibe about their Union Territory and asked Beijing to stop atrocities in Tibet and Xinjiang, apparently trying to burnish their "nationalist" credentials to coax Delhi into granting special status to the region.
"We condemn the recent remarks of the Chinese foreign ministry that they do not recognise the Union Territory of Ladakh. This is an unnecessary intervention in our internal affairs," Cheing Dorjey, a leader of the newly floated People's Movement for Sixth Schedule, told a news conference in Leh.
China's foreign ministry had recently angered India by saying: "China opposes #India putting Chinese territory in the western section of the border under its administration, which affects China's territorial integrity and sovereignty. It is 'unacceptable and void'."
The People's Movement, a mainly Buddhist body, was floated by Leh-based political, religious and cultural organisations to fight for special status for the region. It has a nominal presence of Muslims and Christians.
Delhi's apparent reluctance to bring Ladakh under the Sixth Schedule in a Bodoland Territorial Council type of arrangement had angered the leaders of Buddhist-majority Leh and prompted them to raise the spectre of separatism.
But their rhetoric began changing after Delhi showed willingness to discuss the matter, and they withdrew their call to boycott the upcoming elections to the Ladakh Autonomous Hill Development Council, Leh.
Ladakh's Buddhists, concentrated in Leh, had welcomed the abrogation of Article 370 and the creation of a separate Union Territory of Ladakh. The region's Muslims, most of whom live in Kargil, are fighting for the restoration of Article 370 and a re-merger of Ladakh with Jammu and Kashmir.
Ladakh's Buddhist and Muslim populations are both opposed to any influx of "outsiders" from "mainland India", fearing it might change the region's demographic profile. There is tension between the communities, though, with Ladakh's Muslims fearful of domination by the more affluent Buddhists.
Dorjey said Beijing should be concerned about the rights of the people of Tibet and Xinjiang, who are against Chinese rule.
"They should look into why they are committing atrocities there... We strongly condemn their statement (on Ladakh)," he said.
Leh-based politicians have increasingly been playing the anti-China card since Delhi agreed to discuss the grant of Sixth Schedule status.
Former Ladakh MP and People's Movement leader Thupstan Chewang recently said the campaign had decided to withdraw the boycott call lest it give China an opportunity to weaken the country.
"You all know how there is a big Chinese threat looming on borders. It should not happen that those working against the interests of India will connect Ladakhis with election boycott in Kashmir and this will harm the national interest," Chewang said on Saturday.
While expressing willingness to discuss special status for Ladakh under the Sixth Schedule, the Centre has condemned Kashmiri politicians as "anti-national" for demanding special status for their region under Article 370.