Opposition to play active role in President's election, says D Raja
We are discussing with all secular, democratic parties in the country for a joint candidate in the forthcoming poll: CPI general secretary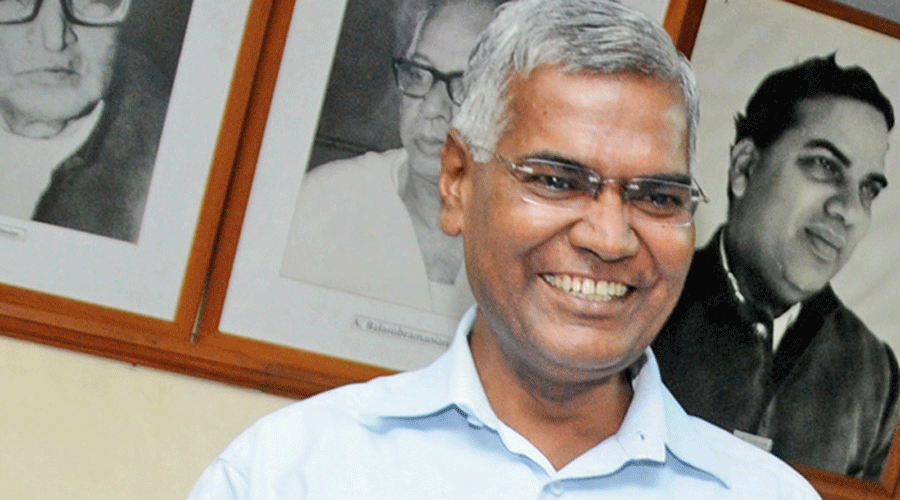 ---
Patna
|
Published 20.04.22, 02:53 AM
|
---
CPI general secretary D. Raja said on Tuesday that the Left parties had decided to play an active role in the presidential elections scheduled later this year by bringing together all secular and democratic parties and opting for a common candidate to defeat the National Democratic Alliance (NDA).
"We are discussing with all secular, democratic parties in the country for a joint candidate in the forthcoming President's election. The process has started. We have some names in our mind. A common candidate will be chosen from among them through consensus. We will work to defeat the BJP candidate," Raja said.
Raja added that the CPI and other Left parties would concentrate on bridging the gap between various parties for the sake of a united presidential candidate. He was speaking in Patna after attending the two-day state council meeting of his party.
President Ram Nath Kovid's five-year term ends on July 25 this year. Going by its strength in Parliament and Assemblies across the country, the NDA is around 13,000 votes, or around 1.2 per cent, short of the majority mark in the presidential poll. The total value of votes in the country stands at 10,93,347 of which the NDA has 48.8 per cent.
The CPI general secretary underscored the significance of  the joint statement issued by the leaders of 13 different parties expressing concern over the recent incidents of communal violence and hate.
"Congress president Sonia Gandhi, Bengal chief minister Mamata Banerjee, Tamil Nadu chief minister M.K. Stalin, Nationalist Congress Party (NCP) leader Sharad Pawar, several other important leaders and the Left parties were a signatory to the joint statement against communalism and hate. If they can come together on this, they can very well unite on the presidential election. And we are working on it," Raja said.
Raja asserted that the Left parties were together with the DMK and the Congress in Tamil Nadu and it showed that such coalitions could be replicated at the national level, too.
Asked about the possibility of Bihar chief minister and Janata Dal United leader Nitish Kumar contesting the presidential polls and the non-NDA parties supporting him, the CPI leader said Nitish's candidature was hypothetical at this point of time.
"We do not know whether he will contest or who will propose his name. His candidature is hypothetical at this point of time. But one thing is sure. We will oppose the BJP-RSS combine in the polls," Raja said.