Left leaders want to visit Valley
In particular, there is concern about former CPM MLA Mohd. Yusuf Tarigami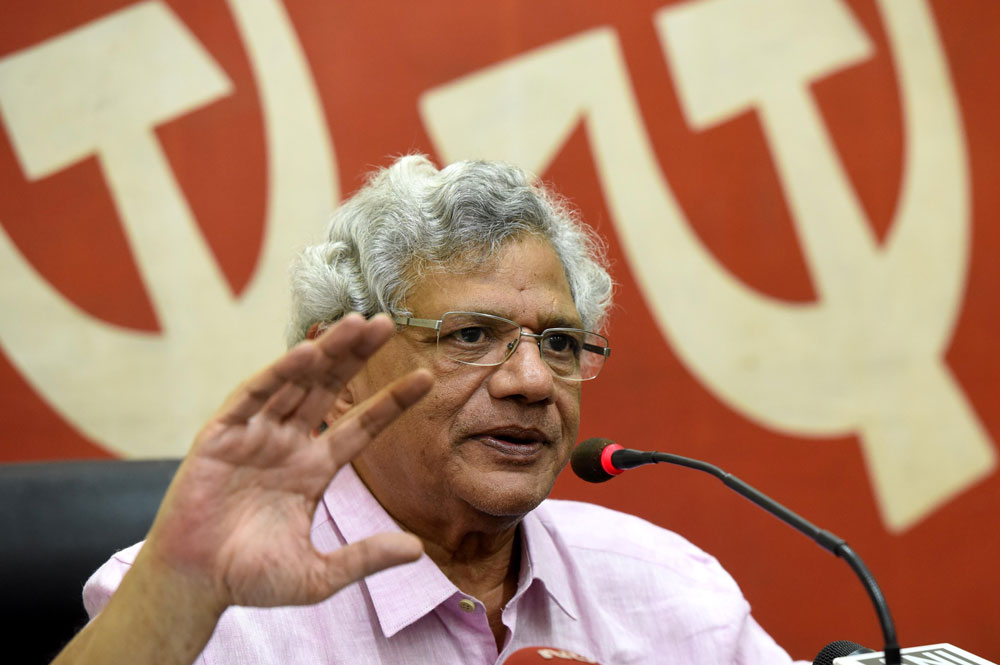 Sitaram Yechury pointed out that the CPM had an active unit in the state with an MLA, Tarigami, in the dissolved Assembly.
Telegraph file picture
---
New Delhi
|
Published 08.08.19, 09:00 PM
|
---
CPM general secretary Sitaram Yechury and his CPI counterpart D. Raja have decided to visit Jammu and Kashmir on Friday to meet party workers in the absence of any information about their whereabouts or their well-being.
In particular, there is concern about former CPM MLA Mohd. Yusuf Tarigami, who has been among those kept under house arrest since the lockdown began in Kashmir.
Both the Left leaders have written separate letters to governor Satya Pal Malik informing him of their plan despite Congress veteran and former chief minister Ghulam Nabi Azad being sent back from Srinagar airport on Thursday morning.
In their letters, the Left leaders have articulated the hope that the "administration will not create any hurdles in discharging" their responsibilities as heads of their respective parties.
Yechury pointed out that the CPM had an active unit in the state with an MLA, Tarigami, in the dissolved Assembly. "As the general secretary of a national party, I wish to visit Mohd. Yusuf Tarigami (who I was informed is not keeping good health) and other members of my party," he said in the letter.
The detention of Kashmir-based politicians and the clampdown are causing concern not just in India but overseas too. The Office of the United Nations High Commissioner for Human Rights had on Wednesday expressed deep concern over the restrictions in Jammu and Kashmir, fearing the lockdown would "exacerbate" the human rights situation in the region.
On Tuesday, the US too had expressed concern about reports of detentions and called for respect of individual rights and discussions with those in the affected communities.
The Narendra Modi government, for its part, is trying to project a semblance of normality in Kashmir and also acceptance of the surprise decision to end the state's special status and bifurcate it into two Union Territories.
Government-friendly media platforms had on Wednesday released footage of national security adviser Ajit Doval's visit to Kashmir, complete with him sharing a meal by the roadside with local people in front of shops with their shutters down.
The media platforms helped spread this message on Thursday with videos of traffic movement across the streets of Srinagar.