Left leaders held on way to Rajghat
Gandhi Smriti was closed to the public from noon till 5.30pm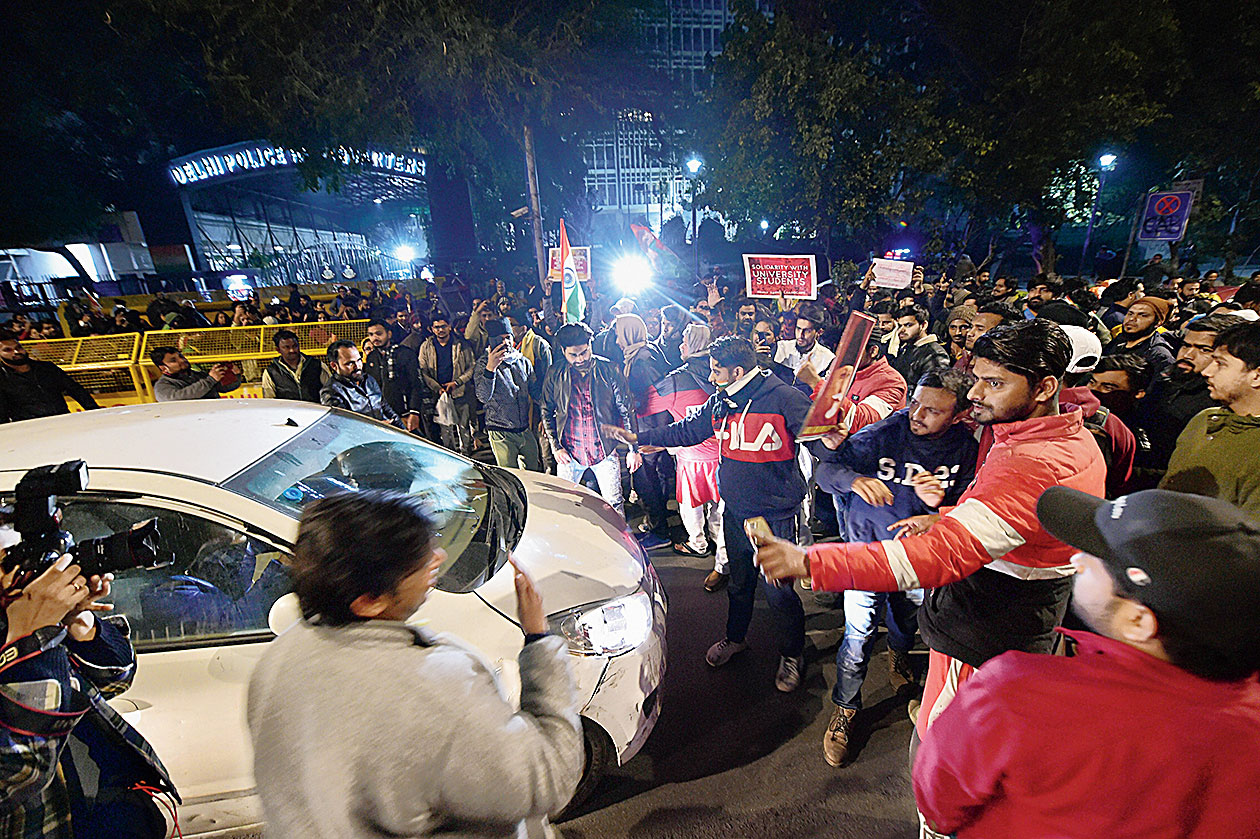 A protest outside the Delhi police headquarters on Thursday night.
(PTI)
---
New Delhi
|
Published 30.01.20, 07:56 PM
|
---
CPI and CPM general secretaries D. Raja and Sitaram Yechury, Swaraj India president Yogendra Yadav and Supreme Court advocate Prashant Bhushan were detained with scores of others in the Red Fort's neighbourhood as they attempted to form a human chain against the new citizenship regime on Thursday.
Gandhi Smriti, the spot where the Mahatma was assassinated exactly 72 years ago and which was one of the venues for the proposed human chain, was closed to the public from noon till 5.30pm. Three metro stations near Rajghat were shut.
After the police denied permission for the human chain, scheduled for 3.30pm, people began gathering around 5pm. Yechury was detained at Mandi House before he could reach the spot. The police put Raja and CPI leader Atul Anjan in a bus after they reached Rajghat.
Bhushan, Yadav and a few others managed to sing the national anthem at Delhi Gate at 5.17pm before they were detained too.
Several protesters were roughed up, and three journalists who didn't reveal their identity to the police were detained in buses and taken to far away locations in Delhi before being released at night.
Telegraph journalist
The Telegraph's Sanjay Jha was punched several times, abused and dragged across the road after a constable spotted him clicking pictures of people being detained.
Bhushan tweeted: "So for Delhi police people can't peacefully w/o disrupting any traffic can't remember Gandhi on his martyrdom day & sing national anthem. We were detained at Delhi Gate though no Sec 144. But goons brandishing guns & iron rods in Jamia & JNU will be aided by police. Rule of law?"
A source said that around 300 people had been detained and later released in central Delhi. Near the Jamia Millia Islamia, at least three people were detained while trying to scale the barricades and later released.
Harjit Singh, a Delhi University student who was assaulted by BJP workers after he shouted "Withdraw CAA!" at an Amit Shah rally on Sunday, was part of the Jamia rally.
Before the shooting, he had told this newspaper: "My friends and family (in the Sangam Vihar slum) are BJP supporters, but I come to these protests because education has changed me.… I feel the CAA violates our rights to equality and religion."
He added: "My heart ached when I saw what happened (the police crackdowns) in Jamia and then JNU. I believe in Bhagat Singh and I don't fear pain or death. I feel troubled when I don't see the flame of revolution in anyone who can't stand up and say what is happening is wrong."