Lawyer sniffs conspiracy on CJI Gogoi, claims he was offered Rs 1.5 crore
Utsav Bains said he smelt a conspiracy by 'disgruntled judges, SC fixers, corporate scamsters and a few corrupt politicians'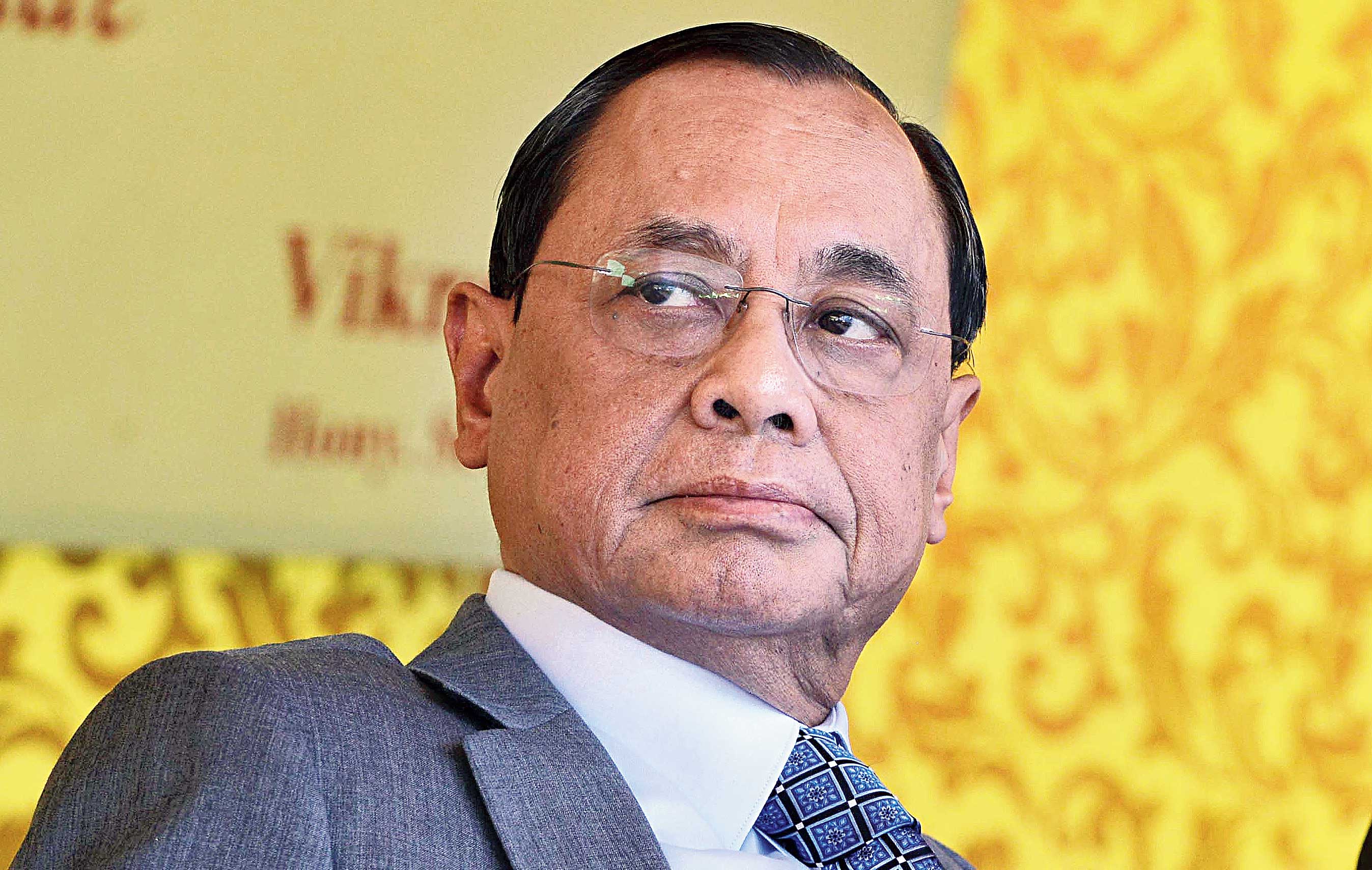 Chief Justice of India Ranjan Gogoi denied the sexual harassment allegations in a special court session on Saturday.
(Telegraph file picture)
---
New Delhi
|
Published 22.04.19, 12:46 AM
|
---
A young Delhi-based advocate has claimed that an unknown person met him a few days ago and offered him Rs 1.5 crore to organise a news conference where a sacked woman Supreme Court employee would level allegations of sexual harassment against Chief Justice Ranjan Gogoi.
In a WhatsApp message to this correspondent, the lawyer, Utsav Bains, who is representing several witnesses in the rape cases against Asaram Bapu, said he smelt a conspiracy by "disgruntled judges, SC fixers, corporate scamsters and a few corrupt politicians". So, he says, he declined the offer and decided to alert Justice Gogoi about the "conspiracy".
He says he tried to meet Justice Gogoi at his residence on Friday evening but was told he was away. By Saturday, several web portals and online newspapers had published the woman's allegations. Justice Gogoi denied the allegations in a special court session on Saturday.
The Telegraph could not verify Bains's claims.
Bains told this newspaper that when he refused the proposal from the unknown person, who "specifically asked to organise a press conference only at the Press Club of India", the man claimed to be a relative of the sacked apex court employee but could not explain the relationship.
He "then suddenly offered me (Rs) 50 lacs as my legal fees if I agreed," Bains wrote in the WhatsApp message. "When I again refused he said (Rs) 1.5 Cr. I then asked him to leave my office."
Bains said he made enquiries and began suspecting "a larger conspiracy to make the CJI resign", the "kingpin of which are many Delhi-based SC fixers or those who engage in cash for judgements".
After failing to meet the Chief Justice at his residence, he asked a Supreme Court reporter of "impeccable proven integrity" if he could arrange an "urgent meeting or get a message sent to the CJI asap".
He also planned to meet senior lawyers Prashant Bhushan and Kamini Jaiswal on Saturday to discuss the matter but found the allegations had already been published.
"After hours of ponder (sic) and soul-searching, I have decided to speak the truth and file a detailed affidavit… in the SC along with evidences of the conspiracy against the CJI by a lobby of disgruntled judges, SC fixers, corporate scamsters and a few corrupt politicians --- all who have meticulously planned the conspiracy to force the CJI to resign as their 'corrupt works were not going through in SC'," Bains wrote.
He said he would from now on not "be appearing in any case in the court of the CJI" and insisted he had "never personally interacted with the CJI or anyone close to him" and that "my electronic records etc are open to any independent scrutiny".