Lalu Prasad's RJD expresses concern at erosion of democratic, constitutional practices
Rashtriya Janata Dal asserted that nation was in danger of falling into hands of people who believed in feudal and priestly values if public did not 'positively intervene'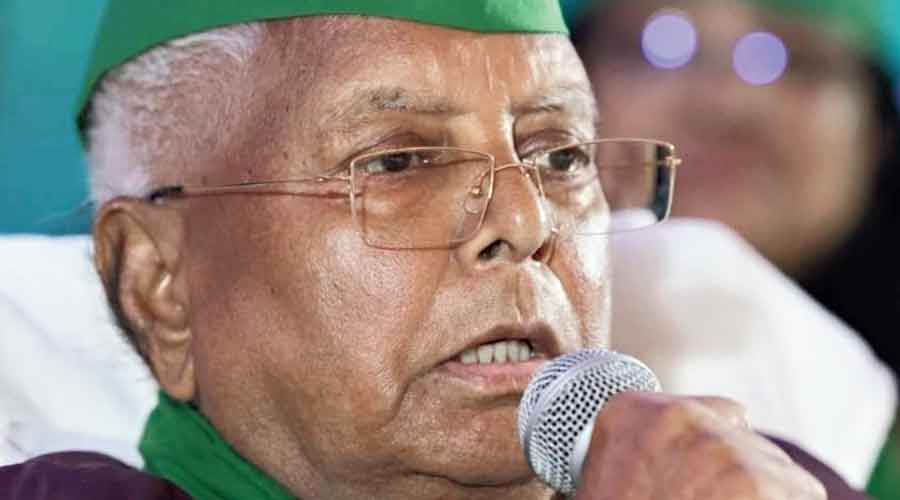 Lalu Prasad at the RJD meeting in Patna on Thursday.
Sanjay Choudhary
---
Patna
|
Published 11.02.22, 01:51 AM
|
---
Lalu Prasad's Rashtriya Janata Dal (RJD) has expressed grave concern at the erosion of democratic and constitutional practices in the country and appealed to the people to "intervene" and to political parties to create a united front.
At its national executive meeting chaired by Lalu on Thursday, the RJD asserted that the nation was in danger of falling into the hands of people who believed in feudal and priestly values if the public did not "positively intervene".
"We appeal to all democratic and socialist parties to create a political front that can keep democratic, secular and socialist values safe," the party said.
Passing a series of resolutions that will take care of the future course of the largest party of Bihar, Lalu said: "We have never seen a Prime Minister like Narendra Modi. He has reneged on his promise of sabka saath, sabka vikas. The constitutional values have been blown to smithereens during his tenure of eight years. Our country is going through such a phase that our leaders and workers must be ready to fight to save it."
The four-page resolution of the RJD is almost entirely concerned with the situation in the country.
It asserted that the northeastern, southern and northwestern areas of India were feeling neglected. Efforts are being made to force out the weaker sections, minorities and the tribals from the mainstream, the party alleged.
"The history of our freedom struggle is being distorted and the youth are being told that its entire history was false. The BJP government believes in the political-cultural values propagated by V.D. Savarkar and the RSS that gave the two-nation theory and led to the division of country," the resolution said.
It accused the BJP of trying to destroy the democratic, secular, socialist legacy of Mahatma Gandhi, Jawaharlal Nehru, B.R. Ambedkar, Bhagat Singh, Jayaprakash Narayan, Narendra Dev and Ram Manohar Lohia to impose hegemony.