Ladakh as Union Territory unacceptable, says China
Internal matter, responds Delhi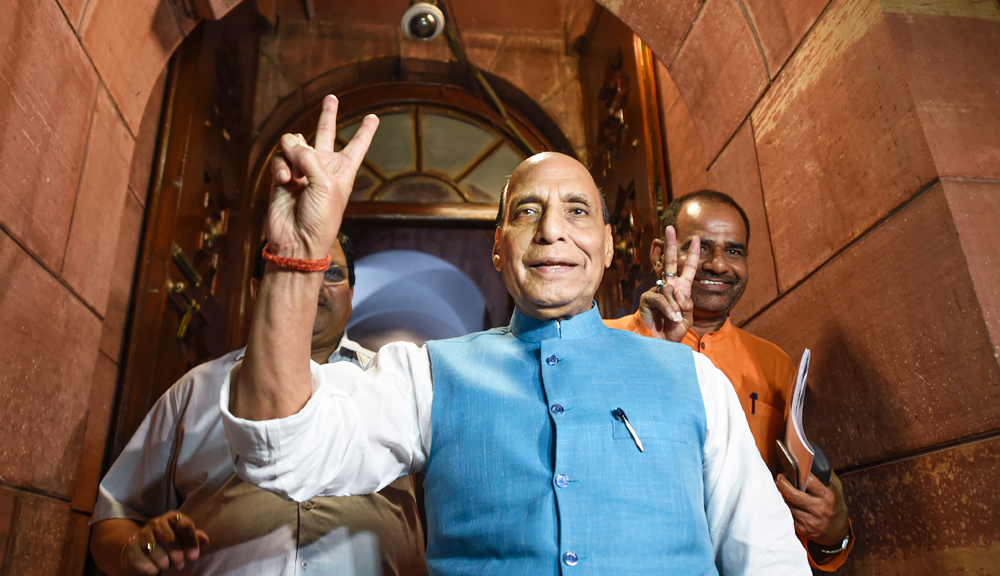 Union Defence Minister Rajnath Singh flashes the victory sign, at Parliament in New Delhi, Tuesday, August 6, 2019. The Lok Sabha approved the abrogation of special status given to Jammu and Kashmir under Article 370 on Tuesday.
(PTI)
---
New Delhi
|
Published 06.08.19, 09:46 PM
|
---
China on Tuesday said the Centre's decision to turn Ladakh into a Union Territory was unacceptable and urged New Delhi to avoid "unilateral actions" in Jammu and Kashmir.
The response from New Delhi was quick and sharp with a reminder that assumes significance in view of the anti-government protests going on in Hong Kong for nine weeks now.
India does not comment on the internal affairs of other countries and "similarly expects other countries to do likewise", external affairs ministry spokesperson Raveesh Kumar said.
He iterated India's position that The Jammu and Kashmir Reorganisation Bill, 2019, which proposes the formation of a new "Union Territory of Ladakh", was an "internal matter concerning the territory of India".
In Pakistan, army chief General Qamar Javed Bajwa said his troops were prepared to "go to any extent" to help Kashmiris. 
Global Times — the English newspaper under The People's Daily, the official newspaper of the Central Committee of the Communist Party of China — articulated China's thinking on the developments in a tweet.
"China opposes #India putting Chinese territory in the western section of the border under its administration, which affects China's territorial integrity and sovereignty. It is 'unacceptable and void'."
India had on Monday told the Chinese envoy along with other UN Security Council members — who were briefed on the developments after the bill was introduced in the Rajya Sabha — that the reorganisation of Jammu and Kashmir was an internal matter aimed at good governance.
According to a PTI report from Beijing, China iterated its stated position that the Kashmir issue "is a legacy of history between India and Pakistan, which is also the consensus of the international community".
Further, Chinese foreign ministry spokesperson Hua Chunying was quoted as saying that "the parties concerned should exercise restraint and act with caution, especially to avoid actions that unilaterally change the status quo and exacerbate the tension".
China has kept the border with Ladakh "live", particularly in recent years, resulting in on-and-off needling along this sector of the 4,057km Line of Actual Control that stretches from Ladakh to Arunachal Pradesh. Chinese and Indian troops have had minor run-ins along the Ladakh border since 2013.
PTI, the news agency, said there were reports that China had not granted visas to a group of Indians planning to undertake the Kailash Mansarovar yatra later this week. However, there was no official confirmation.