I am a virus variant now: Kunal Kamra cancels shows in Bangalore
Comedian alleges curbs on audience size and threat ploy in the city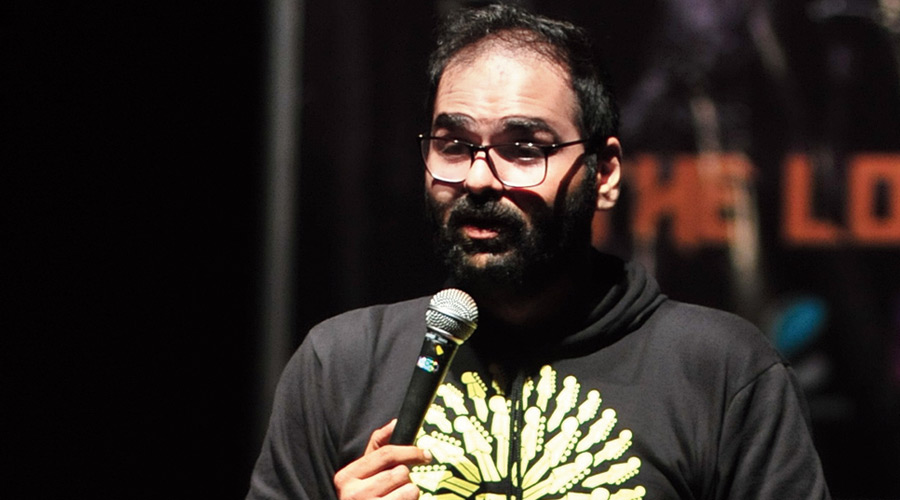 ---
Bangalore
|
Published 02.12.21, 01:41 AM
|
---
Stand-up comedian Kunal Kamra, a critic of Hindutva and Prime Minister Narendra Modi's policies, has cancelled his scheduled shows in Bangalore alleging "threats" and efforts to restrict the audience size.
On Sunday, fellow comedian Munawar Faruqui had announced his retirement at the age of 29, tweeting "hate has won", after his Bangalore show was called off following complaints from Sangh parivar outfits.
Kamra dripped sarcasm as he announced the cancellation of his shows at Artkhoj, a venue in the city's J.P. Nagar locality with a seating capacity of 50, that had been scheduled on December 1, 4, 13 and 17.
"Hello Bangalore people. I'm happy to inform you that my shows in Bangalore which were scheduled over the next 20 days have been cancelled," the Mumbai-based comedian posted on social media on Wednesday.
"They've been cancelled for two reasons. Firstly, we didn't get special permission to seat 45 people in the venue that can seat more. Secondly, threats have been made to shut down the venue if I were to perform there. I guess this is also part of the Covid protocol & new guidelines. I suppose I am seen as a variant of the virus now."
The post did not clarify who the "threats" had come from. A police source said that some people, including residents of the neighbourhood, had protested outside the venue on Tuesday evening against Kamra's scheduled shows. But neither the venue management nor the protesters registered any complaint.
An official at the venue refused to comment on Kamra's allegations. "All I can say is his shows have been cancelled. I cannot disclose anything more," the man, who wouldn't reveal his name, told The Telegraph.
An official from the health department of Bangalore's civic body, the implementing agency for Covid guidelines, declined comment on Kamra's allegation about seating restrictions. He told this newspaper that up to 500 people were now allowed at public events but new restrictions were likely to be announced in a day or two.
"For those on Twitter that have been wondering how 'A Kamra goes on to perform while a Farooqui had to quit comedy' we can find solace in the fact that the ruling class is at least trying to oppress with equality," Kamra posted.
"Maybe if we continue down the road of equal oppression, we would get to a point of equal liberation, in a post climate change era."
Kamra then offered a tutorial to "cadres" on how to go about getting shows cancelled, promising to end his career if they failed to secure success by following his tips.
"Step no 1 — Inform police that there could be violence.
"Step no 2 — Inform venue owner there could be violence.
"Step no 3 — Inform artist that if he/she/they will be coming there will surely be violence.
"Step no 4 — Remind the venue of what could happen if the artist manages to do a show despite the threats.
"Step no 5 — Be ready with celebration memes that show your victory and togetherness in missing the point."
Cancelling comedy shows 101.
pic.twitter.com/fN0U7N8QrX

— Kunal Kamra (@kunalkamra88) December 1, 2021