Kerala shocker: No place for 'Rockstar health minister' in new cabinet
Vijayan faces flak for hatchet job; #BringbackShailajaTeacher trends on Twitter, 90,000 likes on Instagram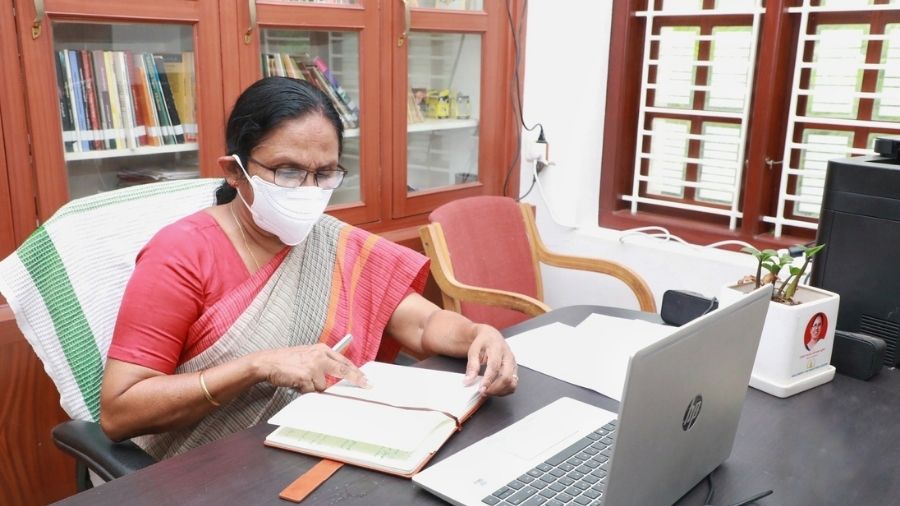 K. K. Shailaja
Facebook/ KK Shailaja
---
New Delhi
|
Published 19.05.21, 07:38 AM
|
---
It's difficult to imagine a more ruthless political hatchet job. Kerala's former Health Minister K. K. Shailaja was seen by many as the face of Kerala's initially very successful fight against the Covid-19 and won re-election by a record 61,000 votes.  But just when she was being hailed as a potential future chief minister, she was summarily ejected from the Kerala state cabinet.
Kerala's new Great Helmsman, Pinarayi Vijayan, may have bungled, though, by dropping Shailaja who's been a popular politician and moreover is one of the few prominent women in Indian politics. By evening #BringbackShailajaTeacher was trending on Twitter with over 11,000 likes and 90,000 likes on Instagram. Distinguished Malayalam writer N. S. Madhavan, who's also a keen political observer said: "Dropping @shailajateacher would create huge perceptional problems nationally and internationally. Sincerely wish there will be a rethink on this issue – still there is time."
Shailaja has been demoted to the CPI(M)'s Chief Whip in the Kerala legislature, a relatively lowly position. That's a huge comedown for the woman who was described by The Guardian as the, "Coronavirus Slayer" and "Rockstar Health Minister".  Another UK magazine, Prospect, listed her as one of the 50 Top Thinkers for the Covid Age. Even more amazingly, the bespectacled 63-year-old made it to the cover of Vogue India.
Others like actress Parvathy Thiruvothu also joined in the loud chorus calling for Shailaja's reinstatement in the cabinet, saying on Twitter: "@CMOKerala. We deserve better than this! #bringourteacherback. One of the most able leaders of our times. A rarity, really! @shailajateacher led the state through the most difficult of medical emergencies."
Many interpreted Shailaja Teacher's dropping as an effort by the CPI(M), which has a reputation for shutting women out of positions of power, as yet another effort in this direction. And they weren't mollified by the fact that three women have been brought into the cabinet, including journalist and TV presenter Veena George and Dr Bindhu, the former Thrissur mayor, who also happens to be the wife of CPM state secretary K. Vijayraghavan. 
In another astonishing move, the 20 new ministers who were appointed Tuesday are all first-time ministers. Eyebrows were also raised over the fact that Vijayan's son-in-law PA Mohammad Riyas has also been brought into the cabinet.
Former Finance Minister Thomas Isaac, who's articulate and had the reputation of being an effective financial manager, received an even bigger snub earlier. He was not even given a ticket to fight the elections. Another old face who didn't make it to the cabinet was former power minister MM Mani.
Shailaja, herself, played down the fact that she had been dropped and, when asked on television, loyally defended the move, saying: "It is a policy decision. I was also a newcomer last time. None of those from the previous term is in this time." She also pointed out that the anti-Covid fight had been a team effort and not fought by her alone.
But Shailaja had earned fame globally because her ministry had been in the eye of the storm over the past five years. In 2018, the state was able to quickly identify and control the lethal Nipah virus which has a very high fatality rate.
There have been critics, however, who said it was Chief Minister Vijayan who led the fight against Covid-19 from day one. He pulled together the state's resources and ensured that a united battle was fought against the virus. District-level workers were brought into the anti-Covid-19 and on one occasion Vijayan persuaded opposition leaders to join him during a video conference with health and district workers around the state. The police were also pulled into the fight guarding the state borders carefully and, in what was a great public relations event, sang and danced for an anti-Covid-19 video. Kerala medical facilities are also superior to those in other states and even government hospitals are well-equipped which helped in the Covid fight.
Vijayan also ensured it was clear that he was leading the fight by holding daily press conferences on the Covid-19 situation in the state. Observers noted that Shailaja initially started holding the press conferences but the chief minister swiftly took over from her when he noticed she was garnering a huge amount of publicity.