Kerala raid anger at Vijayan police adviser
Ruling and Opposition leaders aghast at the state government's own agency raiding a state-run enterprise, allegedly without informing Vijayan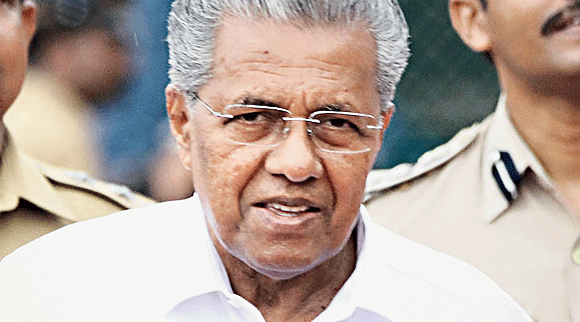 Pinarayi Vijayan
File picture
---
Bangalore
|
Published 01.12.20, 03:26 AM
|
---
Kerala chief minister Pinarayi Vijayan has a new headache to handle with rumblings from a section of the ruling Left Democratic Front over undue powers being exercised by some police officers.
While there was simmering discontent with the functioning of the chief minister's police adviser Raman Srivastava, matters came to a head with the recent raids conducted by the state vigilance and anti-corruption bureau at a public sector firm that runs a hugely popular chit fund.
Officials from the vigilance department on Saturday raided 36 branches of Kerala State Financial Enterprises Ltd. While it didn't explain the reason for the raids, KSFE chairman Peelipose Thomas on Monday explained that "there were no major discrepancies" and the sleuths asked "some basic questions" and left quickly.
Vijayan termed the vigilance bureau's action as "lightning inspections" based on the report they get. "But they don't take any action. It is the government that initiates action based on their report," said Vijayan.
He defended Srivastava and said he had no role in day-to-day affairs of the police department. "No one has to report to him or take instructions from him," said Vijayan.
The chief minister said there were 24 such lightning inspections on various departments since last year and none of them was initiated by Srivastava.
Both the ruling and Opposition leaders were aghast at the state government's own agency raiding a state-run enterprise, allegedly without informing the chief minister.
A section within the CPM has pointed fingers at Srivastava, the powerful adviser who enjoys chief secretary's rank in the government. A 1973 batch Kerala cadre IPS officer, Srivastava was appointed as Vijayan's police adviser in 2017.
One of the police officers under cloud of suspicion in the 1994 Isro spy scandal, Srivastava eventually headed the state police and retired in 2011 as director-general of BSF.
A senior CPM legislator told The Telegraph on Monday that he was "shocked" to learn about the vigilance raids at KSFE branches.
"I have reasons to believe that the chief minister didn't know about it and the raids were carried out to put KSFE under a cloud of suspicion," said the lawmaker who didn't want to be named.
He said Srivastava was already an adviser of a private security management firm that is better known for running a popular chit fund.
"I am not sure if it is a conflict of interest since he is in an advisory capacity in both jobs. But an explanation is needed," said the lawmaker.
The MLA admitted that no one had the courage to question the appointment. "Since Pinarayi (Vijayan) was always a very strong leader, we thought he would be able to control him (Srivastava)," he said.
According to the lawmaker, Srivastava and "some other police officers" advised Vijayan on going ahead with the controversial ordinance that inserted Section 118A into the Kerala Police Act that was repealed in just four days after an outcry over the provision against free speech.
"Many of us in the party feel that Srivastava enjoys tremendous clout in the police department," he said without elaborating.
"Many of us have always felt that Srivastava's style of functioning was behind the arrest of Alan and Taha," he said, alluding to journalism students Alan Shuhaib and Taha Faizal, who were arrested in November 2019 and slapped with provisions under the Unlawful Activities (Prevention) Act for allegedly distributing Maoist literature. Both of them are languishing in jail.
But finance minister Thomas Isaac tried to downplay such allegations from party members. "The government does not have such a view," he said, when asked if some police officers were behind the KSFE raids.
Already mired in controversies ranging from a gold smuggling case in which a senior bureaucrat was arrested over his links with the key accused, to being accused of curbing free speech with the now-repealed ordinance, the Opposition has been leveraging on the issues ahead of the local body polls in December and state polls next summer.
"Strong difference of opinion within the government is coming out in the open. This is an incident that reflects the loss of collective responsibility in the government," leader of the Opposition Ramesh Chennithala told reporters on Monday.
Former chief minister Oomen Chandy noted that during his tenure "vigilance never took any action without informing the minister concerned. But it depends on the style of those governing to decide if they should be kept informed on vigilance raids".