Kerala: CPM pounces on scribe who questioned strike
The party, never an admirer of Vinu V. John, and Citu immediately interpreted the comments as a direct call to attack Elamaram Kareem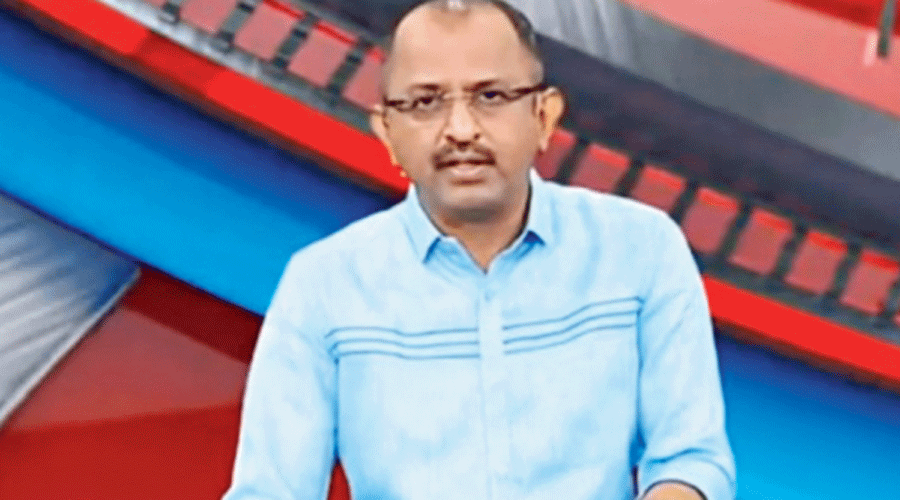 ---
Bangalore
|
Published 04.04.22, 01:43 AM
|
---
A Malayalam television host has been threatened by a Left-backed MLA and had slanderous posters pasted on his walls after he asked how a particular CPM parliamentarian would have reacted if he had been assaulted by supporters of last week's shutdown by trade unions.
While the CPM has accused Asianet News anchor Vinu V. John of inciting violence against party Rajya Sabha member Elamaram Kareem, the channel has argued the journalist had only called out the MP's insensitive trivialisation of an assault on a common man.
Strike supporters had on the first day of the March 28-29 shutdown thrashed auto driver Yasser, who had just ferried a patient to a hospital in Malappuram, leaving him bleeding from the nose.
Kareem, who is also general secretary of CPM labour arm Citu, had mocked those complaining about the assault, saying: "We had given the strike call two months ago…. Now they say someone was scratched and pinched."
At his news hour programme on March 28 evening, John said: "They should have vandalised the vehicle in which Elamaram Kareem was travelling. And then the occupants — if he were travelling with his family — should have been de-boarded. The tyres of the vehicle carrying Elamaram Kareem should have been deflated.
"Elamaram Kareem, like Yasser, should have been slapped in the face and left bleeding from his nose. Then he would have realised whether it was just scratching, pinching or insulting."
The CPM, never an admirer of John, and Citu immediately interpreted the comments as a direct call to attack Kareem. All the trade unions attached to political parties, barring the BJP, marched to the Asianet News office in Thiruvananthapuram on March 30 to hold a protest.
The CPM said it would not send its representatives to John's news hour show.
While the leading broadcaster is part of the Asianet group of channels whose parent company Jupiter Capital is owned by Union minister of state for skill development, Rajeev Chandrashekar, the CPM decided to boycott only the shows anchored by John. P.V. Anvar, a Left-backed Independent MLA, told a public meeting: "If I didn't have these three letters — "M-L-A" — on my forehead, I would have known how to deal with him (John)."
In a vituperative attack, Anvar described John as "the most polluted and filthy among Kerala's journalists" and said the anchor had "degenerated to such a low level, it forces us to ask how many fathers he has".
Posters against John appeared on the boundary walls of his home in Thiruvananthapuram on Friday, a rare instance of an organised political protest against a journalist, that too by invading his private space.
The Malayalam posters bore the name of Citu's Peroorkada branch in the state capital and appeared all over Peroorkada. Citu has not disowned them, and they were in place on Saturday evening.
"Is Vinu V. John a media goon? Protest and react against the uncultured Vinu V. John. Protest against Vinu V. John's call for violence against Elamaram Kareem. Isolate Vinu V. John," the posters read in Malayalam.
Sindhu Sooryakumar, executive editor of Asianet News, told The Telegraph on Saturday that the channel would stand by John.
"Vinu has the full support of Asianet. But we are also talking to CPM leaders to eliminate the misunderstanding since Vinu did not say what he is being accused of," she said.
The channel has spoken to Kareem and state CPM secretary Kodiyeri Balakrishnan to try and make them see what Vinu had actually meant, Sooryakumar said.
But the channel is also going ahead with "all possible legal action against the threats to Vinu", she added, without elaborating.
The state CPM secretariat has condemned John's remarks. "He has openly made a statement on the channel to attack Elamaram Kareem and his family," it said.
"A democratic society can never accept this kind of call for violence. The media fraternity should state its opinion on this."
Independent analysts however found nothing wrong with what John said.Advocate A. Jayashankar, who appears in Malayalam channels as a panellist, said a large number of people and businesses were against the two-day national strike.
"The CPM found Vinu as a convenient target when their strike flopped everywhere else in the country, although he had not said what he is being accused of," Jayashankar told this newspaper.
"He had not said that Kareem should be assaulted, or that the car in which his family was travelling should be stopped and the tyres deflated. He had only asked how Kareem would react had he been in the place of that autorickshaw driver. Anyone can understand from the video which is still circulating," he said.
"This was misinterpreted by the CPM to get a hold on the issue at a time when a large number of people and businesses had turned against them for shutting down the state for two days," he added.
Harish Vasudevan, also a lawyer and television commentator, said: "I think CPM has over-reacted. He (John) had only asked how a CPM leader would react if such a thing happened to him. It was not a call to attack Kareem."
"Even if the CPM assumes that the question was too much of an over-reaction — although I don't feel so — a political party should not have targeted a journalist. Instead of focusing on the larger issue (of the strike affecting the people), they simply narrowed down the focus on a journalist. That should not be the priority of a political party," he added.
The two-day strike was held against a clutch of labour laws and the government's privatisation policy, among other issues.