BJP accused of using Hyderabad Liberation Day for 'divisive politics'
K. Chandrashekar Rao stresses that 'religion is being misused to divide people of Telangana and disrupt peace'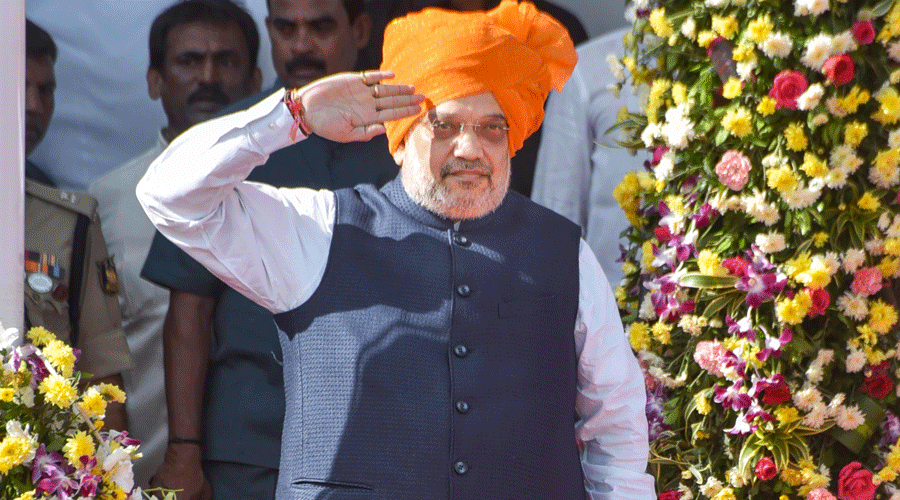 Union home minister Amit Shah during celebrations of 'Hyderabad Liberation Day' at Parade Ground in Hyderabad on Saturday.
PTI picture
---
New Delhi
|
Published 18.09.22, 03:15 AM
|
---
Union home minister Amit Shah on Saturday hailed the "liberation" of Hyderabad 74 years ago in a speech that made polarising references to "Razakars" and "vote-bank politics", his comments coinciding with Prime Minister Narendra Modi's 72nd birthday.
Shah's celebration of "Hyderabad Liberation Day" on the anniversary of the annexation of the then Nizam-ruled state was, however, countered with a "Telangana National Integration Day" by chief minister K. Chandrashekar Rao (KCR), who accused the BJP of using the occasion for "divisive politics".
Shah had come down to Hyderabad for the central government's first such commemoration of the September 17, 1948, integration of Hyderabad with the Union of India.
Addressing a crowd after hoisting the Tricolour on the Parade Grounds, Secunderabad, Shah alleged the "liberation" was being officially celebrated for the first time because the parties that have governed the state were deterred by "vote-bank politics" and fear of the "Razakars".
The reference to Razakars — a militia that resisted the Indian Army's advance into Hyderabad in September 1948 — in the present tense carried obvious communal overtones.
"They (Opposition parties) could not celebrate the liberation of Hyderabad because of the fear of Razakars," Shah said. "I want to tell them to shed the fear as Razakars cannot take decisions for this country, which became independent 75 years ago."
KCR, leader of the Telangana Rashtra Samithi who has been positioning himself as a national-level opponent of the BJP, had earlier declined an invitation to attend Shah's event.
Hoisting the national flag at his parallel event, Rao stressed that "religion is being misused to divide the people of Telangana and disrupt peace".
He asked why the BJP did not similarly celebrate the "integration" of Junagadh — a former princely state now in Gujarat — with India on November 9, 1947.
Shah invoked Vallabhbhai Patel to say that had the country's first home minister not "liberated" Hyderabad from the cruel rule of the Nizam, the dream of an "Akhand Bharat" would never have been realised.
K.T. Rama Rao, KCR's son and a minister in the Telangana government, however, contrasted Patel's role with Shah's.
"Seventy-four years ago, a Union home minister came to unite and integrate the people of Telangana into the Indian union," he said.
"Today, a Union home minister has come to divide and bully the people of Telangana."
Telangana goes to the polls at the end of next year, with the BJP keen to gain a foothold in the southern state. The BJP, which has four Lok Sabha members from Telangana, is looking to replace the Congress as the principal challenger to KCR's party.