Kashmiri poet at Jantar Mantar: Imagine army jeeps on Diwali
On social media, many questioned the decision to celebrate Diwali at all just days before the state is formally bifurcated into two Union Territories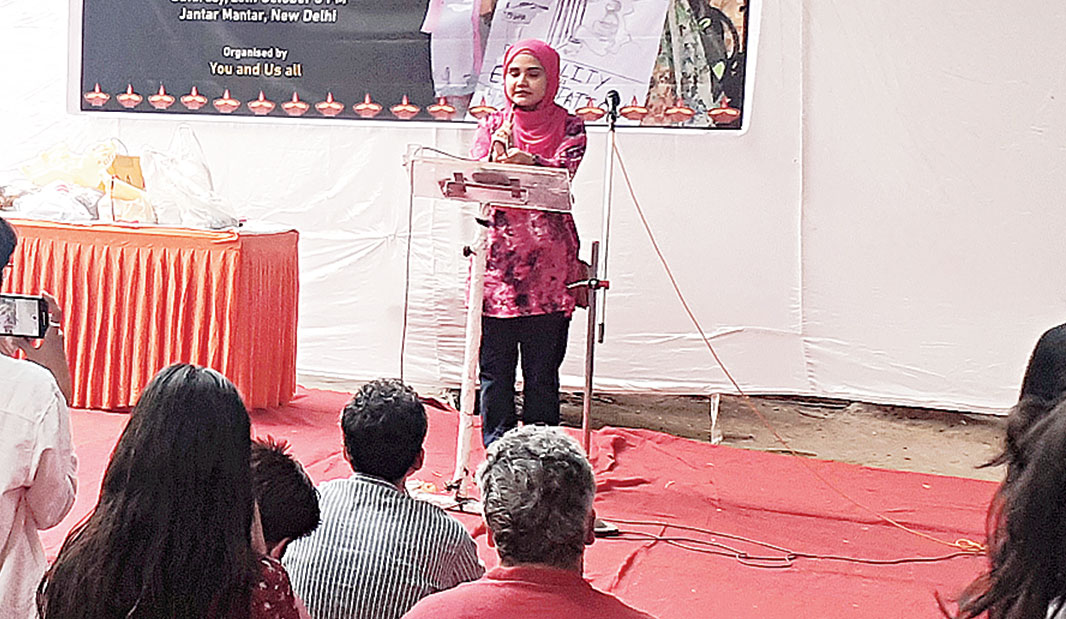 Areej Safvi speaks at the Diwali meeting on Jantar Mantar Road.
Picture by Pheroze L. Vincent
---
New Delhi
|
Published 26.10.19, 09:41 PM
|
---
To celebrate or not to celebrate. Many Indians affected by the events in Jammu and Kashmir wrestled with the question on the eve of Diwali.
Some chose to celebrate the festival with Kashmiris on Jantar Mantar Road, the capital's protest plaza.
"If we stop celebrating, those who want to remove the signs of life from this country will succeed…. More than Kashmiris, it's a fight that all Indian citizens have to fight," said Ashutosh Kumar, vice-president of the Delhi unit of the CPIML Liberation's cultural wing, Jan Sanskriti Manch.
Several poets like Gauhar Raza and the young Kashmiri poet Areej Safvi read out nazms (a form of Urdu poetry) at the event, where members of the Sangwari theatre group sang songs and distributed sweets.
Safvi, now preparing for her MA psychology entrance exams, said: "Imagine army jeeps circling your neighbourhood on the morning of Diwali. On the morning of Id, they were circling our house and making an announcement for people to stay indoors.
"We offer prayers in the Idgah across the road on Id morning. My father wasn't allowed to even cross the road. A policeman on the other side lifted his cane and shouted, 'Will you go back in, or should I give it to you?'"
Safvi added: "If you can't realise how you have murdered democracy and journalism, at least acknowledge that we have been pushed 70 years back in time, and into depression…. We acknowledge the difference between the people and the government, and we feel very good that those of you gathered here acknowledge our pain."
Since the removal of the special status in August, Kashmiri students have observed Muharram and Id on Jantar Mantar Road in protest.
On Saturday, a group with a counter-narrative also showed up. Members of the Kashmir Youth Movement, who introduced themselves as "a non-political group of Kashmiri Pandits born after the exodus of the 1990s"— gathered at the Diwali event with the Tricolour and banners praising the government and condemning Pakistan and Kashmiri separatists. The organiser denied them a chance at the mic.
"We are carrying out an awareness drive to educate people about the accession agreement Maharaja Hari Singh signed with India and about how the abrogation of (provisions of) Article 370 is good in the long run," KYM activist Kunal Dhar told The Telegraph.
On social media, many questioned the decision to celebrate Diwali at all just days before the state is formally bifurcated into two Union Territories.
A poem by Ahmedabad University senior lecturer Pratishtha Pandya, who writes in Gujarati and translates her poems into English, has been shared widely on social media
Forgive me
When unlit lamps of hope
line those eyes
how do I decorate this window
with lamps shining bright?
When footprints get erased
from your courtyard
how can I decorate mine
with colourful designs of Rangoli?
When harvested apples rot
in your backyard
how do I enjoy these festive treats
those mathiya, sev, suvali?
In your house I hear a wail
the sounds of cracking
stones, glass, and skulls
How can I celebrate Diwali?
How do I drown oneself
in the sounds of fireworks?
Someone robbed you
of your speech
Resounding helplessness
of words I hear.
Would you forgive me then
if I were to not wish you
a happy Diwali this year?