J&K tepid to outreach bid
Lt Governor G.C. Murmu's administration launched the second phase of the Back to Village (B2V2) programme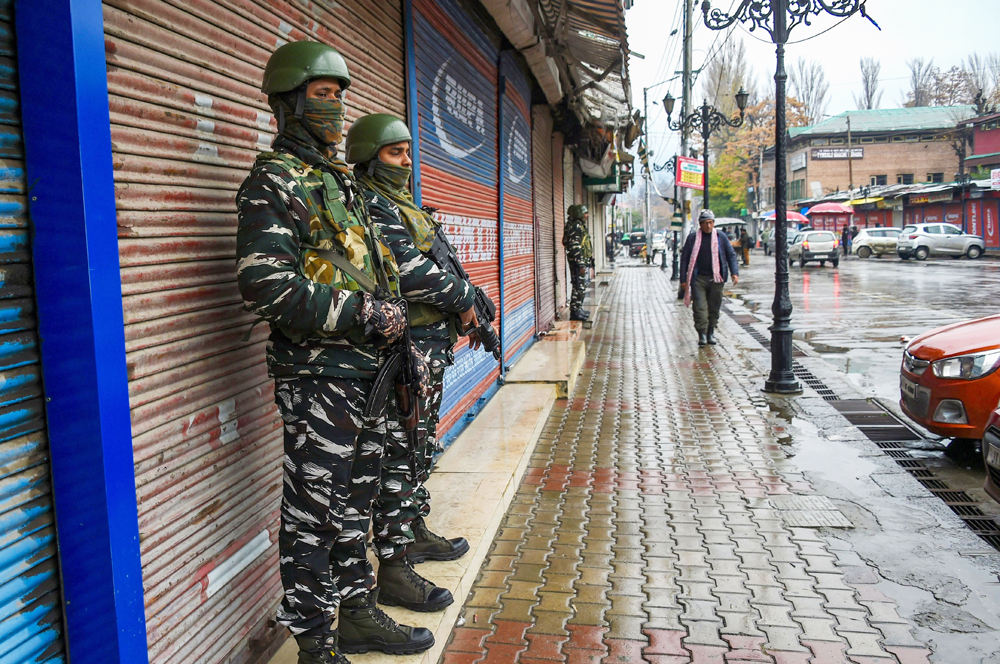 Security personnel stands guard during shutdown, in Srinagar, Friday, November 22, 2019. Most shops and other business establishments in Kashmir were closed on Friday, the third consecutive day of a Valley-wide shutdown following a brief semblance of normalcy.
(PTI)
---
Srinagar
|
Published 25.11.19, 08:48 PM
|
---
The Jammu and Kashmir government's first major public outreach since the scrapping of the erstwhile state's special status received a lukewarm response on Monday, but officials confessed themselves relieved that there was no violence.
Lt Governor G.C. Murmu's administration launched the second phase of the Back to Village (B2V2) programme, which is aimed at providing "governance at the doorsteps of the rural populace and to enlist community participation". The outreach will last till Saturday.
The first phase of the programme had been launched on June 20, weeks before the constitutional changes were announced and a clampdown imposed on August 5.
Officials said that most people stayed away from the programme at most places on Monday.
"Dozens of people, however, turned up at several places such as Dangiwacha in Rafiabad, which is encouraging. The good thing is that there was no violence," an official said.
The administration has made rigorous security arrangements for the programme, particularly against the backdrop of fears that people might vent their anger at the loss of Jammu and Kashmir's special status.
Few people could be spotted at the events in the pictures released by the government's information department.
An official spokesperson, however, claimed the six-day public campaign "would be more intense than the earlier phase as it will mainly focus on empowering the panchayats".
"(There will be) 100 per cent coverage of beneficiary-oriented schemes and (schemes aimed at) doubling the income of the rural people by giving an impetus to the rural economy," he said.
More than 5,000 gazetted officers and 657 Union Territory and directorate-level officers will visit their assigned panchayats to receive grassroots-level appraisal reports on the development projects, he said.
"The officers will prepare a report card and do a critical gap analysis on a pre-circulated format at the end of their two-day visit to a village," he said.
Lieutenant governor Murmu, his advisers, the chief secretary and other senior officers will visit the various halqa (village cluster) panchayats in both the Kashmir and Jammu divisions between Monday and Saturday, he said.
An official statement said that one of the primary objectives of the B2V2 programme was to handhold the panchayats and help remove the impediments to their use of the development funds.
The programme will assess how far each panchayat has progressed in resolving its priority issues, for which a sum of Rs 5 crore has already been released to each district.
During the programme, stress will be laid on spreading awareness in Kashmir's apple-growing districts about the Special Market Intervention Price Scheme for procurement of the fruit.