Kashmir: Hours after liquidation video, Babar Qadri killed
A few hours before his murder, Qadri had in a Facebook video accused Bar Association lawyers of planning to kill him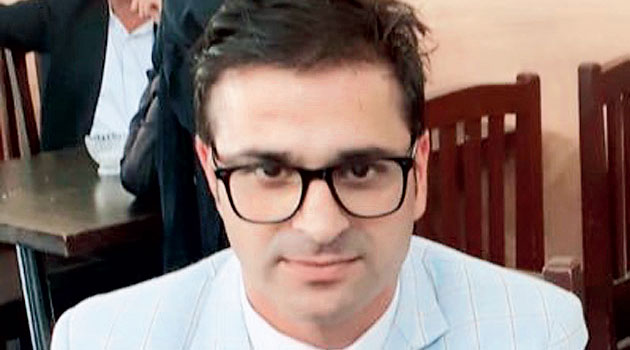 ---
Srinagar
|
Published 25.09.20, 04:48 AM
|
---
Lawyer and TV panellist Babar Qadri was shot dead outside his Srinagar home on Thursday, shortly after he had publicly excoriated separatist ideologue and Kashmir High Court Bar Association president Mian Qayoom and accused the advocate's associates of looking to kill him.
Eyewitnesses said two youths came looking for Qadri, 40, late in the afternoon and shot the father of two young daughters as he stepped out of his home in the Hawal locality.
"We heard gunshots and saw him lying blood-soaked. He had multiple gunshot wounds," a neighbour said.
No group has claimed responsibility so far.
Qadri was a frequent participant in debates about Kashmir on national television and was variously dubbed an Indian or Pakistani agent by his opponents. He knew people in high places in both countries.
A few hours before his murder, Qadri had in a Facebook video accused Bar Association lawyers of planning to kill him.
Qayoom had been released recently after being arrested ahead of the abrogation of Article 370 on August 5 last year. A key aide to Hurriyat hawk Syed Ali Shah Geelani, Qayoom had been a vocal advocate of the pro-azadi struggle.
A lawyer close to Qayoom said the Bar had neither any role in Qadri's murder nor any knowledge of who killed him.
Retired army officers and BJP politicians had, however, accused Qadri of being a Pakistani agent.
During a TV debate, BJP spokesperson Sambit Patra had addressed the lawyer as "Mr Gaddari". "Khate India ka ho, gaate Pakistan ka ho (You eat India's bread but sing for Pakistan)," Patra told him.
In his Facebook video, Qadri cited messages that some lawyers close to Qayoom had apparently exchanged among themselves, possibly within their WhatsApp groups.
"If you look at their comments… it is clear their intention is to liquidate me. This is because they have no answers to my questions," he said, without revealing the content of these "comments".
Qadri had accused Qayoom of using militants and Pakistani agencies to stifle opposition within the Bar and turning it into an extension of Geelani's Hurriyat faction.
He had also criticised senior lawyers for sending their children to the US and other foreign countries to study while provoking the children of ordinary people to pick up arms and stones.
In the video, he claimed that Qayoom had secured his release from jail by pledging silence on political issues.
A lawyer close to Qayoom claimed Qadri had recently sought renewal of his Bar membership, terminated in 2012 because of his constant criticism, and had resented it when told a decision could be taken only after internal elections at an unspecified date.
National Conference politician Agha Ruhullah appeared to blame the government's inaction for Qadri's death.
"They didn't listen to you and you had to pay with your life for their deafness. They ignored you and it proved criminal," he tweeted.
It's unclear whether the police had investigated Qadri's allegations.
Former chief minister Omar Abdullah condemned the assassination and demanded a probe.
"The assassination of Babar Qadri this evening is tragic & I unequivocally condemn it. The sense of tragedy is all the more because he warned of the threat. Sadly his warning was his last tweet," Omar tweeted.