Forgotten anniversary and festering wounds
A forgotten anniversary and festering wounds
On this day in 1953, Sheikh Abdullah was summarily dismissed from office and sent to jail on suspicion of hatching what came to be called the 'Kashmir conspiracy'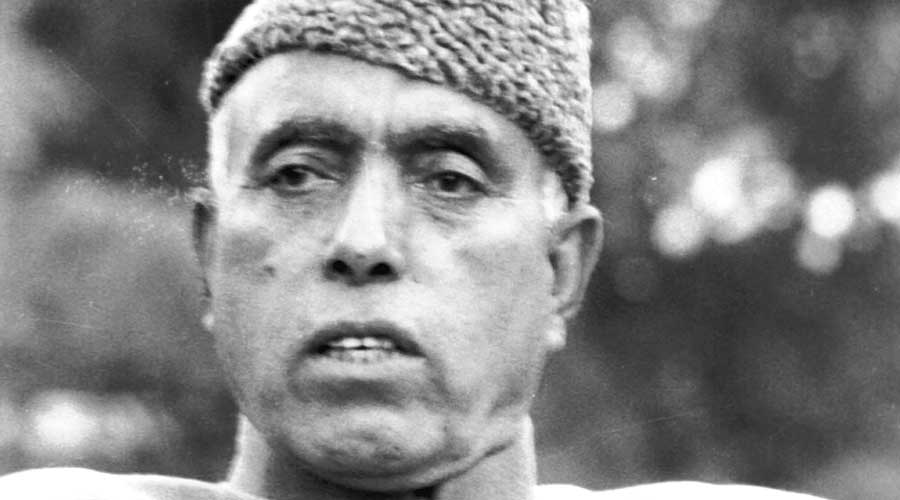 Sheikh Abdullah
Telegraph picture
---
Srinagar
|
Published 10.08.21, 02:10 AM
|
---
Few in the Valley even care to recall it now, but today is the anniversary of the first schism between Kashmir and New Delhi after Independence. Today is the day back in 1953 that Sheikh Abdullah was summarily dismissed from office and bundled into jail on suspicion of hatching what came to be called the "Kashmir conspiracy".
Since then, the relationship has never stepped off the tumultuous, and very often sinister, roller-coaster of removals and revivals, of promises made and sundered, alliances stitched and ripped apart. You have to do no more than run your eye down the tally and terms of chief ministers to understand New Delhi's capricious hand on the turnstile to power in Kashmir.
If the momentous ouster of Sheikh Abdullah by Jawaharlal Nehru more than six decades ago is no moment of significance any more, the reason is probably this: there is no power to be had in Kashmir any more, and there is no turnstile. New Delhi installed a door instead on August 5, 2019, and put a padlock on it.
No state, no Assembly, no spur to revive local ambitions of reclaiming rulership. New Delhi rules, and the odds are it has no intention of handing the reins back to any effectual degree.
A senior local leader, intimate with the drastically altered rules of the Kashmiri chessboard, put it bluntly to me: "What is happening here is a sustained project of disempowerment; the rest is all window-dressing and photo-ops."
He was referring pointedly to the meeting Prime Minister Narendra Modi had convened with leaders of Jammu and Kashmir last month.
"What continues to puzzle me is why the meeting was called at all. Did New Delhi have a plan to discuss? Clearly it did not. New Delhi does have a plan, but it is not on the discussion table, it is proceeding with it unilaterally. That plan is to erode Kashmiri aspiration to a degree that they either collaborate or fall by the wayside."
Democracy is lying comatose in Kashmir; the infirmary is a babble of contrary rowing on who will revive it, if at all, and how. The Abdullahs of the National Conference (NC) want statehood restored before they would consider an election.
Mehbooba Mufti of the People's Democratic Party (PDP) is demanding the annulment of the annulments of August 5, 2019. It is an improbable ambition, but it probably sets her apart as espousing a more radical populism.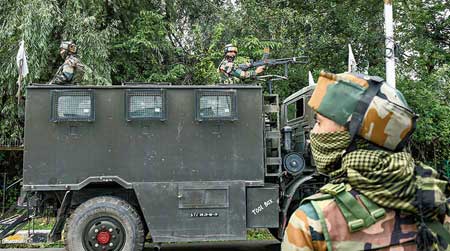 Sajad Lone of the People's Conference and Altaf Bukhari of the fledgling Apni Party are in no mean scurry, pretenders to a throne that has not been sighted in public since the sweeping abrogations of two summers ago.
Their singular claim on the table, encouraged in fair measure by New Delhi, is that they would rid Kashmir of the monopoly of the Abdullahs and the Muftis, of what Narendra Modi disparaged as the reign of "baap-bete ki sarkar and baap-beti ki sarkar".
But is there a sarkar at all to be formed in Kashmir? "Does anyone really think we can go back to things as they were? That there will be a locally elected government and a chief minister who can hold their own?" asks a former MLA.
"People are welcome to construct their delusions and live in them. After what happened two years ago, there is no going back to any semblance of Kashmiri politicians being allowed to run Kashmiri affairs. They have not understood the meaning of what happened in August 2019. New Delhi has always wanted to be the real sarkar in Jammu and Kashmir; now it has shed the pretence; it is the sarkar."
The prophecy of what was to come probably lay wrapped in what happened to Sheikh Abdullah this day in 1953; it's only being read out now.
PS: If it helps to grasp the prospects and consequences of elections in Kashmir as it is today, last winter's much-bandied polls to the district development councils may hold a lesson, or a warning. Most of those elected in the Valley cannot return among those that elected them for fear they might come to grievous harm. They live herded in quarters behind high-security walls and spools of barbed-wire fencing across the districts of the Valley.
Such is the fate of the elected in these parts.