Assimilated? 'You threw us out with August 5 blow'
Why Kashmir remains indifferent to Neeraj's javelin gold?
Young Chopra's singular achievement is a thing to cherish and celebrate, no doubt, but we don't feel it; it just doesn't come, says a retired bureaucrat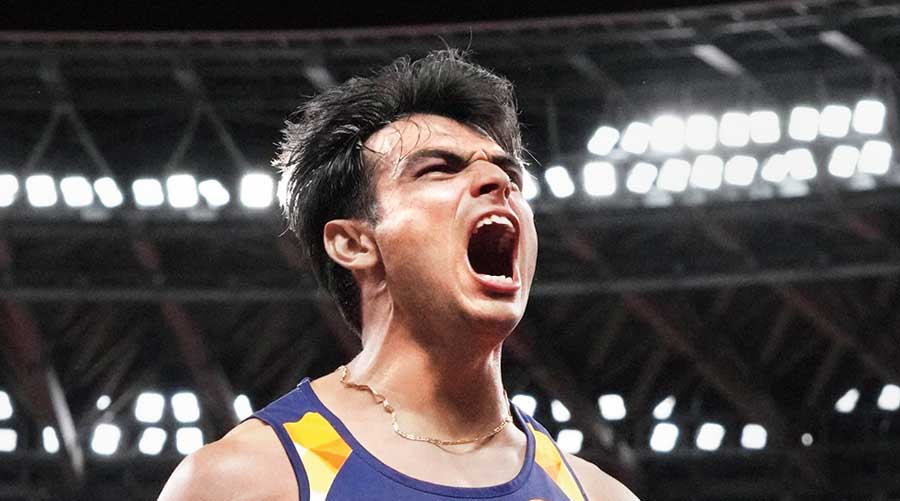 Neeraj Chopra
File picture
---
Srinagar
|
Published 09.08.21, 02:00 AM
|
---
At the time all of India was cavorting in jubilation over Neeraj Chopra's golden scripting of history with a fling of the javelin, this part of it — once its fabled crown — remained eerily indifferent.
Kashmir couldn't care that the Tokyo Olympics were closing and the valedictory crescendo was all India's. They'd have sooner turned to celebrate if Fiji had beaten the Springboks at rugby.
Such is the degree of integration with the Indian union that lies achieved two years after the stunning rites of reduction and dismemberment announced in Delhi and effected with elaborate pre-design on August 5, 2019.
Jammu and Kashmir lost its signature, though also mostly symbolic, constitutional guarantees with the blue-pencilling of Articles 370 and 35A; it was sliced into separate regions of Jammu and Kashmir and Ladakh and Kargil; most of all, the state of Jammu and Kashmir remained a state no more.
Satyapal Malik, then governor, found himself reduced, in the course of one spoken sentence by Amit Shah in the Rajya Sabha, from grand regent of one of India's largest states to lieutenant governor of a truncated Union Territory. "Your government claims from high rostrums that Kashmir has never been so closely assimilated into India," a retired bureaucrat and a high servant of successive elected state governments tells me.
"The truth is we have never ever felt so removed from India and all things Indian. Your Olympic gold and young Chopra's singular achievement is a thing to cherish and celebrate, no doubt, but we don't feel it; it just doesn't come. Don't blame us for our indifference; you threw us away with that blow."
Chopra and India's first Olympic track-and-field gold did not make the front pages of Valley newspapers on Sunday; it is unlikely anybody manning a newsroom got pulled up by the editor for missing the story of the day.
In Kashmir, it is the kind of story they'd rather miss. "This is our imposed anniversary of mourning the excesses at the hands of New Delhi," a widely respected doctor at the Sher-i-Kashmir Institute of Medical Sciences (SKIMS) says.
"Frankly, I would have been surprised if Kashmiris even took note of what happened with that gold medal, much less chatter about it; that sort of thing evaporated a long time ago. This is not the place that New Delhi projects it to be. Yes, over the last couple of years there is more of India in Kashmir than ever before, but that is inversely proportional to how much India is in the Kashmiri today."
August has never been a favoured month for Kashmiris; it's when they usually begin to tire of the summer's churn of heat and the cloying scourge it becomes when it alloys with caravans of low wafting cloud. It leaves them harried, and yearning for the onset of autumn.
Two Augusts ago, an additional blight descended on them, a blight that had no doors opening onto autumn. Kashmir became a confinement whose severity of scope had no parallels in our memories.
It did not stop at being a curfew. It did not stop at the wrenching of barbed wire fences. It did not stop at the escalated import of men and machines, jackboots on the ground, barrels at the ready. It did not stop at a shuttering so colossal and so complete that the Valley turned into the largest prison on earth.
It did not stop at imprisoning everything other than stray dogs and pigeons. It did not stop at dismantling all communication — Internet, mobile telephony, landlines.
It cauterised Kashmir from the world, it cauterised Kashmiri from Kashmiri. And yet it did not stop. It went on for days, then weeks, then months. Autumn came, and then winter, but there was no relief from the blight that was August 2019.
Recalling or remembering the events of August 2019 does not come easy to most Kashmiris; but forgetting them comes harder.
"How is it possible to forget?" asks a senior politician who wouldn't be named, probably for fear of being heckled behind bars yet again.
"You took away our rights, our dignity; you reduced us, you deputed handpicked pawns from elsewhere to lord over us and tell us what can be done and what cannot, you are constantly changing the essential conduct of our lives and our futures, we are a principality, run like a department of the Government of India. Even the fig leaf of what we called democracy, you snatched away. How do you believe we must feel? You probably shouldn't even come asking."
Neeraj Chopra's javelin travelled a triumphal distance, scoring an arch of cheer across India; it fell well short of Kashmir.