Karnataka: Tearful Yediyurappa steps down 'voluntarily'
CM recalls how he built BJP in Karnataka, refused Vajpayee offer to join ministry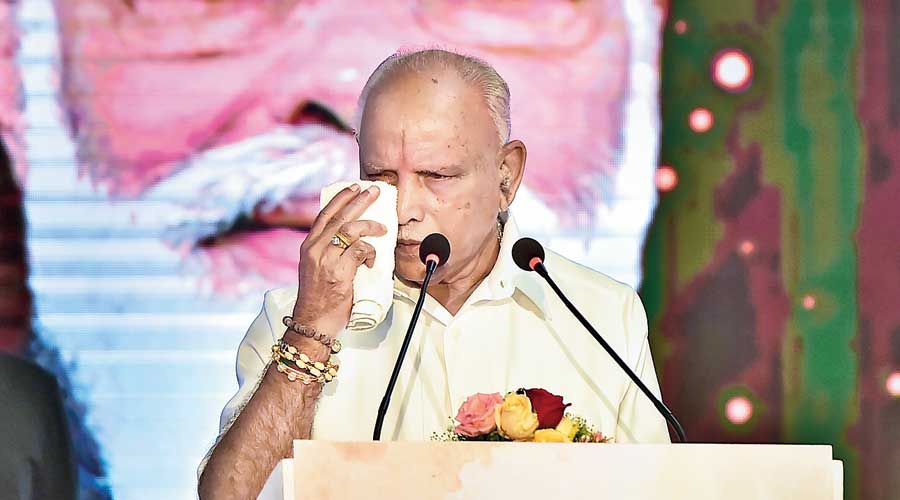 BS Yediyurappa wipes tears during a programme commemorating two years of the BJP government in Karnataka at Vidhana Soudha in Bangalore on Monday
PTI
---
Bangalore
|
Published 27.07.21, 01:16 AM
|
---
A teary-eyed B.S. Yediyurappa "voluntarily" stepped down as Karnataka chief minister on Monday, announcing his decision at an event to mark his two years in office and ending several days of suspense.
The 78-year-old, four-time chief minister, who had won his current term by engineering defections and toppling the Congress-JDS government in 2019, said he had decided to quit on his own with no message coming from the BJP leadership.
"I have decided to go to the Raj Bhavan after lunch and submit my resignation — not out of sadness but in all happiness," an emotional Yediyurappa said at the end of a 20-minute address, his voice choking as he recalled how he had helped turn the BJP into a political power in Karnataka.
"I'm happily going to the Raj Bhavan to submit my resignation, as others should get an opportunity," he told reporters while leaving the state legislature complex.
Governor Thaawar Chand Gehlot accepted the resignation and dissolved the council of ministers with immediate effect.
With speculation about his exit swirling, Yediyurappa had on Sunday said he was expecting a "message" from the BJP leadership by evening and would take a decision after that.
But after meeting Gehlot on Monday, he said that no word had come from Delhi. "I volunteered to resign since I have completed two years (as chief minister). There was no word from Delhi."
He refused to name a successor: "I will not name any names. It's the party high command that will decide."
Yediyurappa said he would continue to work for the party to ensure it won the 2023 Assembly polls.
Since talk about his resignation had triggered protests from his Lingayat community, Yediyurappa urged its pontiffs to honour his decision to resign and stop issuing statements on the subject.
"Some 400 to 500 pontiffs had come to bless me and ask me to continue in office. Since I have resigned on my own, I beg them not to issue any statements and trigger problems. I shall always be indebted to them for their support," he said.
At the anniversary event, Yediyurappa had dwelt at length on how he had built the BJP up in Karnataka from a time when he was its lone MLA, after Vasanth Bangera resigned from the party, in the late 1980s.
"Today I have the satisfaction of fulfilling my duties," he said.
Yediyurappa, known for his organisational skills even when the BJP enjoyed little support in Karnataka, recalled how Rajnath Singh and Sushma Swaraj had expressed surprise at the way he had mobilised thousands of farmers and women for two rallies in the state.
"Atal Bihari Vajpayee had asked me to become a Union minister. But I told him I wanted to build the party in Karnataka (voice chokes) and won't come to Delhi at any cost," he said.
"At the time there would be hardly 200 to 300 people even when Vajpayee, L.K. Advani or Murli Manohar Joshi visited Karnataka. I used to tour Shimoga district on a bicycle because we did not have a car. Today the party has grown across the nation."
The BJP won its first election in Karnataka under Yediyurappa's leadership in 2008. But he got embroiled in controversies and corruption cases as chief minister, and the BJP forced him to resign in July 2011. He was arrested in a land scandal in October and spent 25 days in judicial custody.
Angry at the way the BJP had treated him, Yediyurappa launched the Karnataka Janata Party, branded it a "secular" party and ensured the BJP's defeat in the 2013 elections by cutting into its votes. He returned to the BJP in 2014.
His exit now leaves the BJP without an experienced leader to helm the government. While the RSS wants to move away from caste equations by picking national organising secretary B.L. Santosh, a Brahmin who is close to Prime Minister Narendra Modi, many in the state BJP are against ignoring the Lingayat community that has been the BJP's mainstay all these years.
Several aspirants have already made a pitch for the top job before the party leadership. Mines and geology minister Murugesh Nirani — who happens to belong to the Panchamashali Lingayat sub-sect — has visited Delhi twice in recent days.
Union minister for parliamentary affairs Pralhad Joshi is widely seen as a non-controversial candidate who could take all sections along with him.
While all the three deputy chief ministers too have thrown their hats in the ring, the 70-year-old Govind Karjol will have the edge if the BJP opts for a Dalit chief minister.