Karnataka kit scam charge by P.C. Siddaramaiah
The former CM accused the BJP govt of embezzling Rs 2,000 crore while purchasing equ­i­pment such as ventilators and producing inflated invoices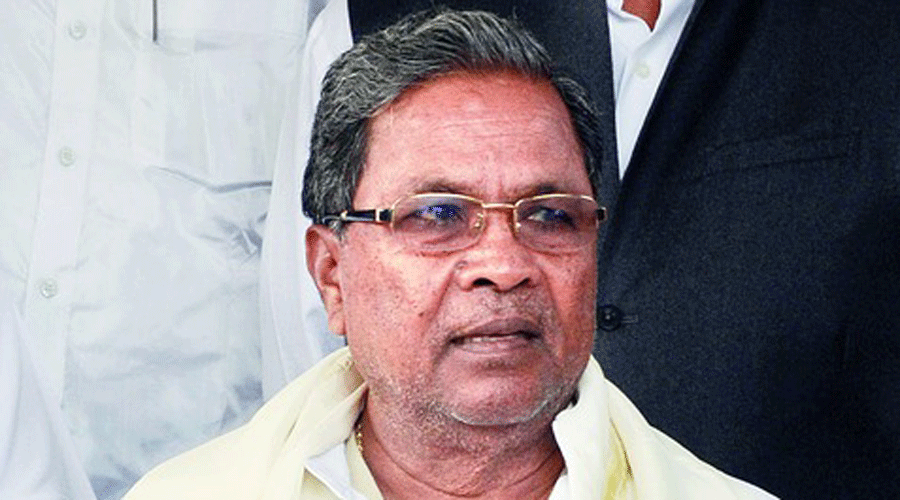 ---
Bangalore
|
Published 24.07.20, 05:25 AM
|
---
Former chief mi­nister P.C. Siddaramaiah on Thu­rsday demanded a judicial probe into an alleged scam in the purchase of essential equipment for Covid-19 management in Karnataka.
Addressing a news conference at the party office |here, Siddaramaiah accused |the BJP gove­rnment of embezzling Rs 2,000 crore while purchasing equ­i­pment such as ventilators and producing inflated invoices.
"The ministers pocketed Rs 2,000 crore by showing an expenditure of Rs 4,167 crore to purchase essential medical equ­ipment," Siddaramaiah, the leader of the Opposition in the Assembly, said.
He cited examples of how neighbouring states Kerala and Tamil Nadu paid less for ventilators even when demand was very high.
He said the Karnataka go­ver­n­m­e­nt purchased ventilators for Rs 5.60 lakh, Rs 12.32 lakh and Rs 18.20 lakh per unit, while the Ce­ntre procured 50,000 ventilators for Rs 4 lakh apiece, Kerala pu­rchased 15 ventilators for Rs 2.86 lakh from a Bangalore firm and Tamil Nadu bought 100 transport ve­ntilators for Rs 4.78 lakh per unit.
 "Why did Karnataka buy ve­ntilators at such exorbitant prices when the Centre and our ne­igh­bours paid much less? This raises a stink of corruption as they have over-invoiced to steal public mo­ney," Siddaramaiah said.
He demanded an independent probe by a sitting judge of the high court.
He also accused the gove­rnment of paying up to Rs 2,117 for each personal protective equipment (PPE) kit while the market price was Rs 330 per piece. "The government bought 3.5 lakh PPE from a company in Maharashtra. Of this, 1.25 lakh pieces were rejected due to poor quality. But the government paid Rs 2,117 for each of the remaining units," Siddaramaiah alleged.
 "They talk about 'Make in In­dia' but the chief minister ap­proved the purchase of three lakh PPE kits from China at a cost of Rs 94.2 crore, some of which were not fit to be operated," he alleged.
"It's the same with N95 masks for which they paid Rs 12,60,150 when it costs Rs 100 in the market," he said.
He accused the government of procuring thermal scanners for Rs 5,945 each, when it was available in the market for Rs 15,00-2,000.
"They paid Rs 250 for 500ml of hand sanitisers and the social welfare department paid Rs 600 for 500ml when the wholesale rate was about Rs 100," he said, accusing of a major scam.
Siddaramaiah said each department inv­olved in Covid-19 management had spent more than they were entitled to.
State home minister Basavaraj Bommai, who is part of the core team managing Covid, told a hurriedly called news conference that the government had so far spend only Rs 506 crore for purchasing ventilators, PPE kits, masks and sanitisers.
 "Our leader of the Opposition is spreading lies when we are struggling to manage the current situation," Bommai said.
But none of the ministers who were present at the news conference said anything about a judicial probe demanded by Siddaramiah.
Deputy chief minister H.N. Ashwath Narayan accused Sid­daramiah for "misleading" the people.
 "The transport ventilator Ta­mil Nadu purchases is for fitting in ambulances. The ventilators we purchased are for ICUs in Co­vid-19 hospitals. He is misleading the people with such lies," he said.
Narayan dismissed the allegations over over-invoicing any of the medical products purchased as part of the Covid-19 management.
 "Ventilators were among the essential equipment that were in huge demand at the outbreak of Covid-19," Narayan said.
 "Depending on the model and their features we paid Rs 5.6 lakh to Rs 15 lakh for a unit," he said dismissing Siddaramiah's allega­tions and added, "every bit of his claim is false."