Rethink hint from two Congress rebels
The Assembly numbers are now 117 for the government and 107 for the BJP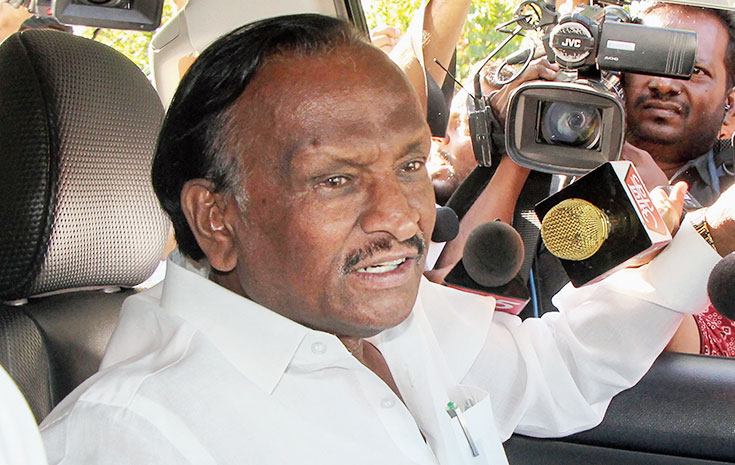 ---
Bangalore
|
Published 14.07.19, 07:27 AM
|
---
Two rebel Congress MLAs hinted at a possible rethink on Saturday, giving a slender hope to Karnataka's ruling coalition ahead of a trust vote whose date is yet to be decided.
M.T.B. Nagaraj told reporters he had sought "some more time" from the party to decide whether to withdraw his July 10 resignation and promised to sound out K. Sudhakar, who had resigned along with him, too.
Another rebel, Ramalinga Reddy, was non-committal about his next move but said he would attend the Assembly session from Monday. Like the other rebels, he had skipped the House on Friday, when the monsoon session opened.
Some 13 Congress MLAs and 3 from the Janata Dal Secular have handed in their resignations which, if accepted, will reduce the government to a minority. The Assembly numbers are now 117 for the government and 107 for the BJP, after two Independent ministers resigned and switched sides this week.
On Friday, the Supreme Court gave the state government a breather by preventing the Speaker from deciding on the resignations till further orders from a constitution bench, which will start hearing the larger issues involved from Tuesday.
Within minutes of the court order, chief minister H.D. Kumaraswamy had sought a trust vote, catching the BJP by surprise.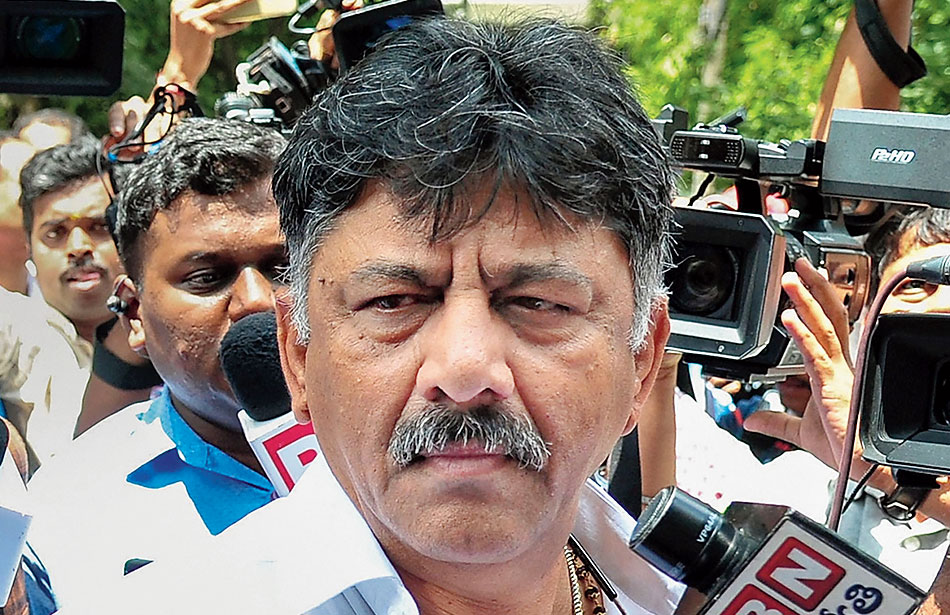 Nagaraj's comments came on a day he and four other Congress rebels applied to the Supreme Court to be included in the earlier petition moved by 10 fellow dissident MLAs seeking a direction to the Assembly Speaker to decide quickly on their resignations. These 10 are in a Mumbai hotel, allegedly herded by the BJP.
Ruling coalition sources, however, said Nagaraj's Saturday morning hint at a rethink was genuine, arguing he would have signed the application in Bangalore on Friday.
Nagaraj's apparent change of heart came after the Congress's principal trouble-shooter, D.K. Shivakumar, paid him a midnight visit and then visited him again on Saturday morning.
"Things were different when I resigned. But now Shivakumar has come and requested me to withdraw the resignation. I have asked for some more time," Nagaraj told reporters at his home in Shivakumar's presence.
"After all, I have been in the Congress for decades. Once I talk to Sudhakar (and get a confirmation) we will meet the media."
Sudhakar is among the five who have sought inclusion in the apex court case.
Shivakumar was confident that Nagaraj and a few others would withdraw their resignations. "We are very happy that our senior leader (Nagaraj) has said he would stay with us," he said.
Nagaraj later visited P.C. Siddaramaiah, chairperson of the coalition coordination committee, at his home and held a long discussion.
Ramalinga Reddy, who now remains the lone rebel among the 16 not to have petitioned the apex court against the Speaker, told reporters: "I will not talk politics, but I will attend the session from Monday."
But his daughter Soumya Reddy, an MLA who is still with the Congress despite speculation that she too could resign, snapped at reporters when asked about her father's possible decision.
"Why do they (the Congress leadership) need him now?" she asked. "My father has never gone to them seeking power. He never lobbied. Some super leaders have done this. I won't reveal their names."
Soumya had met Sonia Gandhi in Delhi after the spate of resignations had begun.
Ahead of the trust vote, the Congress, JDS and the BJP have sequestered all their MLAs in hotels and resorts around Bangalore as a shield against "poaching".
State BJP president B.S. Yeddyurappa said his party was ready for the trust vote.
Reminded that his party had on Friday refused to attend a meeting of the House business advisory committee that would have decided the date for the confidence motion, he promised to attend it if one was called on Monday.