Karnataka Congress eyes 'Kerala model'
Desire to transform state unit from a mass-based party to a cadre-based one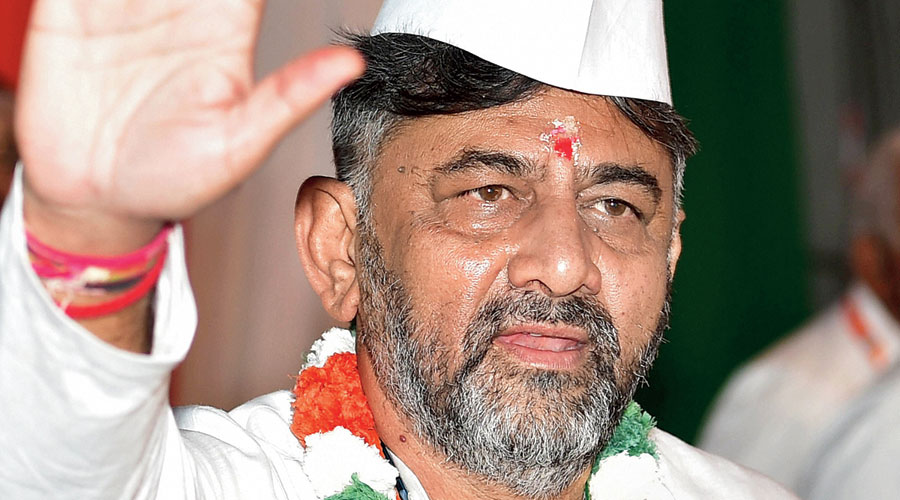 ---
Bangalore
|
Published 03.07.20, 03:36 AM
|
---
Karnataka Congress president D.K. Shivakumar spoke of adopting the "Kerala model" immediately after formally taking charge on Thursday.

He was talking not about the neighbouring state's much-applauded battle against Covid-19 but about the decentralised politics practised by its Congress unit that has allowed grassroots activists to rise up the ranks since the 1980s.

"I have always said that booth-level leaders should be given power," Shivakumar told party leaders at his swearing-in, which was broadcast live on social media.

"The Kerala model has established a system of (lower-rung activists) rising up the ranks. However big a leader is, he or she would have come up from the booth level."

Former Kerala chief minister Oommen Chandy and current leader of the Opposition Ramesh Chennithala had both started out as leaders of the Kerala Students Union, the Congress student arm. Shivakumar himself had been a student leader.

Shivakumar, who has been functioning as state Congress president since last December, said he wanted to transform the Karnataka Congress "from a mass-based party to a cadre-based one".

"I want to take some of my leaders (colleagues) to Kerala; I want to show them how the system works there," he said, glancing at AICC general secretary K.C. Venugopal.

"Anyone who wants to represent the state or district units should first represent their booth. Let us build a system where everyone, big or small, gets to taste some level of leadership."

Shivakumar credited former Prime Minister Rajiv Gandhi with the idea of decentralising leadership in the Congress: "He had said the party needs leaders from panchayat to Parliament."

However, Rahul Gandhi's efforts to implement the idea in the central Congress organisation three decades later had run into resistance from entrenched interests.
The reason decentralisation worked in Kerala was the Congress's need to stand up to a cadre-based party like the CPM, Chennithala said.

"Since our main rival in Kerala is the cadre-based CPM, we had to adopt a semi-cadre-based model, which has worked well in strengthening the grassroots," he told The Telegraph.

Chennithala lauded Shivakumar's plan and promised help.

"He is welcome to adopt our model, which we developed over several years of hard work. We will provide all possible help to our brothers and sisters from Karnataka to reorganise the party there," he said.

"I'm sure Shivakumar is the leader who will bring the Congress back to power in Karnataka."

Shivakumar, one of the most powerful leaders from the Vokkaliga community, has been his party's crisis manager for years.

When the 2018 state elections produced a hung Assembly with the BJP as the largest party, it was Shivakumar who shielded the Congress MLAs from poaching, making the coalition government with the Janata Dal Secular possible.

A year earlier, the party high command had entrusted him with sheltering 44 Congress MLAs from Gujarat ahead of a crucial Rajya Sabha election where Ahmed Patel was a key candidate.

Enforcement Directorate officials had raided the offices and homes of Shivakumar and his friends and relatives while he was guarding the Gujarat lawmakers, prompting cries of political vendetta.

Shivakumar was later booked on money-laundering charges and arrested last September. He was released on bail after 46 days in Tihar Jail.