Kargil reports from 1999: The battle for Tiger Hill
How The Telegraph reported the conflict two decades ago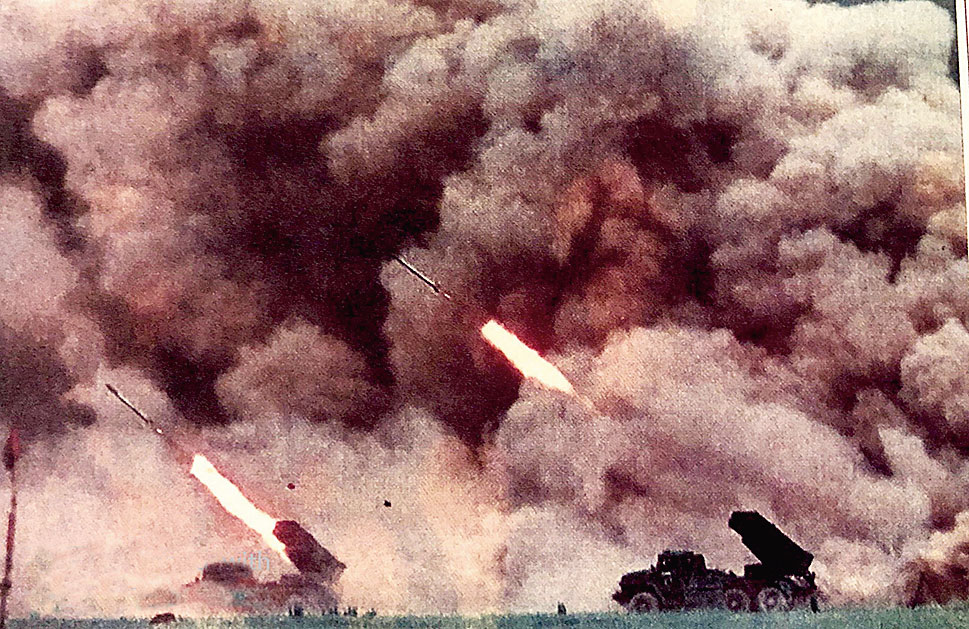 Artillery guns in action at Drass
File photo
---
Published 20.07.19, 09:06 PM
|
---
It's 120 minutes to zero hour. Weather permitting, the assault on Tiger Hill is on. It has been fine so far but now it is getting cloudy and windy. The chill factor is climbing.
This is the action station of a regiment that has fought valiantly in this war. Its services have been requisitioned again.
The colonel in charge is just concluding discussions with a couple of his officers and two men from the special forces. From here, units will leave for a post on a Tiger Hill spur. The men are checking their gear — arms and munitions, special high-altitude wear, stoves, devices to feel the way ahead.
A captain has removed the insignia from his lapels. Another officer forces lunch on us. "Of course, I'll speak to you," he says. "I know about all the strictures about not talking to the press. But I'm in operations now and if I'm not afraid of that, I'm afraid of nothing."
He is from Rajasthan, an alumnus of the Indian Military Academy. We might have been in the same class. Unshaven (officers and jawans need not shave at high altitude), in green battle fatigues like everyone else, a green "patka" his headgear for camouflage. The captain — a friend of his — is just 24. He looks too young to need to shave. He is from Uttar Pradesh and could lead a platoon that will try to capture three sangars — hastily-built bunkers.
Lunch comprises pulao, dal and a curry of beans. The special forces men — they give only first names — leave soon afterwards. "We are depending on you," says the colonel as they leave. It is 14 hours on foot to their first destination. They know the area well. "Tiger Hill dominates Mushkoh Valley. It is in the east. The western end is Kabuligali." We don't learn anything more.
If the men from the special forces do not give away much else, other military sources do. It is expected that the Pinaka, the Indian surface-to-surface missile, could play a crucial role in the assault on Tiger Hill.
Conventional weapons — machine guns, mortars, grenades — are being used by the infantry. There is more than one regiment in the operation. Artillery units, whose mainstay is the Bofors howitzer, have taken up specific positions targeting Tiger Hill.
Missiles, however, may prove to be less devastating even if more accurate than shells fired from Bofors and other cannons. The efficacy of air strikes — earlier this week, the Indian Air Force had used laser-guided missiles on Tiger Hill — is yet to be assessed.
The intruders may have hidden in caves during raids. Infantry units in this operation are not depending too much on air strikes.
As a thumb rule, it takes a mountaineering unit one-and-a-half hours to get to the top of a 1,000m position if it is not interrupted. The apex of Tiger Hill is 5,062m. The intruders hold strategic positions and are armed with Universal machine guns and other conventional but sophisticated weaponry. They are using airbursts — explosives that go off in mid-air and rain down shrapnel and splinters.
When an assault is launched, the ratio of defenders (intruders) to attackers (Indian army) is between 1:6 and 1:10. The number of intruders on top of Tiger Hill is estimated to be between 40 and 60. The intruders' main supply route to Tiger Hill from across the LoC has been snapped. There is now only one thin supply route heading northwest from Tiger Hill to the LoC. The Indian troops' brief is to eliminate the intruders or push them back inside Pakistan-occupied Kashmir. This means it is unlikely that any of the intruders — who operate with suicide squads — will be captured.
As we speak, the noise of supersonic aircraft is a constant distraction. Air strikes are on.
Across the dirt road to the north is a hill that will take the soldiers in this battle station less than 50 minutes to cross. Everything is timed. There is a time to get to the Lake of Fairies, beyond Tiger Hill close to the Line of Control.
"Can I get there?"
"Maybe, just maybe."
This story was first published in The Telegraph in 1999