Sibal demands probe into 'hacker' claims; Cong steps away
BJP launches a scathing attack on Congress over Sibal's presence at London media conference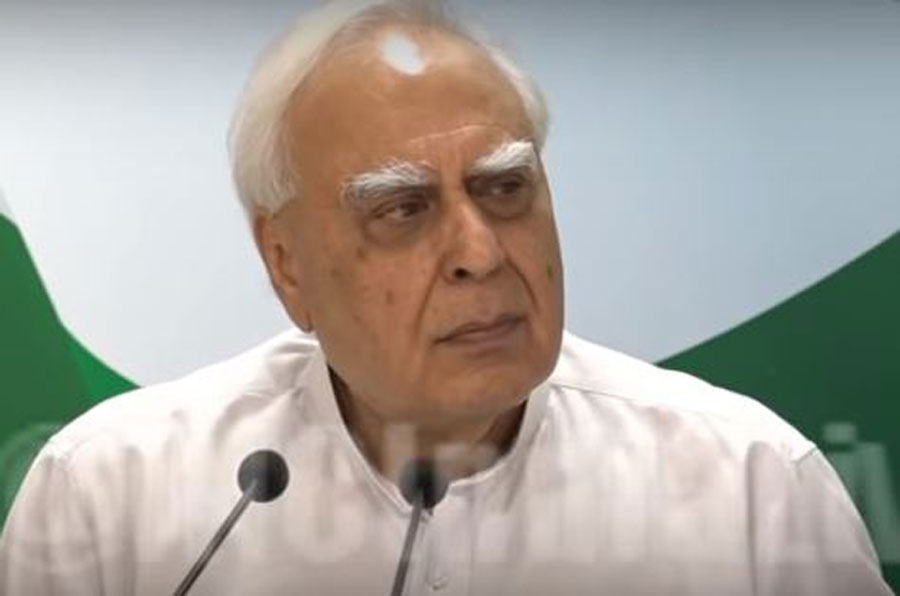 Kapil Sibal said it is "childish" to blame him.
Source: INC site
---
New Delhi
|
Published 22.01.19, 10:51 PM
|
---
Kapil Sibal on Tuesday demanded a thorough investigation into the allegations made by self-proclaimed EVM hacker Syed Shuja while the Congress tried to dissociate itself from the entire episode by pointing out that doubts about rigging did not originate from Monday's event in London.
The BJP has launched a scathing attack on the Congress as former Union minister Kapil Sibal was present at the London media conference.
Congress spokesperson Anand Sharma said the party had nothing to do with the event in London where Shuja made sensational allegations over a video link from the US. "We don't know where and why Kapil Sibal went. It was not a Congress press conference," Sharma said, adding that the Opposition parties had jointly petitioned the President and the Election Commission for a return to ballot papers long ago.
Sibal called reporters to his residence to clarify his position: "Journalist Ashish Ray, who organised the event, sent me a personal e-mail inviting me to the event. I know Ray for long and I had to go to London for some work, so I went to the press conference. Ray told me he had sent invitations to all political parties as well as the Election Commission of India. So I went there. A minister (Ravi Shankar Prasad) made very irresponsible remarks and that's why I am holding this press conference I didn't intend to.
"How Syed got political asylum in the US needs to be investigated. He says in the e-mail that he was in detention centre for 16 days and hospital for 18 days after reaching Chicago on May 15, 2015. This can be checked from hospital records. He also says the US Justice Department spent two years investigating this case. This can be verified."
Sibal added: "The e-mail also says a senior politician from India met him on January 25, 2015. He also says a television anchor, whose voice booms in drawing rooms across India, also met him in 2015. These can be verified simply by checking passports. He says they worked for a company called Wind Solutions, which was hired by ECIL (Electronics Corporations of India Limited). He says they worked at various locations in Sanath Nagar and his team was called MS7B. ECIL would have made payments by cheque, this can be verified. He says Kamal Rao of Wind Solutions is also in the US, given the address."
Denying that he was saying Shuja's claims were right, Sibal said: "If his claims are wrong, act against him. But a proper investigation is needed. I didn't ask him to work on EVMs. I didn't get him political asylum. It is childish to blame to me. It is about the fate of India's democracy. Truth has to be found out as even if 50 per cent of his claims are right, it is very dangerous."
Ray said in email that "we invited the ECI (Election Commission of India) and all Indian political parties recognised by the ECI as national parties to attend the meet. None did, other than Kapil Sibal of the Congress…".
"Since invitations were sent to the concerned party presidents, I surmised Mr Sibal had been sent as an observer to the press conference. He sat in one of the back rows of the room; and did not participate in the proceedings in any way," Ray added.
"In hindsight, we can say Ahmed (Ray said Shuja is also known as Syed Hyder Ahmed) disappointed. But that does not mean we should not have listened to him," he added.