Kangana Ranaut to be given Y-plus security
She has said Mumbai feels like 'Pakistan-occupied Kashmir' and compared the Shiv Sena-led coalition government in Maharashtra to Taliban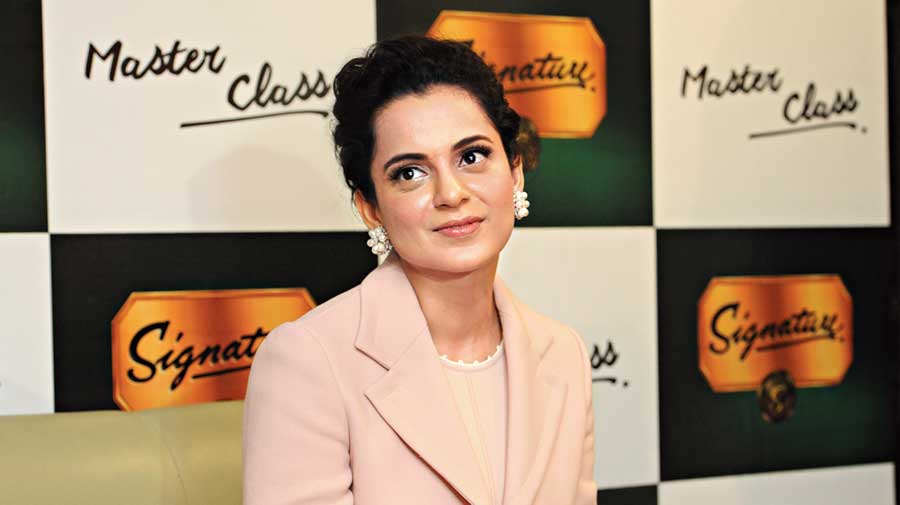 Kangana Ranaut
Sourced by The Telegraph
---
New Delhi
|
Published 08.09.20, 01:39 AM
|
---
Actress Kangana Ranaut, who said Mumbai feels like "Pakistan-occupied Kashmir" and compared the Shiv Sena-led coalition government in Maharashtra to Taliban, has been granted Y-plus security by the Union home ministry.
"I am grateful to Amit Shahji. Had he wanted, he could have advised me to go to Mumbai after a few days," Kangana tweeted in Hindi.
The actress has been a vocal supporter of Prime Minister Narendra Modi and had on Twitter described the Hindi film industry as "Islam-dominated".
After actor Sushant Singh Rajput was found dead at his Mumbai apartment in June, Kangana accused the film fraternity of nepotism and bullying. As a face of the "Justice for Sushant Singh Rajput" campaign, she has been relentless in her attacks on Mumbai police, who she has said she fears, and the state government.
Former diplomat K.C. Singh said in a tweet: "Heard of Y/Z Security being given when non-state actors/terrorists threaten lives of public figures. It seems now it would be given even to BJP-friendly film personalities who fear duly elected Govs running an Indian state. What does BJP want, civil war?"
The decision of the Centre to grant her Y-plus security — 10-12 armed CRPF men personnel will guard her round-the-clock — is being seen as an attempt by the BJP, in power at the Centre, to settle scores with former ally Shiv Sena which had handed the party its rudest shock yet when it formed the government in Maharashtra with the NCP and the Congress.
The home ministry has refused to divulge when the security assessment for the actor was conducted before granting her the cover. Nor has it specified the threat perception to Kangana, whose security bill will be picked up by the taxpayer.
A war of words had erupted between Kangana and Shiv Sena leader Sanjay Raut, with the actress likening Mumbai to PoK and Raut invoking Maharashtra's pride and telling her she need not return if that is how she feels. Kangana, who is now in Manali, has said she will return to Mumbai on September 9.
A retired IPS officer said on Monday: "It is very clear now that BJP wants to teach Shiv Sena a lesson for not forming government with BJP and now it has become a direct clash between the central government and Maharashtra…. Why has central security cover been given to a rich actor at the cost of exchequer? If she wants security, she should pay for it."
The CBI, the Enforcement Directorate and the Narcotics Control Bureau are all investigating Sushant's death, in evidence of the Centre's keen interest in the probe. Opposition parties have alleged that the BJP is trying to use Sushant's death as an election issue in Bihar, the state he came from.