Teen who helped army dies in fight with army
Asif's body was not returned to the family and was buried 100km from home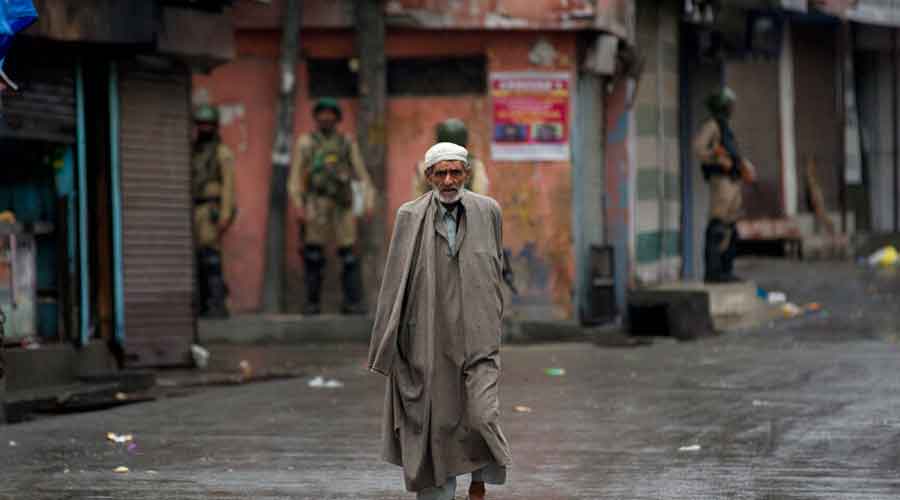 Local people said Asif had been picked up by police several times in the past year and a half
File picture
---
Srinagar
|
Published 24.09.20, 02:50 AM
|
---
Asif Muzaffar Shah was a teenager six years ago when he and several other residents of former militancy stronghold Samboora in Pulwama had risked their lives to save soldiers caught in a devastating flood.
On Tuesday, Asif, now 25 and a college graduate turned militant, was killed in an encounter with the army that lasted over 24 hours in adjoining Budgam district. Two militants are believed to have escaped.
Asif's body was not returned to the family and was buried 100km from home, in Handwara. The army has of late been refusing to hand over the bodies of slain militants to their families for burial, citing the Covid protocol.
"His body was not returned. The family was allowed to participate in his burial (in Handwara)," a family member told The Telegraph.
It is not clear what prompted Asif to turn to militancy.
His family, shattered by his death, appeared unwilling to share the details of his heroics during September 5-6 night in 2014.
"All the villagers helped them (army men from the 50 Rashtriya Rifles) and he was one of them. The army tried to pay him back later, offering to help him, but he refused," the family member said, refusing to be identified. "All I can say is that he went missing on August 10 (this year) and lasted only 40 days or so (as a militant)."
The family member said Asif had been running a stationery shop in Kakapora village after completing his graduation a few years ago.
Local people said Asif had been picked up by police several times in the past year and a half. Sometime before he joined militancy, he had been called by the National Investigation Agency to Jammu in connection with the investigation into a militancy-related case, they said.
"We heard he had left for Jammu but had an afterthought and disappeared to join the militants as he smelt something fishy," a local resident said.
Samboora resident Mushatq ul Islam said he vividly remembered how Asif had risked his life to save soldiers from drowning in the 2014 floods, the worst to hit the Valley in a century.
"There was a breach in the Jhelum and some army men had drowned. Amid a heavy downpour, I saw Asif jumping into the water to pull the soldiers out," he said.
Shabir Ahmad Dar, a band-saw owner who had led the rescue operation by local people that day, however, said he did not remember whether Asif was among the rescuers. "Maybe he was there but I did not see him," Shabir said.
In 2014, this newspaper had published several articles on how the villagers had saved the soldiers from drowning. Two soldiers — Naik Khem Chandra of the 20 Kumaon Regiment from Uttarakhand, and Rifleman Mir Owais from the 15 JAKLI from Tral — could not be rescued and died.
The army had claimed that the soldiers had died while rescuing the villagers but local people had a different version.
"Nature's fury came like a bolt from the blue. On the midnight of September 5, a motorboat was launched to rescue women, children and elderly people in Kakapore and Sambur (Samboora). While on their rescue mission with nine other troopers on the intervening night of September 5 and 6, the boat capsized in strong currents of the flash floods," the army spokesman had then said.
Local people, however, had said the 50 Rashtriya Rifles camp at Kakapora had got submerged, prompting several jawans and officers to run for safety. A boat carrying soldiers capsized in a paddy field that was 12ft under water, they had added.
Villagers of Samboora who had been retrieving goods from their inundated houses had responded to the soldiers' cries for help, the local people had said. "Some of them (soldiers) were rescued. They were shivering. I remember Asif handing over his own pheran to one of the soldiers," Mushtaq, the Samboora resident, said on Wednesday.
Eight soldiers were still marooned, six of them clinging to tree branches, as the strong currents prevented others from coming to their aid, Mushtaq recalled.
Early next morning, band-saw owner Shabir and three others had volunteered to join an army rescue effort in a boat.
Soldier Owais, a local man who died that day, was buried in a graveyard in Tral that was reserved for militants and civilians killed by security forces, next to his childhood friend turned militant Mir Aadil Bashir.
Aadil's father Bashir Ahmad had offered to bury the soldier in the "martyrs' graveyard" to unite the old friends.