Loss of loved ones and loss of their bodies
An epidemic of what Kashmiris are calling 'lashe choor' (body stealing) has added to the Valley's misery amid the Covid-19 outbreak and the militancy-related violence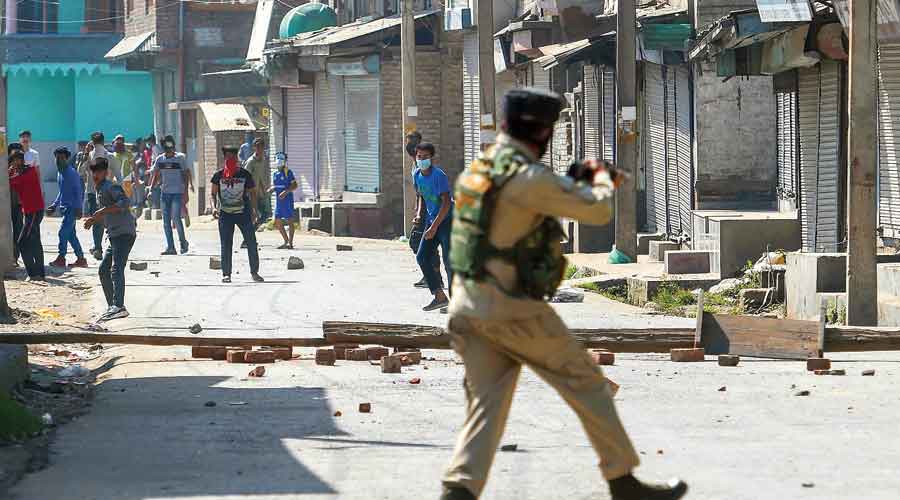 A security official tries to stop protesters from throwing stones after the encounter in Srinagar on Thursday
PTI
---
Srinagar
|
Published 19.09.20, 12:06 AM
|
---
As Aqib Riyaz Sofi grieved for his mother after she died in alleged security force firing on Thursday, the 25-year-old had another worry to grapple with.
Would the police return Kousar Jan's body?
An epidemic of what Kashmiris are calling "lashe choor" (body stealing) has added to the Valley's misery amid the Covid-19 outbreak and the militancy-related violence.
Since April, the security forces have been refusing to return the bodies of slain militants to their families, citing the Covid protocol that prohibits large gatherings — which the rebels' funerals invariably turn out to be.
Most Kashmiris see this as an excuse to pre-empt the galvanisation of public sentiments and pro-azadi protests.
The practice has now been extended to several civilians who, like Kousar, are said to have died in custody or from firing by the forces. The families of the slain now face a double trauma — the loss of a loved one and the loss of their body.
Kousar, who was in her late 40s, died during a pre-dawn security operation that killed three militants hiding in a house in Srinagar's Batmaloo locality and left a CRPF deputy commandant critically injured.
Aqib said that as part of their daily routine, he and his mother were travelling to their bakery in his car at 4am.
"When my mother saw them (the forces), she panicked and asked me to take a U-turn. They let loose a volley of fire from behind and hit my mother," Aqib said.
"I cried out that my mother was dead but nobody came to help. I brought her out of the car and later took the body to the police control room (as is the norm)."
Late on Thursday afternoon, a relative of the family said: "It's been more than 12 hours since she died but we are yet to get the body. The police have promised to return the body by evening; we have our fingers crossed." A neighbour later called this newspaper at 7pm to say the body had been returned after 15 hours.
At a news conference in Srinagar on Thursday afternoon, director-general of police Dilbag Singh had been asked whether Kousar's body would be returned to the family.
"It will certainly be returned. There are no two opinions about it. She is not related to militancy," the DGP said.
Yet the bodies of several civilians who were killed allegedly by the forces in recent weeks were never handed over to their families. The authorities buried them in remote places, away from the media glare.
On Wednesday, 23-year-old Sopore shopkeeper Irfan Ahmad Dar, who had died in police custody the previous night, was buried in Sonamarg, around 130km from his home. The police claim he was an "over-ground worker" for the militants but the family vouches for his innocence.
When DGP Singh was asked about gaps in the police claim, he looked agitated and asked the journalists not to "dig too deep" since a magisterial inquiry had been ordered.
The police claim that Irfan had escaped in the darkness and that his body was later recovered, without explaining how he had died.
Irfan's uncle Noor Mohammad, who was allowed a look at the body in Sonamarg, told The Telegraph the youth had torture marks on his face and head.
"Three of his teeth were broken, his face was smashed and he had a head injury. They (the police) killed an innocent man and refused to hand over his body. This is a double trauma," Noor said.
"Around 30 family members went to Sopore and Srinagar yesterday (Wednesday) to plead for his body but we were told he was being buried in Sonamarg."
He added: "When we reached Sonamarg, only around a dozen family members were allowed to see his body and perform the last rites. The rest were not allowed. We could not give a decent burial to him."
In May, the authorities had refused to return the body of a 14-year-old boy with hearing and speech impairment who had died in alleged security force firing.
Three men from Rajouri who were killed in a "fake encounter" in Shopian in July were buried in Shopian, around 150km from their homes. Their families have since been trying to secure permission to get the bodies back for a fresh burial.