Journalists locked up in Mangalore
Kerala 7 'treated like criminals', freed on Pinarayi call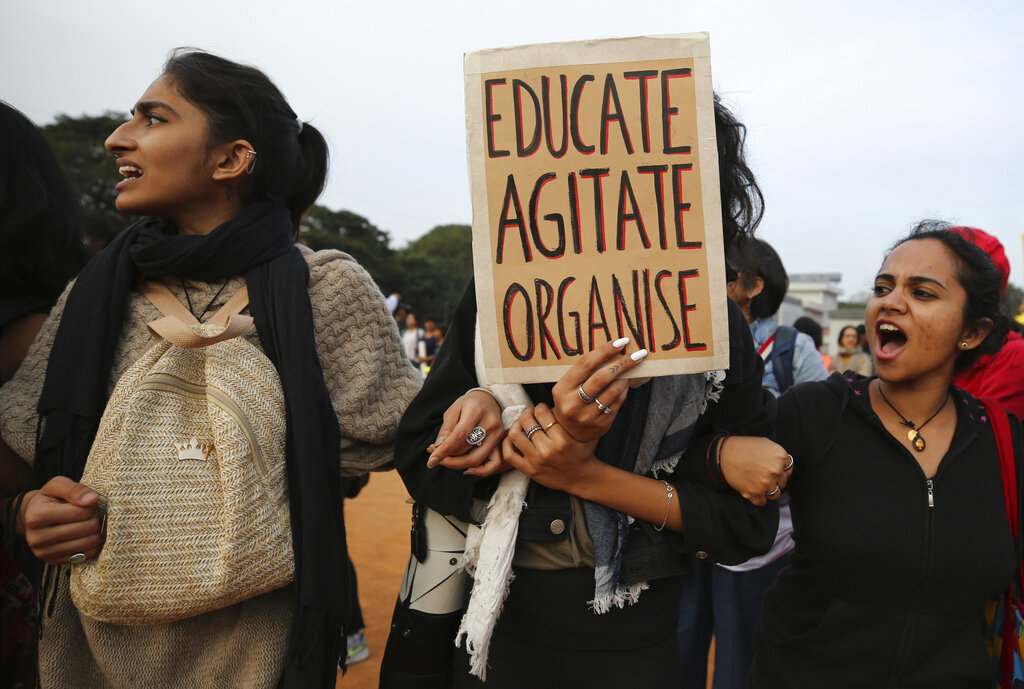 ---
---
Seven television journalists from Kerala were on Friday detained for seven hours by police when they went on assignment to the Karnataka city that is under lockdown following protests against the amended citizenship law, and "treated like criminals" by being denied basic amenities.
The reporters and photojournalists, from reputable channels like Asianet News, and their driver were released only after Kerala chief minister Pinarayi Vijayan wrote to his Karnataka counterpart, B.S. Yediyurappa, expressing "deep concern" and urging him to intervene to get the journalists released.
The journalists faced such treatment a day after the home minister of BJP-ruled Karnataka accused people from Left-governed Kerala of inciting the violence in Mangalore, near the states' common border, in which two people died in suspected police firing.
"We were treated like criminals all through this horrendous experience," Asianet News reporter Mujeeb told The Telegraph after reaching Kerala in the afternoon.
"We were kept for four hours in the police van that took us to Mangalore South police station. The cops in the van did not even allow us to talk to each other. We were kept in the police station for the next three hours. We were denied food and water and not allowed to go to the washroom," added Mujeeb, who was among the journalists who had set out from Kerala early in the morning for an assignment in Mangalore.
"We were brought to Kerala after seven long hours. They (Mangalore police) behaved as if they were handing over criminals to Kerala police at the border. We were released by Kerala police after they (Mangalore police) handed us over in Thalappady," Mujeeb said, referring to a border town in Kasaragod, northern Kerala, that is 30km from Mangalore City.
Besides Mujeeb and his cameraman Pratheesh, Media One reporter Shameer, his cameraman Aneesh, News 24 reporter Anand, his cameraman Ranjith, News 18 cameraman Sumesh and Media One driver Salik were the others who were detained.
While Mangalore police claimed that none of the journalists had accreditation, the reporters and cameramen asserted that they had authorisation from Kerala.
"Three of us had Kerala state accreditation while the rest had identity cards issued by their companies and other documents like driving licence," Mujeeb said after the release around 3.30pm.
The journalists had assembled at 7am at Wenlock Hospital near Mangalore town, south Karnataka, where the post-mortems of the two deceased persons were to be conducted three hours later.
"When we showed the (Mangalore police) commissioner our accreditation cards, he said their authenticity needed to be checked," said Mujeeb.
Once they were bundled into a police vehicle, the cops took away their mobile phones and cameras.
The journalists said they had been coming to Mangalore for years but had never before faced such treatment.
Karnataka home minister Basavaraj Bommai had said on Thursday: "People from Kerala who came to Mangalore to participate in the protest (on Thursday) tried to set fire to a police station and damaged public property."
The comments had drawn widespread condemnation in Kerala.
Even as journalists' associations in Kerala were struggling to secure more information on the detained reporters and cameramen on Friday, a claim began to gain traction in the Karnataka media that 50 "goons" from the neighbouring state masquerading as journalists had been picked up with weapons.
Various journalists' bodies in Kerala protested across the state against the detention, while political activists from the Congress and the DYFI stopped Karnataka State Road Transport buses at Nilambur, in Malappuram, and Wayanad.
One of those who supported Mangalore police's action was Rajeev Chandrashekar, a BJP Rajya Sabha MP and the owner of Asianet News. "Good work @compolmlr! Policing amidst gravest provocation," he tweeted at 10.02am.
On the other hand, however, Asianet News continuously tweeted questioning the rationale behind the detention and the lack of information on where the journalists had been taken.
Kerala chief minister Vijayan asked state police director-general Loknath Behera to get in touch with his counterpart in Karnataka to secure the release of the detained media personnel.
Vijayan also wrote to his Karnataka counterpart Yediyurappa and urged him to intervene to get the journalists released.
"The government of Kerala expresses its deep concern at this turn of events. I request your kind intervention for issuing directions to the police authorities so that the media persons are freed at the earliest and be allowed to discharge their duties in a free manner without being intimidated," Vijayan wrote.
Yediyurappa told reporters in Bangalore that the Kerala journalists were not in possession of identity cards. "They did not have identity cards. They were questioned and then freed," he said.
Kerala minister E.P. Jayarajan slammed the detentions and Bommai's comments. "It is a statement that a minister should never make. That itself is a violation of the Constitution and his oath of office," the industries and sports minister said.
Congress leader Ramesh Chennithala flayed Bommai and Mangalore police. "It is the Karnataka home minister's party (BJP) that is creating all these problems in the country. Did the people of Kerala incite any violence here?"
"Detaining journalists who were just doing their duty is a dictatorial move. Journalists have the right to report from anywhere," Chennithala, the leader of the Opposition in Kerala, added.
Arun, a TV journalist with Mathrubumi News, was among the lucky ones who escaped detention by speeding away in their cars.
Once he reached Thalappady, Arun reported live, narrating the entire incident.
"Trouble began the moment commissioner P.S. Harsha arrived at the spot. He angrily rushed to us and asked us to leave. When we told him we are journalists, he demanded accreditation cards," he said live on air.
"While some had accreditation, others had their office-issued identity cards. But he said neither would work. Within moments I saw some journalists being dragged into the police van," Arun said.
Video footage beamed on Mathrubumi News showed Harsha shouting: "Where is your accreditation? Please switch it (camera) off and show your accreditation card. Switch it off. Only accredited journalists can be here."
Harsha did not speak to the media on Friday.
Sources said that besides the inflammatory statements of Bommai, what could have triggered the action by Mangalore police was the wide coverage news outlets in Kerala had give to Thursday's violence. Many journalists from Kerala, where the media set-up is seen as more professional than in many other places, had come to Mangalore to report on the violence.
While Kerala channels had videos that showed the police attacking the protesters with tear gas and batons, which triggered the violence, Karnataka media largely beamed footage provided by the police that appeared to suggest that the cops had no option but to take stern steps.
People in Kasaragod are generally seen as enterprising and many have done well as traders in Mangalore, which is said to have created some resentment among locals in the Karnataka town.