JNU teachers allege research fund misappropriation 'cover-up'
Matter not allowed to be discussed thoroughly at an emergency meeting of the university's Executive Council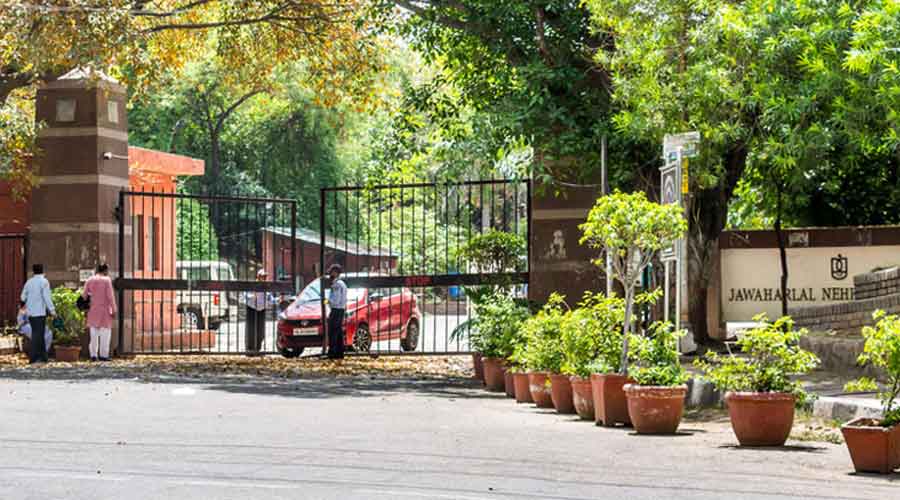 ---
New Delhi
|
Published 12.10.21, 01:57 AM
|
---
The teachers' association of Jawaharlal Nehru University on Monday accused the varsity administration led by vice-chancellor Jagadesh Kumar of covering up a case of alleged misappropriation of research funds.
On September 30, an emergency meeting of the university's Executive Council (EC) decided to suspend a professor and two officials and initiate criminal proceedings against them for alleged misappropriation of funds.
The JNU Teachers' Association has alleged a cover-up, saying the matter was not allowed to be discussed thoroughly in the EC meeting.
The matter relates to additional expenditure of Rs 88 lakh by A.L. Ramanathan, professor with the School of Environmental Sciences of the university, under certain research projects. The professor allegedly raised bills beyond the sanctioned amount for the projects and the officials dealing with finance released funds from the consolidated research funds.
"This mode allegedly involves procuring false bills of consumables from actual or shadow vendors, getting them approved, and pocketing of the payment made for the same by all those involved without anything being received in exchange by the university/project," said JNUTA secretary Moushumi Basu.
When contacted on the phone, Ramanathan said: "I cannot comment."
Surajit Mazumdar, former JNUTA secretary, said at a news conference here that during the EC meeting, the matter came up as an additional agenda item and was not discussed thoroughly.
"Ideally, when there is a case of financial bungling of this nature, an enquiry is set up by the university. The accused persons are issued chargesheets and the enquiry committee recommends actions. The enquiry can widen the investigation too. But in this case, the decision was taken to send the case to the CVC (chief vigilance officer) without any discussion in the EC," Mazumdar said.
In the meantime, finance officer Samir Sharma, who had over two years of his tenure left, was relieved from his post last week.
The JNUTA alleged that the move to relieve the finance officer should have been discussed in the EC meeting but it was not done to protect him and the vice-chancellor.
"The bills are cleared at different levels. Bills of over Rs 2.5 lakh are sent to the vice-chancellor for clearance. In this embezzlement, it is not clear how many bills were approved by the vice-chancellor. Hence a proper enquiry is required at the level of the university," said D.K. Lobiyal, former JNUTA president.
An email was sent to VC Kumar on the issue and his response is awaited.
The irregularities were brought to light by a fact-finding committee.
The JNUTA alleged that apart from the Rs 88 lakh, more money might have been diverted from research project funds to non-academic purposes.