JMM and its bearded patriarch: Shibu Soren
The BJP will not gain in Jharkhand says Guruji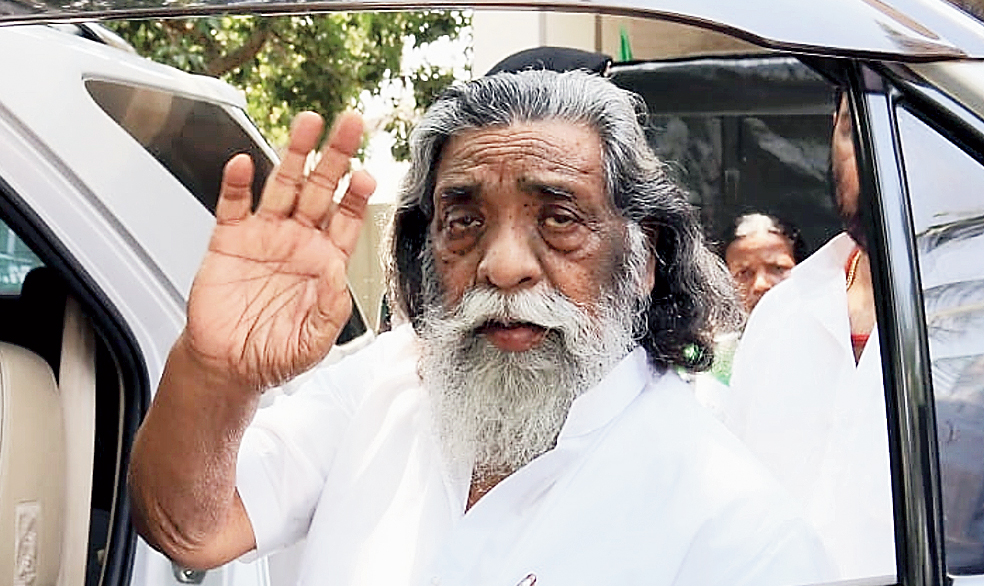 ---
|
Dumka
|
Published 17.05.19, 11:59 PM
---
Green flags with the familiar bow and arrow symbol alongside a picture of Shibu Soren flutter on rooftops near the four-lane Dumka Main Road, welcoming visitors to the headquarters of the Santhal Pargana region, Jharkhand's tribal heartland that is the bastion of the Jharkhand Mukti Morcha and its bearded patriarch.
But in the bylanes of Tin Bazar Chowk and Mahavir Chowk, flags with the BJP's lotus make an appearance, indicating that there is a battle royal on the cards at Dumka represented by Guruji no less than seven terms.
"Pata nahi kab tak rahenge… Jab tak zinda rahenge ladenge (I do not know how long I will live. But I will fight as long as I live)," Soren (76) told a group of journalists at his residence at Khijuria, in deference to party banners put up everywhere: Antim saans tak sangharsh (Fight till the last breath).
On Thursday, Guruji addressed rallies at villages in Rajmahal, Jamtara and Dumka, focusing primarily on education of tribals so they were aware of their rights. But he admitted development had taken place in the state although progress wasn't up to the mark. "Development is an ongoing process and will continue to happen," Soren said.
Soren Senior clarified he had no issues with his own disciple, Sunil Soren, contesting for the BJP against him in Dumka, which votes on Sunday along two other constituencies of the region — Rajmahal and Godda. "Such things happen in all elections," he said.
Is there a Modi wave? "No one in Dumka is chanting, 'Modi Modi'.
The BJP will not gain in Jharkhand," he retorted.
The gathbandhan of the JMM, Congress, JVM and RJD has made the prospects more promising for the Opposition. In Rajmahal, sitting JMM MP Vijay Kumar Hansda is, therefore, in a direct contest with the BJP's Hemlal Murmu, whom he had defeated by over 41,000 votes in 2014.
In Godda, sitting BJP MP Nishikant Dubey is also in a straight fight with the JVM's Pradeep Yadav. In 2014, Dubey defeated Congress's Furkan Ansari by a margin of over 60,000 votes.
The question this time is whether the JMM can still inspire the people of Santhal Pargana, especially its restless youth who are tired of having to leave their homes to earn a livelihood.
"Times are changing. The younger generation no longer looks at the bow and arrow symbol to cast votes. It also considers candidates and their abilities. This is a change from earlier years when all people looked for was Guruji and then cast their votes," said Ashutosh Singh, a hosiery trader in his mid-30s.
The BJP is trying to cash in on this sentiment by stressing on the benefits of its "double-engine sarkar".
"Sara strategy Raghubarji ke adesh par ho raha hain… Is baar ka ladai bahut interesting hai. Is baar jeetne ka chance badhiya hain (All our strategy is being framed under the guidance of chief minister Raghubar Das. The fight is interesting this time. We see a good chance of winning)," said a Jamshedpur-based BJP tribal leader who has been camping in Dumka for the last year.
The chief minister has been staying put at a private hotel near Marwari Chowk since May 12, giving final shape to the BJP's campaign.
"Santhal Pargana has faced neglect from successive governments ever since Independence. Under Modiji we have given a new medical college to Dumka, road and rail connectivity has improved, a new airport is being constructed at Deogarh. People have seen what development means," Das said referring to the BJP's sitting MP from Godda, Nishikant Dubey, whom he credited with initiating a slew of projects, including hospitals, highways and a power plant.
"Now the people of Rajmahal and Dumka have made up their minds to choose an MP who will work for development, rather than a leader who is hardly able to speak," Das added, alluding to the ageing Soren.
The BJP candidate, Sunil, who is contesting against Shibu Soren for the third time — he lost by over 39,000 votes in 2014 — is also harping on his rival's age. "Shibu Soren is barely able to speak. He hardly asks any questions in Parliament. Will the people elect such a leader?" he said after addressing a crowd at Shikaripara.
Rajmahal and Dumka are the only constituencies of Jharkhand that elected non-BJP MPs in 2014. Both went to the JMM.
This time, the JMM is working overtime to counter the BJP's line in the constituency of over 13 lakh voters, of whom one lakh are below 25.
"Yes he (Shibu Soren) is 76-years-old but we do not have the BJP culture of throwing veteran leaders in the dustbin as they have done. We treat them with respect based on their ability and popularity till they are able to play on the front foot as is the case with Guruji," said JMM Baharagora MLA and party central spokesperson Kunal Sarangi, pointing out that Guruji had addressed four rallies on Thursday.
"Infrastructure development can be seen in five years but one cannot undermine the social development done by Guruji for decades," he signed off.
JMM's confidence is based on numbers. Of the six Assembly segments of Dumka parliamentary constituency, three are with it while a fourth is with gathbandhan member Congress. It is also banking on the social demographics of the constituency — 40 per cent Scheduled Tribes (ST), 13 per cent Muslims and 16 per cent general — in an attempt to ride on Santhal sentiments against the state government's moves in 2017 to tamper with age-old land laws.
Dumka, Rajmahal & Godda

vote on May 19