J&K: Authorities allot land at eight places to CRPF to build camps
Administration's decision for the security personnel and their families triggered fear that the force was establishing permanent enclaves in the Valley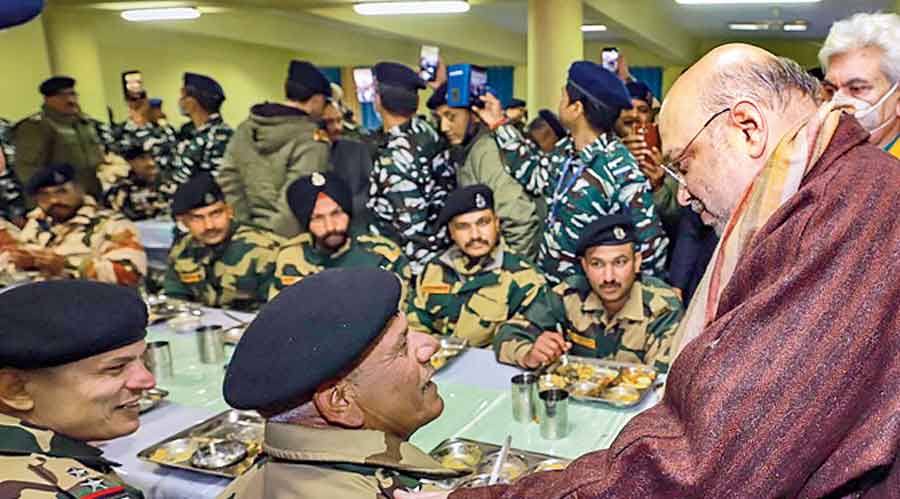 ---
Srinagar
|
Published 29.10.21, 02:00 AM
|
---
The Jammu and Kashmir administration on Thursday allotted land at eight places in south Kashmir to the CRPF to build permanent camps for personnel and their families, triggering fears that the force was establishing permanent enclaves in the Valley.
A government spokesperson said the administrative council chaired by lieutenant governor Manoj Sinha had approved the transfer of 524 kanals or 65 acres in favour of the CRPF in Anantnag, Pulwama and Shopian for establishing "battalion camping sites".
"This will provide for safe and proper accommodation for CRPF personnel and their families," the spokesperson said.
Officials said the CRPF already had "a few" permanent camps in Kashmir, set up decades ago, along with numerous temporary camps. But this is the first time in years the force has been given large tracts of land permanently, and the bulk transfer, coupled with the changed situation, has deepened people's suspicions.
With Article 370 diluted and land laws amended to allow any Indian to buy land in Jammu and Kashmir, residents have been sniffing a government plot to settle outsiders and change the demography of the Muslim-majority Valley.
CRPF spokesperson Junaid Khan denied that individual officers or jawans from the paramilitary force would get proprietary rights over the land, stressing that ownership would lie with the force.
"We have a few camps here on a permanent basis, such as at Awantipora (Pulwama) or Panthachowk (Srinagar). But the IGs' (inspectors-general of the CRPF) office in Nishat is in a rented building," Khan said.
Khan added: "The new camps will be under the ownership of the CRPF. In the permanent camps, we can undertake construction."
Officials said the permanent camps would be set up in the villages of Brah, Jummo and Bhanpahari in Anantnag; Allowpora-Sheikhpora and Zawoora-Baderhama in Shopian; and Oukhoo, Kadlabal and Koil in Pulwama.
"They (CRPF men) are now mostly deployed in rented accommodations like hotels or at government buildings," an official said.
A People's Democratic Party leader said that elected governments had been averse to handing over permanent camping sites to the forces.
"But they (the government) are now free to do anything they like (after the scrapping of the special status in 2019). Such measures will further alienate people and strengthen the notion that the government is bent on changing Kashmir's demography," he said.
A government statement said: "The land will be transferred against the payment as per the stamp duty rates notified for the year, 2021."
In a separate order, the administrative council extended relief under the Service Recruitment Rule 43 to the next of kin of non-resident victims of recent militant violence.
Militants recently killed several migrants, whose families are now entitled to government jobs in Jammu and Kashmir on compassionate grounds
Such employment was previously available only to local people, with most government jobs reserved for permanent residents under Article 370.