Jaswant Singh: BJP founder member who was an outsider
Never a card-carrying member of what he called the 'Jai Shri Ram Brigade', the politician — who died after being in a coma for six years — forswore even some of the social mores of Indian politics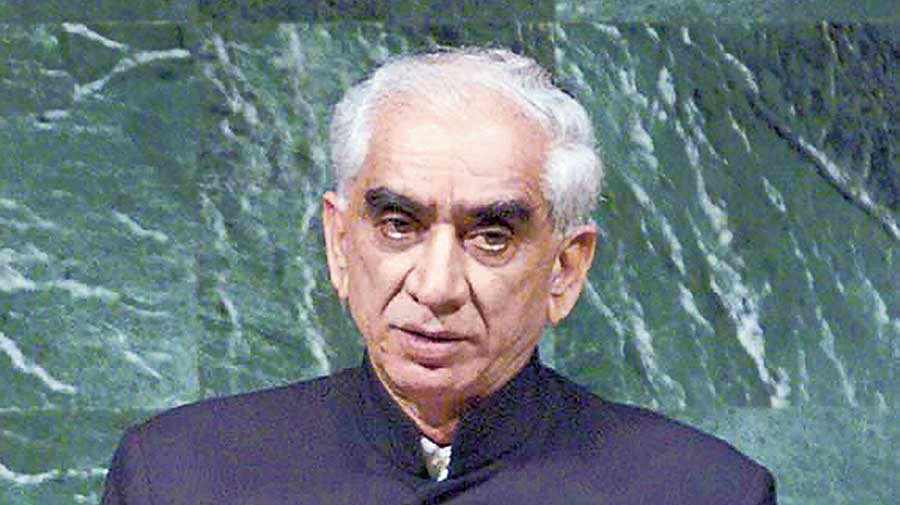 ---
---
It's often said about Atal Bihari Vajpayee that he was "the right man in the wrong party". This would be equally, if not more, true of his trusted lieutenant and trouble-shooter — his own "Hanuman" —Jaswant Singh who, despite being a founder member of the BJP and holding several positions in the party and its government at the Centre in the Vajpayee era, always remained a bit of an outsider in the Right-wing camp.
Never a card-carrying member of what he called the "Jai Shri Ram Brigade", Singh — who died on Sunday after being in a coma for six years — forswore even some of the social mores of Indian politics.
Few Indian politicians drink in public — and cover their glasses with napkins on the rare occasions they do — but Singh penned in his memoir, A Call to Honour, that he had a glass of champagne with the external affairs ministry team after returning from Kandahar with the passengers and crew of the hijacked IC-814.
The day marked, by his own account, one of the most painful chapters of his life, bearing as he did the burden
of escorting three terrorists to Kandahar to secure the release of the passengers. It was not his decision alone, but he became the face of that bargain.
Singh, born into a "Mallani jagirdar" family in present-day Barmer nine years before the Partition, died unaffiliated much the same way his political career had begun — as an Independent in the 1967 elections.
Offered an opportunity to join the Bharatiya Jana Sangh by his political mentor Bhairon Singh Shekhawat, he had steered clear of it owing to the outfit's position on minorities.
However, he seemed to make his peace with the Jana Sangh's new incarnate, the BJP, when it was formed 13 years later — primarily under Vajpayee's influence. That was a friendship that endured, so much so that, according to Singh's son Manvendra who switched to the Congress from the BJP in October 2018, "father found a fit" in the six-decade-long bond that Vajpayee shared with L.K. Advani.
Vajpayee was the only person Singh had called on after being expelled from the BJP for the first time in 2009 over his book Jinnah: India, Partition, Independence. The book had upended Right-wing wisdom with a favourable account of Pakistan's Quaid-e-Azam, blaming not just Jawaharlal Nehru but also Sardar Patel — the Sangh's most favoured freedom fighter — for the Partition.
Singh was so devastated by the expulsion that he broke down in public when the axe fell, his Rajput genes and military training notwithstanding. What hurt most of all, he told some journalists then, was that Advani had not come to his defence, even for the sake of returning a favour.
When Advani had been in a similar position in 2005 after praising Jinnah during a Karachi visit, Singh had stood up for him in the face of demands that Advani step down as BJP president.
Some amends were made 10 months after Singh's expulsion when Advani reached out to him and the party took him back. Singh was the NDA choice in 2012 for the vice-presidential election though defeat was a foregone conclusion.
With some reluctance, Singh — often ridiculed for his gravelly voice, clipped accent and patrician demeanour — agreed since he was no stranger to new battlegrounds. He had earlier shifted Lok Sabha constituencies in Rajasthan and even gone eastwards to represent Darjeeling during his 34-year career as a parliamentarian, spanning both Houses of Parliament.
But then he was from Barmer, known for its shifting sand dunes. Critics in the BJP, though, maintained that Singh had been forced to change constituencies because he would not nurse them as expected of a Lok Sabha member.
Life came full circle for Singh when he decided to contest as an Independent from Barmer in 2014 after the BJP denied him a ticket and, worse, fielded a recent Congress import, resulting in his second expulsion and final break from the party.
Even if he had not rebelled then, he would in all likelihood have done so eventually as the new BJP under the Modi-Shah duopoly would have had little patience with his ways.
Singh, eminently capable of mocking himself, has in his memoir described Mayo College — his alma mater — as a school "to 'civilise', educate and transform the sons of rough nobility of the region into some kind of caricatures of 'an English gentleman'".
That education, the very British military training and love of English literature contributed to his persona. But ironically, he found the "linguistic pirouettes" of external affairs ministry officials cumbersome when he was made foreign minister in the third Vajpayee administration.
Those were challenging times. After the Kargil conflict, relations with Pakistan were particularly strained, and had been made worse by frequent terror attacks, including the attack on Parliament. Then there were the US sanctions triggered by Pokhran-II.
If Vajpayee is credited with opening a new chapter in India-US relations after the sanctions, Singh did much of the heavy lifting, ironing out the rough spots through a series of meetings with President Bill Clinton's deputy secretary of state, Strobe Talbott.
During the Vajpayee years, Singh was often the Prime Minister's go-to guy, not just in matters of governance but also in dealing with difficult political allies such as the mercurial Jayalalithaa and Mamata Banerjee.
About his responsibilities in the NDA government, Singh had often said that it spanned the "D, E and F of the governance of India" — defence, external affairs and finance.
In the Vajpayee era, he held all three portfolios — defence and external affairs simultaneously for a while. In 2002 he was moved back to finance — which had been his first ministerial assignment in the 13-day Vajpayee government of 1996 — to fight the criticism attracted by the RSS choice for the post, Yashwant Sinha, who had by then been nicknamed "rollback minister".
Sinha had pipped Singh to the post in 1998 in a crack-of-dawn move engineered by the RSS, which found the "Englishman in the BJP" too pro-reform, influenced as he was by the free market politics of C. Rajagopalachari's Swatantra Party.
But by the time Singh had returned to North Block in 2002 in a swap with Sinha, his heart was across the road in South Block. Luck — many economists said — favoured him at the finance ministry.
Still, he can claim credit for rewriting India's foreign exchange conservatism, a move triggered by the need to do "something different" and the "native wisdom" gathered from his "range-fed" desert upbringing.