Jammu and Kashmir: Government plays down Pandit killings
According to police, militants had killed three Pandits (apart from three other Hindus) and 15 local Muslims in 2022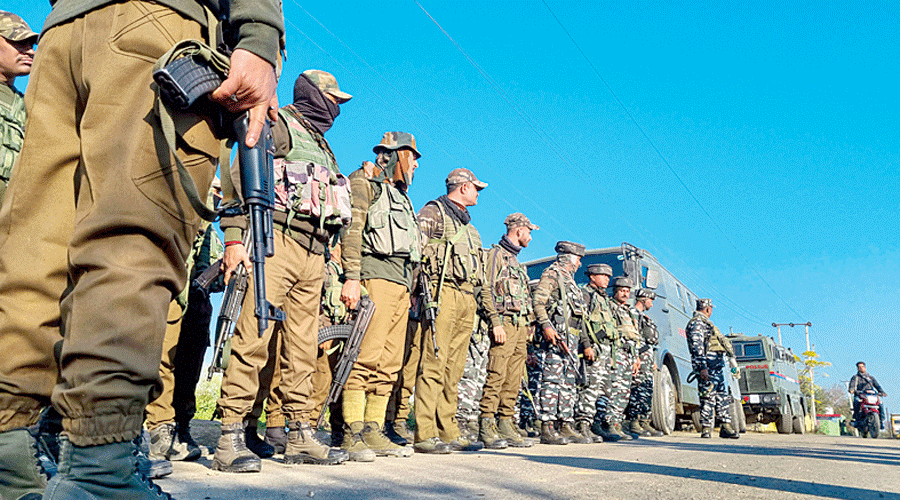 The special operations group with the BSF during a search operation near the international border at Samba in Jammu on Saturday.
PTI picture
---
Srinagar
|
Published 01.01.23, 03:48 AM
|
---
An anti-government agitation by Pandit employees following targeted militant killings in Kashmir seems to have cooled the government's enthusiasm for playing up the community's sufferings.
Lieutenant governor Manoj Sinha's administration seems now to be writing its own "Kashmir Files" where, unlike Vivek Agnihotri's film, the principal victims of the militants are not Pandits but Muslims.
On Saturday, Jammu and Kashmir police posted a tweet putting the Muslim casualties of alleged militant violence at five times the number of Pandit victims in 2022.
Agnihotri's film — its content and tenor questioned by Indian and foreign critics — intended to highlight the violence against Pandits in 1990, and received staunch support from BJP governments across the country. But the new narrative seems aimed at rebuffing the thousands of agitating Pandit employees by playing down the militant threat to them.
The Pandit employees have slammed the government for failing to protect them against militant violence and sought relocation to Jammu, shredding the government's all-iswell line in Kashmir.    
The police tweet said that militants had killed three Pandits (apart from three other Hindus) and 15 local Muslims in 2022.
"During year, total 29 civilians killed by terrorists include 21 locals (6 Hindu including 3 KPs & 15 Muslim) and 08 from other states," read the tweet from additional director-general of police Vijay Kumar.
The tweet comes days after Sinha told an event in Delhi that people should stop seeing the killings in Kashmir through the lens of religion as people from other faiths too had been killed in the Valley.
For decades, the BJP and the Rightwing ecosystem have flagged the Pandits' suffering, describing the killings and migration of 1990 as "genocide", "ethnic cleansing" and "exodus".
In March, Prime Minister Narendra Modi had launched a furious attack on critics of Agnihotri's Kashmir Files, accused of demonising Kashmiri Muslims while depicting the attacks on Pandits in 1990.
Modi had said the film had rattled the "entire ecosystem" that claims to be the torchbearer of freedom of expression but does not want the truth to be told. He had told a BJP meeting that the matter was about presenting history "in the correct perspective", which had been suppressed by the "poori jamaat (entire group)".
But a few days ago, Sinha was quoted as saying: "It is true some Kashmiri Pandits became victims of targeted killings. But there is another side too. The country should stop seeing this issue on the basis of religion. A lot of other people have also been killed."
Sinha's remarks came after he had provoked criticism — even from some senior BJP leaders — by saying no salary would be paid to Pandit employees who refuse to join work in Kashmir.