Partial relief and unrest in Kashmir
It remains unclear why the government is rushing to reopen schools amid the fraught situation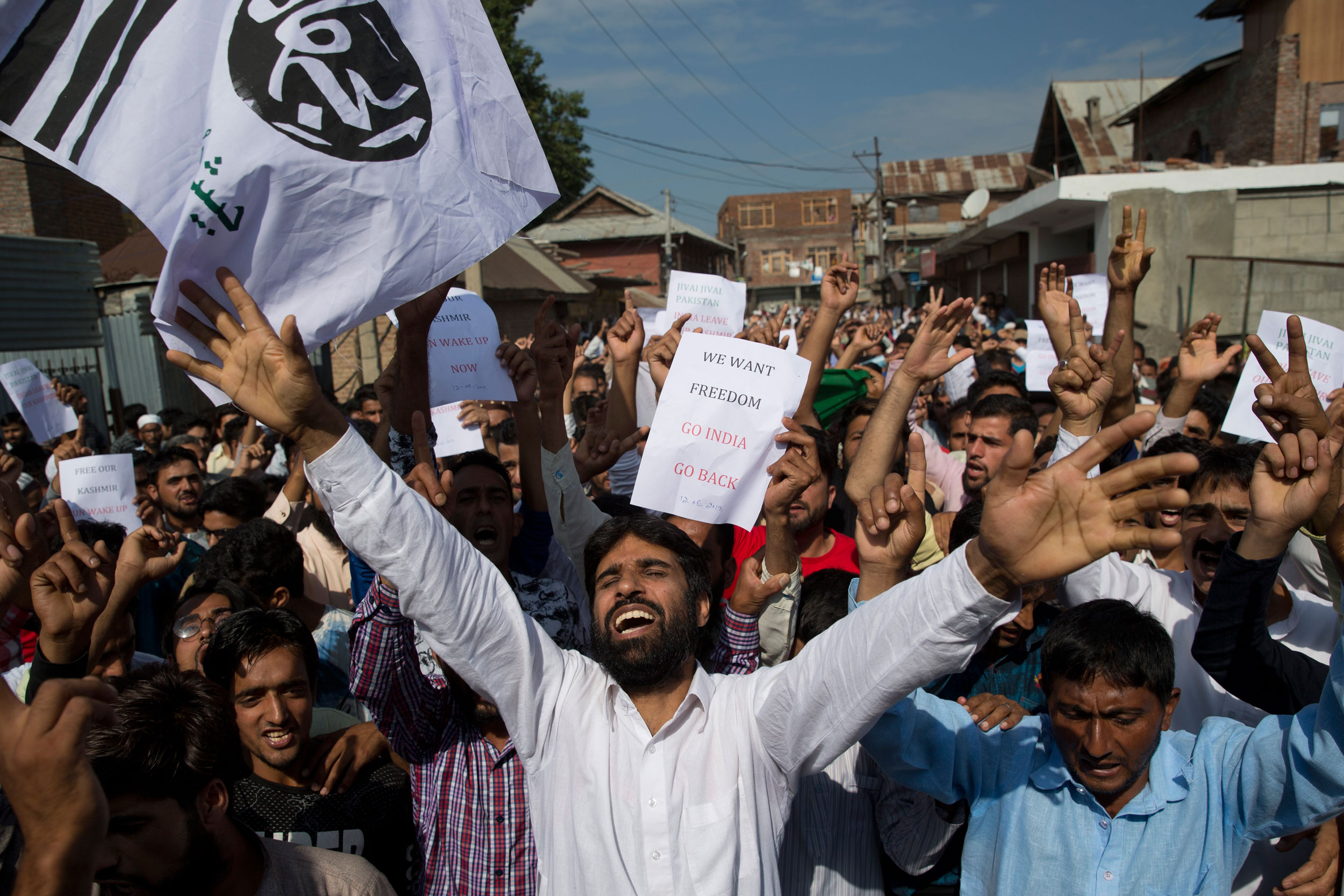 ---
|
Srinagar
|
Published 17.08.19, 09:30 PM
---
The administration on Saturday partially restored landline connectivity and eased the restrictions on movement in 35 police station areas in the Valley, where pro-azadi mobs made their first serious attempts to protest the revocation of the state's special status.
Clashes between security forces and protesters broke out at several places in Srinagar and outside, leaving at least eight people injured.
Government spokesperson Rohit Kansal acknowledged half-a-dozen clashes and injuries to eight people but tried to pre-empt suggestions that the lockdown alone had prevented any major protests so far. He insisted that no violence had occurred at the places where the restrictions had been relaxed.
Police sources said the number of violent incidents and injuries were higher than the figures Kansal had cited.
In Srinagar city alone, there were clashes at more than a half-dozen places, including Natoipora, Chanapora, Safa Kadal and Saida Kadal. There were major confrontations at Chadoora in Budgam, where several people were wounded.
The information blockade since August 5 has made it difficult to get the full picture of the events on the ground, but Saturday's partial restoration of landline connectivity provided some relief.
Internet and mobile connectivity is yet to be restored, though. Most people in the Valley have no access to landlines.
Muneer Ahmad, a resident of Indra Nagar in Srinagar, said he had spoken to his daughter in Baramulla at last and was happy to learn that she was safe. "My daughter does not have a landline connection but one of her neighbours does. I requested them to send a message to her. In 15 minutes, I made a call and was glad to learn they are fine," Ahmad said.
Kansal said vehicular traffic had improved in areas where the restrictions had been eased, but businesses and other activities remained paralysed because of a voluntary shutdown.
He told a media conference that around 23,000 phone lines would be restored by evening, which is around half of all the telephone connections in the Valley. He said most of the connections would likely be functional by Sunday evening.
The next big move would be the opening of primary schools in the Valley on Monday. Kansal claimed that all government offices would start functioning normally from the same day.
Officials said that around 200 primary schools in the less volatile areas would reopen in the first phase. Children in primary schools are less likely to stage protests than their peers from higher classes.
With the situation still extremely tense, it's anyone's guess how many parents would send their children to the primary schools when they reopen. Kansal did not explain why the government was rushing to reopen schools amid the fraught situation. He did not answer when a reporter asked who would take responsibility if anything happened to any schoolchild.