Shortly after it became apparent that a powerful, though unlikely, new alliance was ready to stake credible claim to power in Jammu and Kashmir to thwart a proxy BJP regime, governor Satya Pal Malik hastily dissolved the Assembly.
Elected for a six-year term in the winter of 2014, the Assembly has now been robbed of the strongest treasury numbers it could have showcased.
Malik's swift guillotine fell on a day that Kashmiri arch rivals, the People's Democratic Party (PDP) and the National Conference (NC), aided by the Congress, decided to put past differences aside and jointly stake claim to forming the government.
The three parties together held 56 of the 87 seats in the dissolved House, and had resolved that former finance minister Altaf Bukhari would be their consensus chief ministerial choice. Their claim would have been impossible for governor Malik to cast aside had the Assembly been alive.
Former chief minister and PDP boss Mehbooba Mufti had faxed a letter to Malik's office declaring a joint bid by her party, the NC and the Congress. But "Strangely the fax is not received", Mehbooba tweeted.
In touch with New Delhi most of the day, Malik had received his instructions from the Centre clearly — there was no way a PDP-NC-Congress formation could be allowed to take power.
And because the rival claim, made post haste by the BJP-backed People's Conference leader, Sajjad Lone, held no weight, dissolving the House was the only recourse left to the central and provincial minders of politically sensitive and volatile Jammu and Kashmir.
It is ironic that the same minders — New Delhi and governor Malik — had kept the Assembly alive despite several past calls, including from former chief minister and NC leader Omar Abdullah, to dissolve the House and call fresh polls. BJP general secretary and Jammu and Kashmir point man, Ram Madhav, had recently gone on record saying the party wanted to extend governor's rule. The PDP, NC and the Congress apprehended, alike, that the only reason the Assembly was being kept alive was to explore possibilities of installing Lone as the fig-leaf chief minister of a BJP-backed regime.
As in Bihar in 2015, the BJP's power ambitions had driven bitter local adversaries into a desperate embrace in Jammu and Kashmir. If the PDP and the NC have joined hands in a bid to form the government with assistance from the Congress, it is solely to prevent BJP proxies led by Lone from grabbing power by hook or by crook.
"Of course, the PDP and the NC have deep differences, but we have been forced into a situation that we have to come together in the interest of the state," Bukhari had said in the evening before the House was dissolved.
Although speaking off the record to The Telegraph from Srinagar, a top NC leader was more forthright: "The BJP's predatory games have become more and more brazen and obvious in recent days, they were clearly out in the market to horse-trade and install a puppet regime. This had to be checkmated."
New Delhi and governor Malik checkmated them instead.
Until late evening, New Delhi had revealed little of its mind on the new turn of events but wires between the Union home ministry and the Jammu and Kashmir establishment were burning all day even though it was an off on account of Id-e-Milad-un-Nabi.
The option of slamming the "constitutional" door in the face of the new power bid was pulsing on the table. Finally, a little past 9, Malik wielded the "constitutional" baton.
Should Bukhari, a businessman-turned-political adventurist, have become the next chief minister of Jammu and Kashmir, he'd have made the surreal real.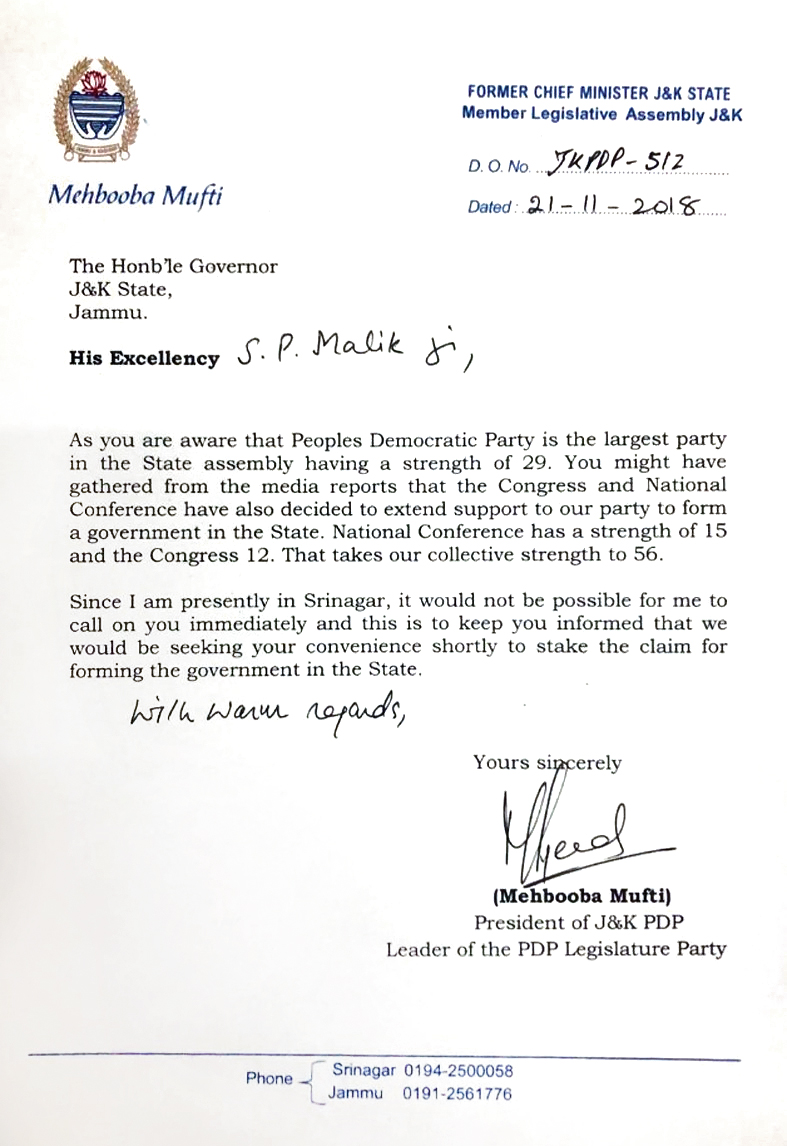 Who would have thought Mehbooba and Omar, inimical foes from competing power clans, would collaborate on a third candidate for the job they've jousted over for years?
In truth, both Mehbooba and Omar opted out of candidacy ahead of agreeing on Bukhari. Neither wished to skipper what would have been a messy and rocky boat.
But not mounting that boat together seemed no longer an option to either. It had become increasingly apparent to those familiar with the run of Kashmiri politics that the BJP was herding together a "Third Front" under the fig-leaf banner of Lone's People's Conference, which occupies a mere two seats in the Assembly.
That added to 28 with the BJP's 26; they required 16 more to grab a majority and backroom efforts had been on to secure the numbers. Break any party that shows signs of breaking; Madhav was in the state far too often to escape notice. Mehbooba's PDP appeared the most vulnerable.
A bid on fracturing her party had, in fact, been made while she was still mulling an alliance with the BJP after Mufti Mohammed Saeed's passing. She capitulated and extended a power hand; she ended up burning her fingers. Now, powerless, she was probably more vulnerable.
Tuesday's declaration by PDP leader and MP, Muzaffar Baig, that he was considering support to Lone probably upped the alarm decibels in the Mehbooba camp to a level it couldn't be ignored.
The NC on its part has long been exercised over the prospect of the state coming under a proxy BJP dispensation. Which is why Omar has consistently demanded that the Assembly be dissolved and fresh polls held.
"That neither the Centre nor the governor showed any signs of dissolving the Assembly only fed our fears that moves were always afoot to install a rag-tag government that would answer to the Modi-Shah regime," a top NC leader said.
He revealed too that the NC-PDP deal was no sudden knee-jerk outcome. "Leaders of both parties, concerned over maintaining the special status of the state, have been in touch over a period and looking for ways to cooperate," he said. "But the situation is such now that we have to publicly demonstrate a resolve to fight off the BJP's takeover bid."
It wasn't to be. With the Assembly now dissolved and governor Malik clearly willing to play a creature of the Centre's command, it appears Jammu and Kashmir has slipped into the de-facto control of the BJP.
'VERY STRANGE' FAX MACHINE IN JAMMU
Mehbooba tweets at 8pm, November 21: Have been trying to send this letter (right) to Rajbhavan. Strangely the fax is not received. Tried to contact HE Governor on phone. Not available. Hope you see it @jandkgovernor
9.30pm: Raj Bhavan issues communiqué dissolving the Assembly
Mehbooba tweets at 10pm: In today's age of technology, it is very strange that the fax machine at HE Governor's residence didn't receive our fax but swiftly issued one regarding the Assembly dissolution
Omar Abdullah tweets: "Raj Bhavan Jammu fax machine at work" and adds below a video clip showing a fax machine from which sheets with messages fall into shredder and disappear
Umar Ganie, a photojournalist, tweets: Grand Alliance: Hamare pass NC hai, PDP hai, Congress hai, tumhare pass kya hai?
BJP: Hamare pass kharaab fax machine hai.